Baby walkers are a popular way to keep infants entertained and help them develop fine motor skills. These training toys are designed for babies who have not mastered walking independently, yet can hold their head up and sit unassisted. When searching for a baby walker on eBay, parents should understand their various features, weight and height limit, and assembly requirements.

Noteworthy Features

Best-selling baby walkers promote learning through visual stimulation. Look for those that have entertaining sounds and lights, such as the Chicco DJ walker. It plays music continuously while in motion, encouraging babies to take extra steps. Other activity baby walkers, such as the Disney Music and Lights from Safety 1st, are capable of rolling over the carpet as well as hardwood flooring. For ease of transportation and storage, opt for one with a foldable frame. Moreover, consider those that have removable and washable padded seats for ease of cleaning. Lastly, take into account the size of the snack and activity tray, as it can help keep your infant entertained for longer periods of time.

Safety Features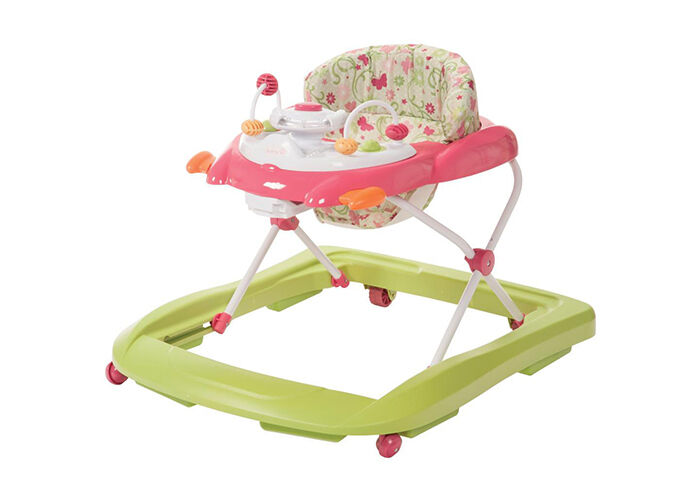 Look for walkers that have a rounded wide wheel base, with four-swivel construction, as this prevents tipping and falling over when in motion. If planning to have baby use the walker on various terrains, opt for one that has grip, or friction, strips, such as the Jeep Liberty Renegade walker, to reduce movement on uneven surface areas.

Weight and Height Restrictions
Choose adjustable baby walkers to save on money. Many, such as the Cosco Beep! Beep! jungle-themed walker, feature different height adjustments that allow continual use as the child grows. However, most have a height restriction of up to 82 cm. Furthermore, keep in mind that many walkers also have a weight restriction, which typically caps at 16 kg depending on model. Generally speaking, baby walkers should be used from the time infants can sit up on their own until they are able to walk without assistance.
Assembly
Many walkers, such as the Dream on Me Melody musical walker, come easy to assemble. If purchasing used, be sure that all parts are included, as any missing components can compromise safety. Moreover, many parts are exclusive to model; if parts are missing, it is important to contact the manufacturer to ensure proper replacement.