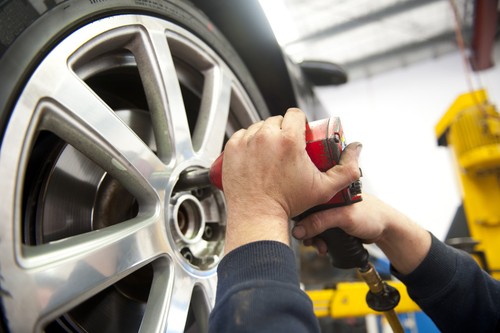 People are known to change their vehicles' existing wheel rims for various reasons, and while someone may do so because the older rims are wearing out, someone else may be looking at getting wheel rims that deliver better performance, and some others do so entirely because of the aesthetic appeal that a set of well-designed wheel rims can add to a vehicle. Fitting your own wheel rims, while not very difficult, does require access to some basic tools, and with the required know-how, you should be well on your way.
Before you begin to fit your own wheel rims, you need to know about the types of wheel rims available and make sure that you do not need any type of external assistance to fit your own wheel rims including: a car jack, some kind of a nut driver, a screwdriver or pry bar, a tyre pressure gauge, an air compressor, and not to mention, a new set of rims. Since there are various options to search through, knowing just what suits your needs is important, failing which, you may end up buying something that you do not need, or spending way too much. Looking for these parts is simple owing to websites, such as eBay, although you continue to have the option of turning to brick-and-mortar shops.
Types of Wheel Rims
The first thing that needs your attention when it comes to fitting a new set of wheel rims are the rims, themselves. If you are looking at replacing your rims because the existing ones suffer from wear and tear, buying stock rim models meant for your particular car may well suit the purpose. Some vehicles come with asymmetric tyres, wherein the sizes of the front and rear tyres vary, and in such cases, buyers ought to look for corresponding rim sizes. Taking into account a car's existing rim size is important, even if you are thinking about looking for larger rims, because there is only so much that any given car can take in terms of rim size. Rim sizes, just so you know, can vary from 10 to 23 inches. Another aspect that needs your attention is the material, and your primary options include steel and alloy.
Steel Wheel Rims
Most factory-fitted wheel rims are made of steel, and these can be painted in various colours, with black being a fairly common choice. Steel rims are looked upon as practical alternatives, given that they are durable as well as affordable, and you can find steel rims in all sizes. While a number of people tend to hang onto a set of steel wheel rims for winter use, this is not really required, given that most alloy rims come with rust-free coatings and resilient finishes designed to combat harsh weather conditions.
Alloy Rims
Alloy rims are made using aluminium and magnesium alloys, although magnesium alloy rims are meant to be used with race cars and not with street cars. Alloy rims are stronger than their steel counterparts, and they also help increase the life of tyres. These rims can be up to 20 per cent lighter than steel rims of the same size, and in addition to improving a car's aesthetic appeal, these rims can also help with aspects like handling, steering response, braking, and acceleration.
Spinning Rims
Another option that buyers have when buying new rims is spinning wheel rims, which continue to spin even after the car comes to a halt. Purely designed with aesthetic appeal in mind, these rims are more expensive than conventional variants.
Considerations
Different aspects should be taken into account when buying new rims. For instance, if your car comes with alloy wheel rims and you want to replace them with steel, know that the increased weight can result in the dropping of mileage and speed. Very large rims can result in the tyres coming into contact with the car's fender or undercarriage, and some rims may not work with your car's braking system.
Fitting Your Own Wheel Rims
Once you have your new rims, you need to fit them, and while turning to a professional for help is always an option, you can do this on your own quite easily, just as long as you have access to the required tools. The tools that you require include: a lug nut wrench or nut driver, a car jack, a screwdriver or pry bar, an air compressor, and a tyre pressure gauge. In addition, you may also need wheel adapters and spacers.
Nut Wrench or Nut Driver
To get the wheels off of a car, you need a nut wrench or a nut driver to loosen the lug nuts, and if you do not have one, you can choose between either. While a wrench is typically easier to use with wheels, you can also use a power nut driver to good effect.
Jacks
Once the lug nuts have been loosened, the car needs to be lifted, and for this, you need access to a reliable jack. The primary options when looking for a jack include: scissor jacks, bottle jacks, and trolley jacks.
Scissor Jacks
These jacks are mechanical, that is, operated by hand, and they make use of long, self-locking screws to get the job done. Scissor jacks continue to be found in most new cars, and although their design is fairly simple, they can be made sturdy enough to take the weight of the car in question. When buying one, buyers should take into account that these jacks come in different sizes and with different weight bearing capacities, and if a suitable one is chosen, it should be more than enough to tackle the task at hand.
Bottle Jacks
Some heavier cars come with manufacturer-supplied bottle jacks, which are apt for lifting cars to remove their wheels. These jacks rely on hydraulics to lift vehicles and typically come with a base, a top, a plunger, a cylinder, and a pump. These jacks come with ratings that specify just how much weight they are capable of lifting.
Trolley Jacks
Trolley jacks are considered to be the safest type of jacks, given that they leave almost no room for slippage or disengaging. Some trolley jacks come with manual brakes and automatic locks, and in either case, these jacks are easy to move from one place to another. Trolley jacks, however, are the most expensive of the three jacks.
Wheel Adapters and Spacers
If you end up buying rims that come with a different number of studs in comparison to the lugs on your car, you need a wheel adapter. The base of the adapter is fixed to the hub, and the outer portion is designed to hold the rim. Wheel adapters can be found to fit most makes and models, and finding adapters made using high-quality materials is quite easy. Using spacers with aftermarket rims is suggested, as they help to line up the new rims to the hub correctly, thereby ensuring no vibrations.
Air Compressor
Fixing new rims involves dealing with completely deflated tyres, and before these can be used, they need to be filled to the correct pressure. If you have an air compressor, this is something you can do on your own quite easily, and you do not have to spend too much in order to buy a new one. A typical 120-volt portable air compressor can work with car tyres that require around 30 to 35 PSI, but more power may be required when working with RVs that require up to 100 PSI.
Tyre Pressure Gauge
While air compressors help to fill tyres with air, you also need to know if they are filled to the right pressure, and this is why you need a tyre pressure gauge. Here, your options include stick type gauges, dial gauges, and digital gauges.
Gauge Type

Characteristics

Stick type

Inexpensive

Typically inaccurate

Difficult to read

Dial

Analogue dials

Not very expensive

No battery

Digital

LCD display

Require batteries

Most expensive option
When you are buying a gauge, look for one that comes with a wide enough range; most good alternatives offer readings from 5 PSI to 99 PSI. When looking for battery-operated gauges, take into account that some models do not allow battery replacement, and these are rendered useless once the inbuilt battery runs dry.
Buying Tools to Fit Your Own Wheels on eBay
eBay presents buyers with a wider variety of automotive tools from which to choose, and this includes an array of nut wrenches, nut drivers, car jacks, screwdrivers, pry bars, air compressors, tyre pressure gauges, adapters, and spacers. If you want to look for wheel rims to start, you have plenty of options to search through, which includes rims in different sizes, made using different materials. If you wish to save some money, you can consider looking for used goods, which include used rims as well as used tools; however, if you plan to buy used goods, paying attention to their condition is highly recommended.
Bear in mind that various sellers use eBay to sell their wares, and not everyone follows the same pricing pattern. As a result, conducting a thorough search can lead to your coming by similar products priced rather differently. Sellers are also known to charge different postage and packaging costs, and some sellers even provide buyers with the option to collect their purchase in person, for free.
Conclusion
Getting the right kind of wheel rims for your car is only part of the entire exercise, given that the new rims need to be installed. Once you have the rims you wish to install, learning just how to go about fitting them on your own is something that can help you save money. What is required, however, is that you have access to the right tools. These tools, you should know, continue to serve long after the new rims have been installed. For example, with access to an air compressor and a tyre pressure gauge, you can ensure that your tyres run at optimum air pressure levels at all times; and a good car jack is something that every car owner should own.
When buying tools to fit your own rim wheels, it is important that you do not compromise on quality, simply because they help to look after a much bigger investment: your car. Considering buying used tools is not out of place, and a well-designed, sturdy used jack is a better option than a substandard jack made using low-grade materials.