Ok we'll start at the beginning with this one. ATC stands for Artist's Trading Card and an ATC is a little work of art that is always traded and never sold between crafters, artists etc. Each card strictly measures 2.5" by 3.5" and the idea behind them is that you try a new technique, favourite technique on the card to pass on to some one else who can then use it as a reminder of you and what you do (a bit like a business card if you craft for a living) or as a way to get rid of the old crafter's block that we all suffer from from time to time.
On the reverse of the card you add some details so that the recipient can make use of the card. It should include your name and perhaps a contact email address, the date it was created, the title of the ATC, the number of the card which I will explain in a moment, and perhaps a few words on how it was made.
The number of the card tells the recipient if it is a unique card or whether it is one in a series and if it is a limited edition series. I sometimes do ATCs which I really love so then decide it might only be a 1/1 or 1/2 but add that I may repeat it at some point because I like it.
ATCs are a great way to use up remnants of stash and a great way to meet new crafty people - there are many swaps and challenges taking place if you search on the internet that you may be able to join and take part in once you become more confident. I also might make quite a long series of cards on the same theme, either exactly the same or with the same bits and bobs used slightly differently, and then use the majority of them as toppers on cards - they are the perfect size for DL, A5 and A6 size cards.
I have added some pics of my recent ATCs which may give you some ideas too.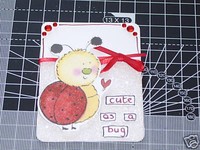 this card is called 'Cute as a Bug' and was made for a Ladybugs theme recently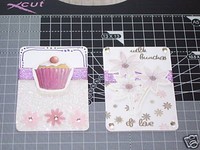 these were made for an Artist's Choice theme