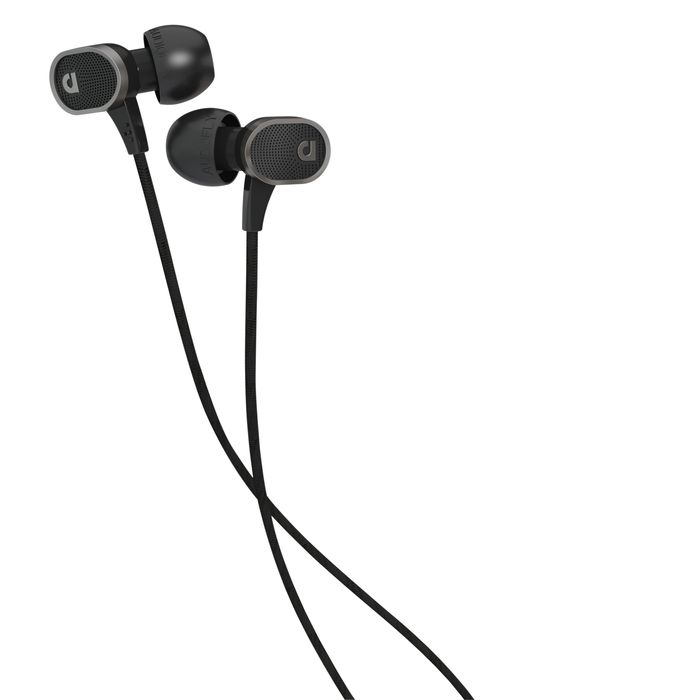 There is often confusion about the difference between headphones and headsets. Both are used to transmit sound directly from an audio device to the ear but have substantially different constructions.
Headphones
Headphones are two piece constructions that sit directly in or on the ear. They have miniature speakers in each ear piece and are mainly used for listening to music. They come in a variety of formats:










| Headphones | Description |
| --- | --- |
| Ear buds | This type of headphone has two buds joined by wire and a pin to connect to the audio device being used. Although they do not completely block any extraneous external audio, ear bud headphones are generally very portable, discrete, and cost effective. |
| In-ear headphones | In-ear headphones are one technological step up from ear buds. Visually, they are joined by a thin headband that stretches over the user's head and the buds are isolated with silicone or, more often, foam. This is vital for audio quality as there will likely be an imperfect skin-to-bud seal and therefore will often be external audio interference. |
| | This style of headphone has a padded earpiece which, rather than sitting in the ear, sits on the auricular. Although the seal between ear and headphone will inevitably lead to some audio quality reduction, this style of headphone will generally be comfortably cushioned. |
| Over-ear headphones | Closed over ear headphones are frequently used by broadcast and audio professionals. Offering reasonable isolating facilities, the padded earpiece sits around, rather than on, the auricular area, providing a secure and comfortable fit for users. Open over ear headphones offer the best home audio quality but do suffer from audio escape. Semi-open versions are available, combining the best functions of both open and closed headphones, but are quite rare. |
Headsets
A headset is a singular unit and is most commonly constructed as an ear bud, a supporting headband of metal or plastic that fits over the user's head with a t-bar support, and a microphone on a mobile arm. Such types of audio accoutrements are commonly used for verbal, hands free communication on any communicative device. That is to say, computers, mobile phones, switchboards, and even air traffic control consoles. There are also much smaller hybrid headset earpieces available. They clip onto the ear and have an inbuilt microphone that will pick up speech or a very small arm connected to the unit. The most common connection is via Bluetooth technology, which not only makes these connections wireless, but can also provide for a multitude of connections to a variety of devices. Not only that, but some sets even include travel chargers, charging cradles, and several hours of talk time before requiring recharging. With the only limitation being a 30 foot range from headset to device, Bluetooth universal headsets can facilitate communication for a number of activities. Particularly when driving, supplementing any mobile or smart phone with a headset provides both safety and convenience. Instead of being confined to calls when stationary, the abundance of headset models available allow a user to multi-task. Conference calls, one-to-one conversations as well as in and outbound call-making are all simple and safe with hands-free accessories.
Wireless Headset Set Up
Before using the wireless headset with a Bluetooth device, it is necessary to pair the headset with the Bluetooth unit.
| Steps | Description |
| --- | --- |
| Charge the headset | Before connecting the device, make sure that the charging cable is no longer connected to the headset. |
| Turn the headset | Press the power button on the headset and hold for the count of three. |
| Turn on the device | On the headset, move the mode switch to Bluetooth – when it is in Bluetooth mode, the light on the headset will illuminate blue. |
| Connect the two | Press and hold the headset connect button for the count of three – when the headset is in Bluetooth discovery mode, the lights will flash blue in a clockwise direction. When the headset is connected, the lights will flash multiple times. |
How to Connect a Headset
All device pairings will follow a similar protocol, but the following instructions cover the most common routes:
Android and iOS Phones
Once the headset and the android phone are correctly paired, all phone calls should connect automatically to the headset whenever it is turned on.
| Steps | Description |
| --- | --- |
| Check that the phone is on | Hit the menu button, go to settings, and then choose the Wireless & Networks options. |
| Go to Bluetooth Settings | Check the Bluetooth box to turn on Bluetooth, and then opt to Scan for Devices. |
| Turn on the headset | Put the headset in Discoverable mode, and then hit Scan for Devices. For the exact method of connection for a specific headset, check the instruction manual for protocols. |
| Check the listed devices | The headset should show up as a listed device. In order to pair the devices, tap the listing. Some models may require a PIN number to activate – many manufacturers set this PIN as 0000 – but should this be incorrect, it is best to check the instruction manual for more details. |
Games Consoles
A Bluetooth headset that is usually used with a mobile phone can generally also be used with a games console for the purposes of interactive online playing. The following instructions are for a PS3, but all consoles will have similar protocols which can be followed by checking the accompanying manual.
| Steps | Description |
| --- | --- |
| Turn on the console and controller | Select Settings from the menu, open Accessory Settings, and choose Register Bluetooth Device. |
| Register the headset | Select the Register Headset/Microphone/Headphones option in the Bluetooth registry. |
| Optimise the headset | Typically, in order to put the headset into pairing mode, it will be necessary to press the large outer button until the LED light turns on. |
| Scan for devices | Choose Start Scanning using the console to make the selection, opting for the headset from the list of Bluetooth devices that appear. |
| Enter the code | The pairing code or PIN is generally fixed to a default setting of 0000. |
| Re-enter the settings menu | Open the Audio Device Settings under the Settings menu, select Accessory Settings from the main menu, and then change the Input Device and Output Device options to the Bluetooth. |
How to Buy Universal Headsets on eBay
To buy universal headsets, first go to the eBay homepage, opening the All Categories tab, then scroll down the page until you see Electronics & Technology and click the Mobile & Home Phones tab. From there accessories choices can be made. Simply select the Headsets option, and then choose Universal from the left hand filters. Alternatively the bar at the top of any eBay page can be used. For example, simply key in "universal headset" to be shown all available item listings.
Conclusion
Both headphones and headsets are used to transmit sound directly from an audio device to the ear, although each will be more suitable for specific activities. Headphones have two earpieces that sit either directly in or on the ear and have miniature speakers in each side; the most cost effective type is an ear bud model, which sit directly in the ear and have no other head support. In-ear headphones are the next step up from ear buds, each ear piece connected by a thin metal strip, and the technological advance is then followed by headphone models that have padded ear pieces and covers. Closed over ear headphones are generally used by professional musicians, sound engineers and audio workers; headsets are suitable for mobile phone conversations, conference calls, and online, multi-player gaming activities. A headset is, in comparison, has a single earpiece and a supporting headband. Unlike headphones, a headset comes with a microphone which is attached to the earpiece and can be pivoted and moved for comfort. Much smaller headset earpieces are also available. Unlike a full headset, the microphone is inbuilt and unobtrusive or, at the very least, comes with only a very small pivotal arm. Although headphones and headsets can be wired connections – that is to say, they plug in to the device – the most common connection of device to headset is by wireless Bluetooth technology. All device pairings will follow a similar protocol and a headset that is suitable for a mobile phone will generally also be suitable for gaming activities.