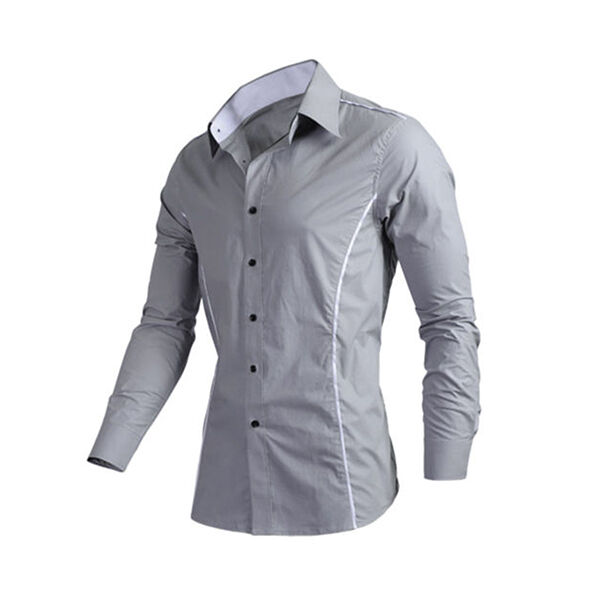 Men get perhaps fewer opportunities to dress up than do the 'fairer sex'. Certainly, there are fewer variations on what a man might wear to a more formal celebration or social event. Nevertheless, men can achieve an eye-catching, dignified and indeed compelling look through the right choice of shirt. Men are well catered for, where formal shirts are concerned. Formal dress as it is worn today has its origins in the Victorian era. The sweat of many tailors' brows has gone into the creation over the years of striking, well-fitted, figure-enhancing shirts. Wearing one of the better-designed formal shirts, a man can make as impressive an entrance as any woman.
Quite apart from weddings and engagement do's, the formal shirt also serves a turn at a gala evening or ball, dinner at the captain's table on a cruise, a Christmas Dinner Dance, Burns' Night, the golf club's Annual Social, an evening at the opera. Increasingly, professional conventions and conferences culminate in a formal, lavish evening dinner. The list is almost endless one with many options.
For many, the first purchase of a formal shirt is to attend the prom. At the tender age of 17 or 18, the young man leaving high school or secondary school has his first chance to dress as a gentleman. For some of his seniors, formal shirts are a professional necessity, worn by members of orchestras, by hotel maitre d's, and by bagpipe players, to name but a few groups. This guide attempts to give an exhaustive account of all the salient points concerning men's formal shirts in order to help would-be buyers to make informed choices.
Definition of a Men's Formal Shirt
The formal shirt is distinguished in a number of ways from more run-of-the-mill business and leisure shirts by certain characteristics.While the main elements of its construction are that of a back panel, a yoke, two front panels meeting with a placket, sleeves gathered into cuffs, and a collar. These are common to all types of men's shirt, and they are shaped rather differently in the formal shirt.
Black Tie Attire
Very often, the signal to the wearer to don a formal shirt takes the form of the wording in a written invitation. The most common dress code for formal events is 'Black Tie', referring to the mandatory black bow tie. A black dinner jacket is essential, and, strictly speaking, a shirt of white cotton or linen. The shirt is merely one item in a quite strictly defined ensemble. The rules governing the shirt's specification have become gradually more relaxed since the 1950s. Hence, today, a bibbed front is not an essential prerequisite. However, a pleated front is a common feature among many. Pleats add a touch of detailing which can also suggest a more 'expensive' appearance.
A detachable collar is one option, whether winged or fold over in style. Winged collars are an especially elegant look among many. If you can recall Fred Astaire, for example, in the film 'Top Hat'. An attached collar is less labour-intensive but has the disadvantage of being more difficult to stiffen. Nevertheless, attached-collar versions of the formal shirt are far more widely available than their more retro relatives. Detachable collars do mean that the collarless shirt is seen by some as more versatile, as it can be brought out for wear with other collars on different occasions. Since the invention of spray starch, concerns about stiffening attached collars have largely vanished.
The formal shirt possesses double cuffs, also known as French cuffs. These give the appearance of being turned back and are fastened with cufflinks to create an infinitely more elegant look than with standard shirts. Buttons fastening the front of the shirt are most often concealed by the strip of fabric known as a "placket". There are increasing numbers of formal shirts on sale where buttons, often black, are on show. The most traditional versions have studs rather than buttons, and these should ideally sport a semi-precious stone, frequently mother-of-pearl, set in a gold or silver surround.
White Tie Attire
On those rarer occasions when 'white tie' is the designated form, such as state occasions, 'society' weddings and hunt balls, there are few differences in terms of the shirt to be worn. While the bow tie and waistcoat must of course be white and the jacket, a black tailcoat. The two important requirements of the shirt are that it has a starched wing collar and a plain, also starched, front. Hence, when buying a formal shirt, the choice of a plain-fronted means that it is capable of doing double service.
Guide to Choosing A Formal Shirt
Such is the breadth of choice where formal shirts are concerned and also the range of prices, that it can make any prospective purchaser feel positively bewildered. It is worth learning a little about some of the characteristics first before making a decision.
Material
Customarily, the fabric for the formal shirt is cotton or a cotton and polyester mix. The percentage of polyester varies because this is the component which lends some stiffness to the garment, and helps towards a snugger fit. Plain cotton is considered a more 'classy' option. A cotton named ' Marcella' is usually thought to be the best fabric for formal shirts.
Creasing is notoriously a problem with shirts, and the importance of correct pressing of the garment before being worn at a formal event cannot be stressed enough. Here, a choice of fabric comes into play. While polyester has the benefit of being easy to iron, it burns pretty easily. It is vital not to hold a hot iron on the polyester or polyester-mix shirt in one spot for more than seven seconds to help prevent any burning of the garment.
Colour
The vast majority of dress shirts are white and at one time it was the only acceptable colour. Today, grooms get married to their brides in various colours and men about town dress in designer versions of the traditional shirt. Designs in taupe, gold, red and black are available, and some designers replace the expected smooth cotton weave with interesting textured fabrics.
Pastel shades of formal shirts are not popular, and generally not recommended, as they tend to ruin the formal effect. Choosing a strong colour is more advisable. Alternatively, opting for black is a reasonably safe decision also.
Features to Look For in a Men's Formal Shirt
Even today, when formality is thought to be on the decline, it is worthwhile for every man to familiarise himself with the elements of formal dress. A little sartorial know how can prevent an embarrassing faux pas, and the topic is very interesting to say the least.
Shirt Shape
Shirts with long tails are today unpopular, but these are the original and most traditional shape. Vintage versions of the formal shirt can give the owner a sense of history and can be a great addition to a man's wardrobe.
Collar
It is at the neck that the formal shirt distinguishes itself. Cutaway, or spread collars are usually a trademark of the formal dress shirt. A trendsetter in this sphere was Edward VIII (who later became the Duke of Windsor), giving his name to this wider 'Windsor' collar. A wing collar, as previously mentioned, is the more formal and old-fashioned option. These are worn as normal schoolwear by the pupils of several public schools, among them Harrow and Eton. A question of choice arises here for the wearer if a foldover collar is to be worn which includes whether to purchase a formal shirt with button down collar or not. There are many opponents of the latter, who dislike the aesthetic effect of a bow tie worn with button down collar. This decision is left for the wearer to decide. Again, consulting other members of the party is advisable, especially if there is reason to want a uniform look.
A contemporary alternative does exist, the grandad collar or band collar, as worn by the Beatles, can represent a more relaxed, individual choice that looks both retro and modern at the same time.
When is White Really White?
Buyers should also take note of the shade of white. Both pure white and off white are acceptable at formal occasions, the latter shade being in fact more traditional. But if the shirt is to be worn by the best man at a wedding or for that matter, an usher, then it is far more important to consult the groom for guidance, as clashing shades are not a good idea.
How to Buy Men's Formal Shirts on eBay
eBay carries a massive selection of formal shirts, suitable for evening wear and for every level of a formal occasion. There are many that conform to the strictest formal wear standards, others in much bolder designs. Collar size in centimetres is the standard for measuring shirts. To obtain this, drape a measuring tape round the neck of the person to be measured and measure the circumference, starting low at the back of the neck, then slide two fingers below the tape at the front and take the circumference reading.
Sleeve length can give you extra information, and this measurement is taken with arm stretched out at shoulder height, starting from the centre of the neck at the back, then along the shoulder and arm, to where the cuff would end on the wrist.
To obtain the right shirt for you, select the 'Men's Clothing' category, and enter search terms in the Search field. For example, white formal shirt, wing collar. This will reveal an extensive list. Narrow the search by selecting a collar size from those which appear on the right. Worth remembering is the fact that it is a quick and easy operation to send the seller a question.
Conclusion
Every man should expect at one time or another to attend the type of formal occasion where a dress shirt is required. Naturally, as with any garment that is for outward show, there is great scope for pride to be taken in the wearing of a formal shirt. Indeed, owning a wardrobe of them or at least one can become something of a passion, and for the gentleman who needs to be seen out and about at society events, a stable of formal shirts is of a basic need.
With some exceptions, the general rule seems to apply that the younger the age group of the assembled guests, the more relaxed and inventive can be the choice of formal attire. Designers in increasing numbers are adding their own versions of the formal shirt to their collections, and interesting colours, cuts and collar variations emerge from time to time. The keen dresser could do worse than research the fascinating history of formal attire, and read up on some of the notorious gaffes that have been committed.