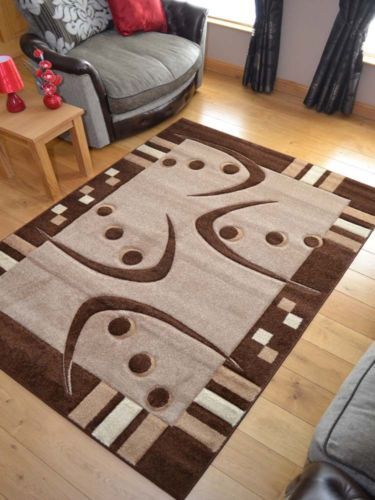 Ornaments and lighting can add style to a room, but warmth and elegance can be introduced with a rug. When it is placed on a bare floor or carpet, it protects the underlying surface and absorbs noise. Rugs are available in a variety of sizes. Some antique rugs are very colourful and have a tight weave for durability. This guide aims to not only provide the buyer with the confidence to buy a rug on eBay or through a store, but it includes a history of rug making, why it is beneficial to have a rug in the home, the factors to consider when buying a rug, and how to care for it once it is in the home.
History of Rugs
Rug making began about 7000 BC, the Neolithic times, and hand weavers crafted rugs from the fleece of goats and sheep. The Pazyryck rug, thought to be over 2500 years old, was unearthed by Russian archaeologists in 1949, and it is now housed at Russia's St Petersburg Hermitage Museum. Flat weaving was the first method used in rug making, and it involved the simple art of warp and weft weaving. This rug-making method is still used to make ethnic, flat styled rugs, including Dhurries and Kilims. To make a thicker, durable pile, weavers knotted woollen strands onto a warp and weft frame. Central Asia was a popular rug-making area, but Persia leads the world with exquisite craftsmanship in hand-knotted rugs. High quality rugs can demand equally high prices due to the quality materials and colourful motifs and patterns.
Persian and other quality rugs were found in the homes of wealthy Europeans, and there were reproductions of Persian carpets after the 11th century until weavers in India developed their own tradition. Rug weaving expanded into Europe when Paris set up its first carpet factory at the old Savonnerie soapworks. In England in 1650, Wilton opened one of the earliest carpet factories, and later in the 16th century, Huguenots (French Protestants) escaped France to settle in England and brought their carpet weaving skills to London and Wilton's Spitalfields. In 1750, Thomas Whitty began to use some of the French techniques in a carpet factory he set up in Axminster. Today's rugs are often produced in factories rather than on a loom, but the styles, colours and motifs echo the traditional patterns that made them a coveted item for many centuries.
Discover Rugs
Having a rug in the home can provide additional warmth while protecting the floor underneath. Popular rug types include Persian, as they were hand woven with quality materials in an array of colourful shades. Modern rugs are still colourful in design, and can be much more affordable when compared to antique rugs. Used to complement a room's décor or highlight furniture, they look attractive when placed over carpet or hardwood, or mounted on the wall as art. Rugs provide an easy way to add colour and texture to neutral walls, and they are available in an array of sizes and designs. The softness of rugs is also soothing to the feet and adds to the cozy ambience of a room. Rugs are designed to be portable rather than fitted like carpet. So they can move from room to room for a décor change. They also help to absorb noise and soften a room's interior.
Parts of a Rug
Although simple at first glance, rugs are made up of a number of components that all come together to achieve a final look and aesthetic effect.
| | |
| --- | --- |
| Part | Description |
| | When the yarn looped around two warps and is tied, this forms the knot that then becomes the rug pile. |
| Warp | The threads that are stretched lengthwise in a loom. Cotton is the main material used for warping, when available, but wool warp is also used. |
| Weft | The threads woven across the warp. The weft threads are produced with strong materials, including silk, wool or cotton. They hold the knots in place and improve the rug's structure. |
| Edge Bindings | The warps at the edge of the rug are wrapped around to the back to strengthen the area. |
| Fringes | A bundle of warp strings are gathered and knotted at both ends of the rug. |
| Field | The rug's background within the borders. |
| Medallion | An oval or polygonal design situated in the centre of the rug. |
| Main Border: | The decorative border that surrounds the exterior of the rug. |
| Corner Brackets | A design that fills the corners of the area. |
Types of Rug Construction
The older style rugs were made using hand knotting, but tufted, Axminster and Wilton rugs are also popular rug constructions. Discover more about each below:
| | | | |
| --- | --- | --- | --- |
| Type | Description | Advantages | Considerations |
| | Individual threads are twisted around the warp. | * The price is reflected in the time it took to construct the rug. | * Strong and durable. |
| Tufted | A pile is formed from a bundle of fibres that are pushed into a preformed backing. A latex layer keeps them in place. | * A quicker production method than knotting. | * Can be less expensive than knotted rug types. |
| Machine | Knotted or tufted rugs are produced on a machine. | * Have a quality appearance. | * Quality yarns are produced using the finest technology. |
| Yarn | Both Axminster and Wilton rugs have U- shaped tufts of yarn woven into the weft, forming the pile. | * Have a strong construction. | * Can be expensive. |
Factors to Consider When Buying a Rug
There are several factors to consider before buying a rug. What area of a room needs to be covered? Which design will work with other furnishings? What shape would be best?
* Rug size - It is important to consider the size of the area the rug will cover. Will it be a scatter rug and perhaps only cover a small area of the room, or will it be a rug to cover most of the space in the room?
* Placement - It is important to determine where the rug will be placed. In the main living room, for instance, a rug may be placed under home furnishings such as couches and coffee tables, and in the dining area beneath the table and chairs.
* Furnishings - Choose a rug that complements the furnishings in the home. There are colourful designs as well as plain coloured rugs.
* Colour - Rugs come in a variety of shades, from colourful designs with centre motifs and a bold border, to light coloured rugs, which can help to provide the illusion of space.
* Shape - Rugs are available in a variety of shapes to suit any home. For example, if there is a beautiful chandelier in the home, a hexagonal rug or one with a centre motif placed directly beneath it would highlight the piece.
How to Care for Rugs
A carefully chosen rug can highlight beautiful furnishings around the home, and be especially effective at absorbing noise. Place circular rugs in the centre of a room beneath a chandelier to highlight the piece. Be careful that the vacuum cleaner does not damage the rug fringe. Choose a rug with an underlay, which will keep the rug in place, absorb noise, make it easier to clean, and reduce wear and tear. Rotate rugs on an annual basis to ensure that it wears evenly. To check whether the rug can be machine washed, look at the care label. Imported rugs may need to be professionally cleaned to prevent colour bleeding. Smaller rugs can be difficult to vacuum so instead, take them outside and give them a good shake to remove dust and dirt.
Popular Rug Manufacturers
* Subhani Rugs
* Mohawk International
* Woolly Rug Co.
* Shaw Industries
* The Wilding Partnership
* Fringes
* The Weaver Shop
* Cambusnethan Carpets
* Yorkshire Fur Fabrics
* Axwoven Carpets
* Regency Carpet Manufacturing Ltd
* Merlin
Accessories and Add-ons for Rugs
Adding a beautiful rug to a space can highlight other pieces of furniture or art, so you may consider placing it where it can best be seen and appreciated. Placing a rug by a light source will make sure that it can be seen.
* Complementary furniture
* Lighting
* Wall art
* Rug pad
Finding Rugs on eBay
Once you determine the type of rug you want to purchase, visit the Home, Furniture & DIY portal on eBay, click on 'Rugs & Carpets' then 'Rugs' and start searching item listings. The Categories list on the left-hand side of the eBay page helps to narrow the search.
Searching for Rugs on eBay
Search eBay listing titles for specific words when shopping for rugs. For example, to find Thick Rich Shaggy Rugs Extra Large, type 'Rugs' into the search box, and then click the Advanced button to customise the results. Also visit eBay's Search Tips page for more advice on searching for rugs with keywords. If you can't find the exact rug you want, try shopping eBay Stores.
Conclusion
There are many types of rugs to choose from, some with many-coloured patterns as well as plainer modern rugs that will blend in with furnishings. Laura Ashley provide a wide selection of rugs that you can buy on eBay. Some rugs can be machine washed, while others may require a specialist to clean and preserve their colours. This guide will provide you with the confidence to know what style and shape of rug will look good in your home and the factors you should consider before buying one. Once you have collected this information, you can buy a rug safely and securely on eBay.