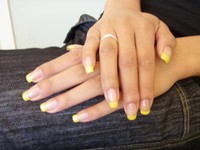 No Acetone.
No Chemicals ie: Cillit Bang, Ciff, Paint striper/thinners... all chemicals!
No nail filing (this breaks the gel seel causing water to seep under the gel which in turn causes it to lift)
No cutting of the nails.
Careful of opening drinks in a can.
Be careful of opening and closing of car doors. The WORST nail splits come from rushing in and out of the car.
Too much exposure to water. This makes your nails soft which can make it very easy to split your nails.
No neat aroma therapy oils. (especially in the bath!)
Be careful of sun lotions. These products are designed to stick and not rub off. So once you have applied your suns lotion wash your hands thoroughly.
** Please note: Wearing rubber gloves when doing the washing up or cleaning the house will protect your hands and nails from chemicals. They will not stop your nails from getting wet or soft. When you are using your rubber gloves take them off when your hands start to feel damp/soft or wet. Let you hands dry out before continuing. **