What is CrossFire ?

CrossFire ignites an entirely new gaming experience that works with all your games, all the time, with the power of multiple GPUs within a single PC.

CrossFire is an exciting new technology developed by ATI that allows the power of multiple Graphics Processing Units to be combined in a single system.

Key benefits include:


Ultimate Performance: Up to two times the frame rates of a single GPU.
Ultimate Image Quality: Up to twice the anti-aliasing quality of a single GPU, at full speed.
Ultimate Compatibility: Improves the experience in any 3D application.
Ultimate Flexibility: Simple upgrade for single GPU systems, driving single or multiple displays.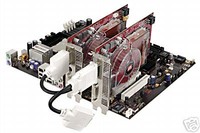 Unite and Dominate
Combined Multi-GPU power that soars into a new dimension of graphics capability


Divide and Conquer with ATI's Supertiling
High-performance GPU sharing that works with all games, all the time


Render and Rule
The highest image quality and screen resolutions even with the most demanding 3D titles


Your Ultimate PC future
Keep ahead of fast-moving gaming effects and technology changes with CrossFire's advanced features.

CrossFire - Features

ATI's CrossFire propels your gaming PC to a new pinnacle of performance with the ultimate multi-GPU consumer graphics solution.

Enjoy the highest image quality modes and resolutions that you have always wanted, even with the most demanding 3D titles. Get out-of-the-box compatibility and afterburner acceleration for all your games without special game software or patches.

Unite and Dominate—with multiple ATI GPUs
CrossFire's unique parallel processing technology has development roots going back to ATI's multi-GPU Rage Fury MAXX. Based on the same technology used with ATI-based commercial flight simulators, CrossFire soars into a new dimension of graphics capability with multiple Radeon graphics processing units (GPUs) working together in your PC.

Divide and Conquer—with ATI's Supertiling
ATI's CrossFire speeds your gaming momentum with "supertiling," high-performance GPU sharing that evenly divides the processing and graphics rendering workload.

How Supertiling Works:
Think of your screen image divided into subsections like a checkerboard, with alternating black and white "tiles."
CrossFire's Supertiling intelligently alternates rendering duties of these tiles to each Radeon GPU for consistent, efficient load balancing with hassle-free compatibility. CrossFire's options include a multiple load-sharing "scissor" mode and an alternate frame-rate mode, combining optimal performance with game-conquering compatibility.

Render and Rule
ATI's CrossFire boosts image quality along with rendering speed, eliminating the need to crank down screen resolutions to get the high image quality you want.

CrossFire ignites with the higher antialiasing, anisotropic filtering, shading, and texture settings you desire. Adjust your display configurations, experiment with your advanced 3D settings, and check the effect with a real-time 3D-rendered preview within ATI's Catalyst Control Center to rule your CrossFire system.

CrossFire—Now and Future

Keep ahead of fast-moving gaming effects and technology changes with CrossFire's advanced features.
Upgradeable components allow you to gradually improve your system performance with the reliability and support that only ATI delivers.
Free monthly on-line Catalyst software updates, ATI's one-click comprehensive help system, and web-based online customer support are available 24 hours per day.

Supporting a wide range of ATI-based graphics cards and motherboards, the CrossFire platform offers flexibility and compatibility with all of today's Radeon X800, X850, and the all-new X1000 Series graphics cards and the latest powerhouse processors to make your next gaming experience the zenith of PC perfection.
Build your own multi-GPU gaming system with a CrossFire Ready motherboard, ideally based on ATI's all new, high performance CrossFire Xpress 3200 chipset. Plug in a Radeon X1K Series CrossFire Ready graphics card and a compatible CrossFire Edition card, or a second compatible CrossFire Ready graphics card to unite ultimate multi-GPU gaming power.

The all-new Radeon X1300 and X1600 graphics cards do not need a CrossFire Edition co-processor or external cable. Just plug in two cards from the same series and use the Catalyst Control Center software to command your ultimate gaming experience!
CrossFire is the most sophisticated and powerful technology currently available for multi-GPU graphics rendering. It consists of the following components:
Radeon CrossFire Edition graphics card with Compositing Engine
Secondary PCI Express graphics card with Crossefire Ready GPU
CrossFire Ready motherboard with dual PCI Express graphics slots
Catalyst driver with CrossFire support
CrossFire Support Power Supply

Simple installation and setup
Only three components: a CrossFire Ready motherboard, ideally based on the ATI CrossFire Xpress chipset, a compatible Radeon graphics card, and a related Radeon CrossFire Edition co-processor board.
NEW! Radeon X1300 and X1600 CrossFire Ready cards do not require an external connector. CrossFire mode is enabled via ATI's Catalyst software and the cards communicate over the PCI Express bus.

Purchase the components to build your own CrossFire computer system from ATI's trusted graphics card and motherboard partners.

Motherboard Partners: Abit, ASUS, DFI, ECS, MSI, Sapphire, PCPartner

Graphics Card Partners: ASUS, Club, Connect3D, Diamond, Gecube, Gigabyte, HIS, MSI, Palit, Sapphire, Tul, Visiontek

Look for the CrossFire multi-GPU platform key on the box to ensure that you purchase the right components.