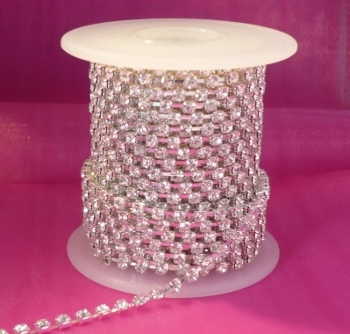 What Is Diamante Trim/ Chain?
Diamante Trim is also known as: diamante chain, diamante banding and diamante ribbon. These are made up of a chain of diamante rhinstones, which are interlinked with a flexible metal, that allows the trim to be manipulated into a curved shape. It can also be cut easily into smaller pieces to suit the project you are working on. The Diamantes Can be as small as 1mm in size.
What Can I Use Diamante Trim For?
Diamante Trim is a popular alternative to ribbon when it comes to embellishing Cakes. Especially popular on Wedding and Anniversary Cakes. It can add an elegant and sparkly finishing touch, especially if the diamantes are of Grade A quality. Your diamante trim can be adhered to your cake in several different ways according to your preference. These are: Adhering your diamante trim with Royal icing, edible glue, by being stuck first onto a white ribbon or held in-place with a jewellers pin.
Diamante Trim can also be used to embellish: Garments (stitched onto clothing or bags to add some extra sparkle), Wedding Stationary, Bouquets, Tiaras and wherever else your imagination takes you!
If you are considering purchasing Diamante Trim/ Chain to use on a cake, why not follow our-
How Much Diamante Trim Would I Need To Decorate My Cake? Guide
. The guide includes formulas on how to calculate how much trim you would require for round and squares cakes.
Please Click the Thumbs Up Symbol At The Top of This Guide, If You Found it helpful. :)