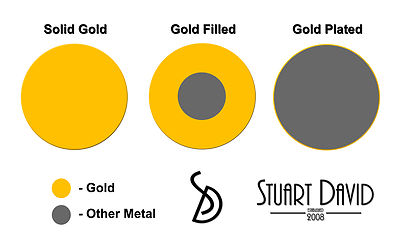 What is Gold Filled Jewellery?
Gold Jewellery is sold in 3 main types
Solid Gold
Gold Filled
Gold Plated
There is a big difference between the three and a lot of misunderstandings. This is an attempt to explain simply the main difference and how the three main types of gold are categorised.
Firstly Solid Gold.
If you have a 10 Gram Solid Gold piece then all 10 Grams are Gold. 9ct 18ct or 24ct are different purities but the entire piece is made of one of these purities.
Secondly Gold Filled.
If you have a 10 Gram Gold Filled Piece then the inner metal of the piece will be a bass metal such as brass or sterling silver. The outer of the piece will be made of Gold. You can imagine it as a hollow gold piece that has been filled with a lesser metal to make it stronger and heavier. Gold Filled is also categorised in purity such as 10kt 14kt and 20kt
Last and most definitely least Gold Plated.
If you have a 10 Gram Gold Plated Piece then you have 10 Grams of Brass. Almost none of the piece is gold at all, apart from a tiny layer of gold over the visible surface. This layer is as thin as humanly possible and makes up less than 0.05% of the piece.
Solid Gold- 37% - 100% Purity
Gold Filled- 5% - 20% Purity
Gold Plated- 0.01% - 0.05% Purity
In Summery.
Gold Filled jewellery should not be compared to Gold Plated jewellery the difference is huge. Gold Filled jewellery should be seen more as a slightly less pure version of solid gold. With good care taken it can last just as long as Solid Gold and should not discolour or tarnish like Gold Plated jewellery. Gold Filled jewellery looks no different to Solid Gold, lasts just as long and saves you a lot of money.
To View High Quality Gold Filled Jewellery and 925 Silver Click Here