What is IP Camera?

IP cameras are the relatively new technology that becomes more and more popular amongst professional installers and customers. They are good to be installed both at home and in the office, inside and outside. IP cameras are Internet Protocol (networked) digital cameras. Normally they are connected to the IP network using an Ethernet connection/CAT5 cable.

The main advantages of the IP cameras are their ability to zoom everything without loss of clarity of the image, remote administration from any location, lower cabling requirements, ability to send images to anywhere in the world, progressive scanning, Moreover, unlike other CCTV formats, IP cameras can support various image resolutions, such as CIF, PAL, NTSC, SECAM as well as megapixel resolutions. Also, you will be able to select frame rates for each camera in the CCTV system, as well as video compression codec, such as MPEG4 Part 2, Motion JPEG, H.264. Due to the ability of the camera to convert analog signals into digital data by itself, no additional encoder hardware is needed to record the video onto a hard drive.

IP camera technology also allows you to put a password on it so that no unauthorized image/video viewing is possible. Also, some of our IP cameras have an intelligent video motion detection with objects counting and shape recognition. The system can be connected to your phone, alarm system, security department, building management and send signals to them as long as the motion triggers the secured area.

While buying the IP cameras, you should also check on the NVR that matches them. The NVR will make sure that your cameras are working 24/7 and that all the images are saved and secured.

Please check on our range of the NVRs in the DVRs section or contact our TMB advisors for the advice on what is the best option for you.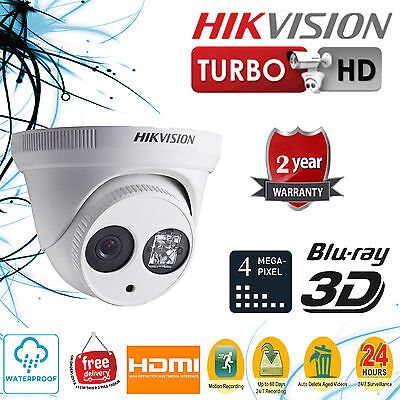 4MP 3-Axis Adjustment Indoor/Outdoor EXIR Turret Network Camera


The Hikvision DS-2CD2342WD-I a 4 megapixel 4mm fixed lens turret camera. This outdoor camera has built-in IR with a range of up to 30m and is capable of true day/night surveillance. It's housed in a waterproof IP66 rated housing. Also has dual streaming, day/night function, wide dynamic range technology, 3D noise reduction to enhance low light images, and can be powered over Ethernet (PoE) for quick and easy installation. KEY FEATURES - Up to 4-megapixel high resolution, Full HD1080p video, Dual video streams, 4mm fixed lens, 120dB Wide Dynamic Range, 3D Digital Noise Reduction, Backlight Compensation, DC12V & PoE, Support H.264+, High-performance EXIR LED, Up to 30m IR range, IP66 weather-proof protection, 3-axis adjustment.