For studio or performance, DJs and bands, digital audio mixers add layers of sophisticated sound with less effort. These computers of the music studio allow more channels, more effects, more outputs, and control via touch-swipe on a screen, traditional style faders, or a combination of the two.
Channels and Inputs
Digital audio mixers typically accept at least nine inputs and offer from five to 36 channels for instruments and vocals. A solo performance artist generally needs the fewest, whether on stage or in the studio. A DJ mixer needs at least two stereo inputs for turntables, plus a microphone. A band may want a 36-channel mixer to meet its stage and studio needs. A studio digital mixing desk used to lay down tracks for a recording often feeds direct outputs from each channel. Yamaha and Mackie offer popular mixing boards for those shopping the mid-range with 16 inputs; Behringer boards appear with higher input ranges.
On-board Processing and Effects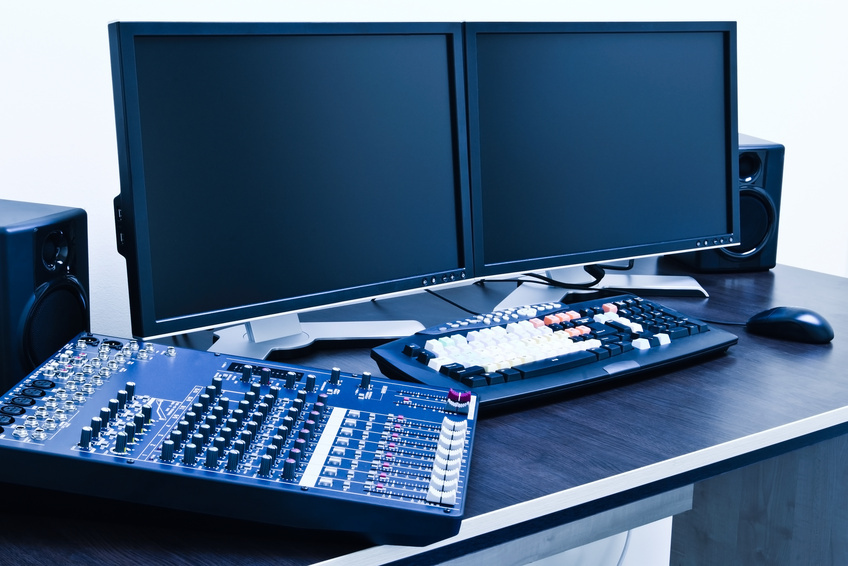 Mixers make it possible to create the desired sound balance in a performance or a recording. That balance can replicate the small-hall reverb of a chamber music performance or a bass-heavy balance that rocks a vehicle with hip-hop subwoofer vibrations. With digital audio mixing capabilities, live performance mixes are becoming increasingly similar to studio mixes, with remixing and effects run through the board at the single channel level. These effects may be pre-programmed on top-level digital mixers and even copy-pasted from section to section of a mix, reducing the challenge for sound engineers to create, in real time, a stereo effect on a specific high-hat hit. Digital mixers frequently use analogue style sliders to control channels in addition to or in lieu of a graphical touch screen, which makes the transition easier for people used to traditional mixing boards.
Outputs and Form

The number of outputs counts, at a minimum, the control room, headphones for all, and the speakers or recording device. Digital mixers have made it possible to save a mix for a new venue or another show in a familiar venue. They also may allow sound engineers to tinker while on the road. A digital mixer with USB interface generally can port mixes to PC computers; a Firewire interface is an Apple standard that is becoming less common on newer Apple equipment. Yamaha and Mackie both offer Firewire compatible boards; Behringer boards meet the USB standard only, some Peavey mixing desks are both USB and Firewire compatible.