Welcome to the world of Arabian perfumery!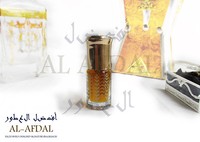 A common word used in Arabian perfumery is Mukhallat or Mukallat. It is often used to describe a certain type of perfume oil.

Definition of Mukhallat: Mixture.
Simple as that.

A Mukhallat is usually a mixture of pure oils such as Dehn Al Oudh, Rose, Musk, Sandalwood, Amber, etc that are combined to create a perfume oil. Hence, the final product is called Mukhallat X.