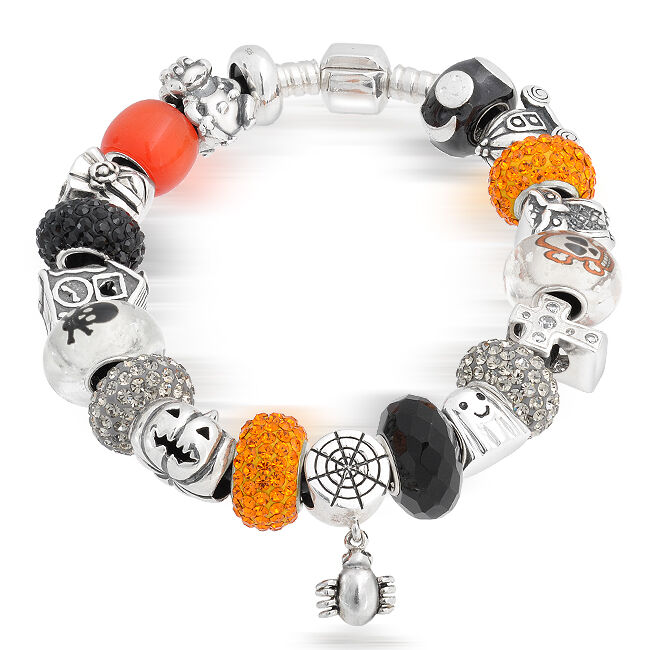 Pandora bracelets are very high-quality charm bracelets for women which the user builds herself by first choosing an unadorned bracelet, then by filling up the bracelet with charms. Because the bracelet and charms are often made of silver or gold, and precious stones can be included in the charms, building a Pandora bracelet is an expensive task. However, one can lessen the price of a Pandora bracelet by choosing a band or charms that are made of less expensive metals or materials such as wood. Because the wearer builds the bracelet herself, and since the location of the charms can be changed, one can change a Pandora bracelet to match any outfit. This also means that one can wear a Pandora bracelet in so many ways that one never wears the same combination of charms twice.
Before purchasing a Pandora bracelet, it is important that the shopper is aware of what comprises a Pandora bracelet, as well as how to open and close it, what makes a charm an authentic Pandora charm, and more. Because Pandora bracelets and their charms tend to be very expensive, it is advisable to visit a site like eBay, where sellers put up Pandora bracelets and charms, used and new, for less than what the shopper would generally pay at a bricks and mortar shop. eBay is an easy way to find what one wants for a reasonable price.
Components of a Pandora Bracelet
As stated above, a Pandora bracelet is comprised of a plain bracelet that is decorated with charms of the wearer's choosing. Because of the popularity of Pandora bracelets, there are many different types of bands and charms available, of varying materials and prices. If one is interested in starting to build her own Pandora bracelet, it is useful to know all the possible beads and bracelets that are available.
Bracelets
A plain Pandora bracelet is divided into three sections by threads. Because of this threading, as well as the threads that are built into the individual beads, the wearer can change the order of the beads on her bracelet whenever she pleases. The shopper can purchase a bracelet made of silver, gold, fabric, or leather. The silver and gold bracelets can be either designed as segmented chains on which the beads and charms are strung or worn as solid bands. Sometimes the silver or gold bracelets include precious gems set into the band. The fabric bracelets are typically strands of fabric woven into a tight braid, although some designs are merely several loose strands of fabric held together by a knot. Leather bracelets are comprised of one or two loops of leather woven tightly together. The fabric and leather bracelets often feature a gold or silver accessory on the knot. With regard to price, leather and fabric bracelets without any gold or silver adornments are the most inexpensive bands. Both come in a variety of colours, from red to pink to brown to yellow.
Charms
There are hundreds and hundreds of charms available for the Pandora bracelet, which ensures that any woman can find some that suit her personality well. Charms are available in 14K and 18K gold, white gold, sterling silver, duotone, wood, enamel, Murano glass, with and without precious stones, and with stones in pave. (A'pave' charm refers to a charm that it is covered with stones that are paired together so closely that no metal shows underneath.) Some of the stones included in Pandora charms are onyx, amethyst, pearls, hematite, topaz, and agate. The glass, wood, and pave charms all have the same shape, an oval, while the silver, gold, duotone, and enamel charms can be shaped into animals or objects such as purses or presents, have letters or numbers engraved into them, or be other simple shapes like squares. The silver, glass, and wood charms are generally the least expensive. Shoppers can also find 'dangle' charms and clip-on charms.
Another possibility is spacer charms. Spacer charms tend to be relatively inexpensive in comparison to normal charms; however, they are also less intricate. This type of charm acts as a neutral buffer between charms and helps accentuate the charms that are already on the bracelet. If one is concerned about the clasp of the bracelet slipping, which would result in the charms falling off and being damaged or lost, one can purchase a safety clip, which consists of two charms connected by a chain. Designed to hold the bracelet together even if the clasp breaks or releases, one charm is placed on each side of the bracelet clasp and, with the chain connecting them, acts as a safety net in case the clasp of the bracelet releases unexpectedly.
How to Open and Close a Pandora Bracelet Clasp
To open the clasp of a Pandora bracelet, the user must first turn the bracelet so that the clasp is facing her. Next, she fits her fingernail into the horizontal slip of the clasp while applying a light pressure to the clasp with her other hand. With the combination of pressure from one hand and the sliding of the fingernail into the clasp, the clasp should pop open. To close the clasp, the wearer pinches down on it with a thumb and forefinger. When it snaps into place, then the wearer can be assured that it is securely closed.
Opening with a Pandora Clasp Opener
Health conditions such as arthritis can make it difficult for some users to open their bracelets; others just find it frustrating or tiresome. Fortunately, it is possible to get a Pandora clasp opener. To use the clasp opener, the wearer must hold the clasp opener in her dominant hand, while keeping the clasp in the other. The petal of the clasp opener must be placed into the horizontal slit of the clasp. Using light but steady pressure, the wearer must then push down on the clasp with the opener. By this process, the clasp will pop open. Closing the clasp with a clasp opener involves the same process as doing so without a clasp opener.
Determining the Authenticity of Pandora Jewellery
Pandora jewellery is expensive; however, the price is high largely because the material is often precious and the product is always of high quality. While buying a fake Pandora charm might save the shopper some money, the quality of the knock-off jewellery is almost always going to be inferior to that of real Pandora jewellery. If a shopper wishes to ensure that she is buying real Pandora jewellery, she can consult the current Pandora product catalogue or check each charm or bracelet for the Pandora code (for example, on a sterling silver bracelet the code would be 'ale925'; 'ale' lets the wearer know that the piece is an authentic Pandora creation, and the '925' means that it is sterling silver). Alternatively, the shopper can bring her piece of jewellery to a Pandora dealer for inspection and confirmation.
How to Buy a Pandora Bracelet on eBay
Pandora bracelets are beautiful, high-quality pieces of jewellery; as previously mentioned, this quality is reflected in the relatively high price. For shoppers who wish to own and wear a Pandora bracelet but do not have the budget for such a purchase, eBay is the solution. With thousands of sellers offering millions of products, Pandora jewellery among them, you can easily find what you desire for a moderate price. On eBay, Pandora jewellery is available in new, never-used mint condition, or as a used item that is still in great condition.
You can be sure you are buying from a trustworthy seller by looking for sellers who have the 'Top-Rated Seller' badge included on their profile page and on the pages of the products they sell. eBay presents the 'Top-Rated Seller' badge to people who consistently receive positive feedback from previous buyers for delivering the product whole and on time, and who also sell a certain amount of merchandise per month and per year. These sellers with the 'Top-Rated Seller' badge are verified by eBay to be trustworthy, so you can feel safe about buying from them. To start shopping, you must first go to the eBay home page. Next, type a query into the search bar that contains keywords which will bring up the product you want; for example, 'Pandora bracelet'. From there, you can narrow down the search results by choosing to search within certain categories, such as by the type of metal, main colour, price, condition, and more.
Conclusion
Wearing a Pandora bracelet lends an air of sophistication and charm to the wearer, because of the jewellery's fine design and high-quality craftsmanship. Consisting of a bracelet made of metal, fabric, or leather that is decorated with unique charms of the wearer's choosing, a Pandora bracelet can be designed by the wearer to match any outfit. A woman can create a Pandora bracelet that perfectly expresses her personality, even her mood, by selecting and purchasing charms that reflect her interests and favourite things. Some examples of the types of charms amongst which one could choose include different animals, world monuments, or a charm with hearts, stars, or breast cancer ribbons. By shopping on eBay, the shopper can build a beautiful Pandora bracelet while buying with confidence and probably saving some money as well. By knowing all the different types of bracelets and charms available, and by knowing how to tell if a piece of jewellery is an authentic Pandora creation, the shopper is prepared to smartly and safely buy an ideal charm bracelet.