What is a Solar Cover?
A solar cover is a swimming pool cover designed both to retain heat and aid heat gain of swimming pool water through solar energy. Solar covers (bubblecovers) are manufactured using two layers of polyethelene welded together with air pcokets giving a double glazine effect on the water surfece.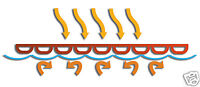 An evolution solar cover will reduce energy loss substantially so can be considered an EcoPool Product.

Solar covers are available in a number of different material colours and thicknesses offering different levels of heat retention and heat gain. Evolution Pools offer solar covers as detailes on the evolution pools ebay shop and as detailed below starting from a plain blue 400 micron to our highes grade 500 micron Bronze cover. As the UK's leading supplier of solar pool covers, evolution have selected a broad range of covers designed to suit virtually every pool, however, if you require an alternative style solar cover, we can manufacture to suit your request so please see our 2ft x 2ft covers on ebay which are available in any multiple.
The ideal way is to purchas a good quality pool roller that will allow lyou to handle the cover with ease. therefore gaining the most benefits of owning the pool cover.
If you have to physically handle the cover it is best to fan fold the cover at one end of the pool.
A swimming pool cover will be an ongoing commitment and for ease of handling on and off the pool a good quality roller system should be used.
Considerable benefits include:
A Solar bubble cover will heat the water (& retain that heat) by up to 6-8 degrees Celsius
They also cut dowm cleaning time by keeping dirt and other debris out of the pool
A soler & Heat Retention bubble cover will reduce chemical consumption by 35-60%
It will conserve water by reducting evaporation by up to 98%. Test prove for an average sized pool 5m x 10m (16' x 32') around 45,000 litres (10,000 imp gallons) of water can be saved per year.
It is hightly recommended that the first step in cutting pool energy loss, be the evaluation of the economics of using a swimming pool Solar or heat retention bubble cover.
Evolution Pools Solar Covers & Bubble Covers
As the Uk's leading solar cover supplier for 10 years, Evolution Pools offer the most up to date range of high quality pool coves at the most competitive prices. We only offer high quality pool covers from the UK's leading manufacturers and do not offer poor quality 200 or 300 micron imported covers which you will often find on the internet without warranties. Our prices for 400 micron material compete well agiainst other suppliers 200 &300 grades. So sure are we of the quality of our pool covers, Evolution Pools offer the longest UK warranty on our covers being a whole 12 months longer than other suppliers. We also supply free of charge a storage bag and solar protector sheet for you to use to prolong the life of your pool cover.
After 12 months or extensive research Evolution Pools teamed up with the UK's leading manufacturer of solar covers, Certikin to bring you the mostadvanced cover available on the European market. The Bronze Solar Cover which is suppliese exclusively by Evolution Pools is designed specifically with the UK pool market in mind with maximum Algae supression combined with maximum solar conservation.