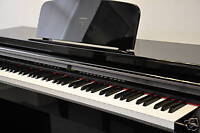 One of the most common questions we get at Yorkshire Pianos is "Should I choose a digital or acoustic piano?"
Choosing a piano can be quite a complicated procedure, but it can be made much more simple by narrowing down your search knowing what you don't and do require from your new piano.
First of all some jargon explained;
Digital piano... an electronic instrument which sounds like a traditional piano and has weighted keys with a full-sized keyboard
weighted keys... when a key is struck a weight is displaced (not a spring) this is like a real piano and ensures a good touch
full-sized keyboard...88 keys of the correct width and length
acoustic piano... a 'normal', tradiditional piano with strings and a wooden mechanism
If you are unsure whether you want a digital or acoustic piano try the following...
If the answer to any of the following questions is a YES, then you need a digital piano, not an acoustic.
1.Do you want to put your piano within a meter of a radiator? (Acoustic pianos have soundboards and other parts made from wood, these will crack if dried out).
2.Do you want your piano upstairs? (Moving an acoustic upstairs is costly, difficult and there is a risk of damage to the piano and surroundings).
3. Do you want to play at night or other times without disturbing family or neighbours? (digital pianos have headphones for silent playing.)
4. Do you have less than £1500 but still want a good instrument? (Cheap pianos are sold more on their furniture value rather than their musical value.)