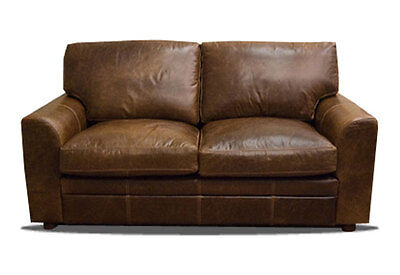 Add a caption
Hockley leather sofa in full choco saddle aniline.
Click to edit caption
Aniline leather.
Aniline leather is a vey unique and special type of leather. It is best described as " the way nature intended".
Aniline leather is a hide that has not been tampered with. A tannery will simply take a hide and process the hide without correcting any imperfections within the hide. Any marks that are visible on the actual hide such as barbed wire marks, scars, and insect bites will be highlighted during the tanning process, not corrected. These imperfections are what offer a truly characterful and totally natural look.
You will often see sofas offered in full or semi aniline leather. The differences are within the tanning process NOT the quality of the hide. (All anilines are top grain leather, the best and most durable part of the hide)
A full aniline will be processed by soaking the hide in a natural aniline dye and then typically finished with oils and waxes. No permanent colour is introduced in to the top pigment of the hide. A full aniline will age beautifully and become faded and distressed over time. You will need to add nourishing creams to this type of leather over time in order to keep your sofa in pristine condition.
A semi aniline leather as previously mentioned is equal in quality to a full aniline leather. However, during the tanning processing a permanent colour will be introduced in to the top pigment of the hide and then this the colour will be sealed in to the hide. The overall effect is a much more consistent and uniformed colour. As with a full aniline all marks within the hide will still be visible. Over time a semi aniline will wrinkle up and become distressed but not as distressed as a full aniline.
It is also prudent to point out that aniline leather can be very variant within colour and texture, even within the same hide you can have massive differentials within the colour and texture. Once again this almost random shading and texture is what makes this leather so stunning and characterful. The secret of a great sofa company is to employ time served master upholsterers that have the skill to cut panels from different parts of the hide that vary in shade and texture and introduce them in to different parts of the sofa and create a sofa that offers no noticeable difference in colour and texture from section to section within the sofa.