What is curtain gather or fullness and how much gather / fullness do I need?
This is a question we are asked quite a lot. If you're new to purchasing curtains then you may not have heard the term 'gather' or 'fullness' before. Without gather the curtain would just be a flat piece of fabric across the window and not have the soft folds that are aesthetically pleasing. Having your curtain flat across the window is not good for a few reasons.

1. It looks bad. (This should be reason enough not to do it!)

2. The gather will help you obscure the view into your room. The more gather you have the more privacy you will get but don't go ordering too much gather, if you have a patterned net curtain too much gather can obscure the pattern which could also make it look bad. We will cover this more a little later.

2. 'Blockout' and thermal curtains need to have gather when shut to be fully effective at blocking out sunlight and keeping your room well insulated in the winter.

The normal amount of gather we recommend would be 2x the width of your window. This is a safe option and you can't really go wrong with this amount of gather. Some people have a preference for more gather which is fine but if you have a patterned net curtain then 3x gather can obscure the pattern. With a plain curtain like our Denise net curtain 3x gather would be fine and something I personally like with a plain net. Below are some pictures showing the effects of different gather and may help you decide what amount of gather is right for you.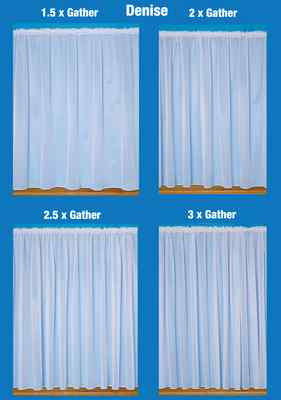 When ordering readymade curtains you will normally see the dimensions shown as width then drop so 46"x72" would mean 46" width x 72" drop.
This is the dimensions of each curtain and if you are buying them as a pair you will get two curtains with this dimension. This makes it easy to buy for your window because if your window is 46" wide you can purchase a 46" width curtain and you will automatically get 2x gather as you will receive two curtains at this width, which in essence doubles the width of your window. Readymade curtain will usually be sold in the following widths 46", 66" and 90" so will accommodate most widths of windows.