Hey all and thank you for taking a chance to read my guide,
I take it that your reading this guide probably because you either want to know what is so great about the PSP (PlayStation Portable) or just because you are looking for an easy way forward into the world of handheld gaming and want a bit of advice... It could be a completely different reason... what ever the reason - I'm going to tell you what is so great about the Sony PSP.
As you know, Sony had their first ever debut with the PSP released in 2005, of course starting in Japan, and working its way around the world into the pockets of many people - Both child and adult alike. But what made this handheld so different from all the others? Some people say it's the look or the feel when others could say it's by sony it has to be of great quality! - they are absolutly right on there! Not only that, it comes equipped with a 4.5 Inch wide screen, with up to 4 levels of brightness! Not only that it comes equipped with Stereo Speakers. Also if that isn't enough it has a headphone jack so you can listen to everything, even when the times get loud out there!
I expect some of you will maybe saying about the batteries life? How long does it last? Sony had said that it should last for around 7 to 10 hours, it depends on what your doing. I can normally play a game for around 7 hours in total before having to charge it back up again, which only takes around an hour or two so your not going to have to wait around long before you can take it on the road once it dies.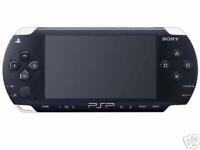 The PSP has multiple features that I shall talk about during the course of this review. These include the following -
XMB (X-cross Media Bar)
Video Player
Music Player (With Visualizations)
Internet (Via WiFi)
Game Sharing
Camera (Sold Seperately)
Skype (On Slim PSP only)
Gaming (UMD disks and Demos)
Photo Viewer
Connectivity to your PS3 System
X-Cross Media Bar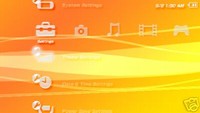 A rather odd name for a Home Menu, so what is it? The X-Cross Media Bar is the nerve center of the tasks you want to do on your PSP. From playing your favorite UMD Game, to watching a movie - The PSP has it all here. Also this is the menu from where you can select all of the above plus more! You have full access to all of your Settings (Themes, Time Settings, etc), Music, Video, Game and Internet. Also you can change your Icon Sets with the simple press of a few buttons in the Settings under themes, So you can keep your PSP looking unique and well suited to your mood.
Video Player
This is probably one of the most well known reasons for why the PSP is the best handheld console since this is one of the things that most people like to do, even if they are a hundred miles from home. The PSP can solve your film watching problems in an instant! Have that film that you always want to watch but never get time to watch the whole thing? Just stick it on to a memory stick, stick it in your PSP and watch away! It's as simple as that! Of course the only down side about this is that they must be MP4 videos, otherwise it can't be shown, but you can very easily find a video converter on the net (Google, Ask, Yahoo, etc) so this problem is hardly an obstacle.
Music Player (With Visualizations)
Music is quickly becoming a huge part of our culture, and because of that more and more songs are coming out as fast as rapid fire! How will you keep up with all that music AND make it look good when you show your friends and family? Simple! The PSP has it all packed in one, Media Player for your music with visualizations! From only one or two favourite songs to a whole album+ more! the PSP will be able to handle all of your musical needs! Of course the PSP has come equipped with being able to handle the best in compression formats for all your music! These include the well known MP3 and WMA formats with others such as WAV and ATRAC, you can never go wrong with your music!
Internet (With WiFi)
WiFi internet access is becoming more and more popular with people on the road wanting to surf the internet, chat to friends and with voIP phones. Leave your laptop at home and whip out your PSP to do some web surfing! Also being compatable viewer to Flash movies and games, your never play the same game or watch the same movie twice (unless you really want to). Also the PSP can view much more! From web messengers to of course Ebay! Catch up on your bidding and make sure you don't lose that longed for item! Laptops take ages to load up, a psp only takes around 5 seconds to get onto the net, and 10 seconds to get on to Ebay - Score!
Game Sharing
People these days just want to play a game together and not have to share or both have the same game - we all know it. It's a pain in the buttocks, Luckily the PSP have Game Sharing! (compatable with selected games only) Play a game with your friend either co-op or head to head! Many games do this game sharing option, so why not play with a friend who also has a PSP! Takes only a few seconds to send, but could last for hours of fun and excitement using WiFi!
PSP Camera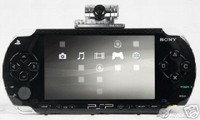 I wouldn't be surprised if there were a few eye brows raised when I said this so let me clear up any confusion. The PSP has got a fully functional 1.3MP (Mega Pixel) Camera attachment designed for the PSP which is sold seperately for around £20 (you can find it on Ebay for around that price, if not cheaper!) This can prove even more useful than a digital camera, with longer battery life, video recording and play back, Video Editing software (sold seperately with PSP camera) and more, this proves to be a useful tool not only to be used by people who want to just take pictures of their friends, but to be also used with special events (birthdays, marriages, etc) and can be used all year round!
Skype (Slim Only)
Yes, The PSP Slim has Skype! the famous voIP (voice over Internet Protocol) messenger has come to the PSP! Using the WiFi capabilities and a microphone built for the PSP, you can now talk to friends where ever you are, both landline and to another PSP/Computer and talk about what ever your normally talk about ("Your a morron", "your dog has fleas") without the sales men and women constantly bothering you to buy their windows or life insurance or what ever they wish to sale to you over in foriegn countries far far away!
Gaming
*Bet you never saw this one coming!* The PSP has been optimized to GAME believe it or not on the go for ultimate enjoyment and entertainment! So not only does this gadget let you watch videos, listen to music, go on the net, talk to your friends or family about the weather in lapland or something it lets you Game (hence Handheld Games Console) on the move! Bored in class? Bored at work? or even Bored on the toilet? This nifty thing lets you play GAMES! Even on the TOILET! No wires, no hassle, no doodoo! Just pure fun where ever you go! Slap in a UMD (Universal Media Disk) into your U-M-D Drive, go to game - Play away! It's just that simple! Also you can download demos off the net for your trusty PSP to play on all the time! with no time limits! The graphics are very much compairable with the PS2 system so not only are you getting fun games on the move, your also getting high quality games good graphics!
Photo Viewer
We all love photos right? This is the perfect companion with your PSP Camera or normal Sony digital camera! Using the Magicgate encription technology, you can view your photos to your loved ones, your neighbors, your school friends, or to the homeless guy who camps out in your back garden. View and show anything you want - even pictures transferred from PC to your memory stick! Also you can save your pictures as a wallpaper to go on your XMB!
Connectivity with your PS3
A new feature to the PSP is the Remote Play feature found under the network settings. Seamlessly connect up to your PS3 using your PS3 and a local WiFi connection to easily view your PS3! From just showing a few pictures that's on your PS3's Hard drive, to playing a few PS1 games, this feature is surely a hit with this handheld making it seem like a multi platform!
Over all the PSP is a must have handheld for any person of any age! The price tag is well worth it - Don't really bother with a DS unless you want a block of nothing but two screens and a pencil to play with (which I will be reviewing soon with all its features and so on). Anyway Thanks for viewing my guide, hope I didn't bore you too much and get yourself a PSP! trust me it is well worth it!
Ciao