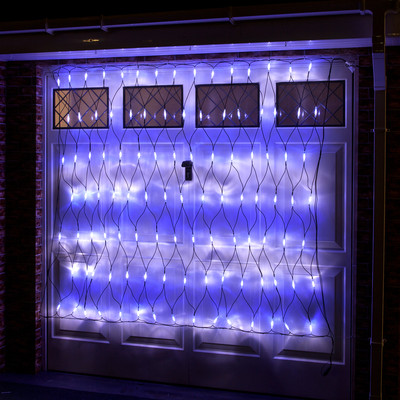 It's a question we get asked continuously through the year, and it's a very good one at that! If you are setting up your first lighting display, or you're an experienced light user who is famous for being 'that guy with all the lights' on his street at Christmas, the world of Low and Mains Voltage can still be a difficult one to get your head around. Once you do though, the options are endless!


The main difference between the two is the power supply they require, and the functions they can perform. To begin with both feature connectable lights, which allow you to create a large display from one plug by connecting various strings together. Low voltage lights require a Power Pack, which comes with a plug, transformer and a multi-function controller. This allows the lights to have up to 8 different functions, creating a variety of effects. Mains voltage products normally work on static, although we do offer an option with a twinkling effect. This is generally used for commercial and larger displays, as they have a thicker rubber cable from their Low voltage counterparts, and have enhanced durability. To run they just require a starter cable, basically just a plug without the transformer or controller.


Low Voltage
Power Pack – Plug, Transformer and Controller included. There are 3 different sizes, and the one you need will depend on the length of lights you require. A maximum of 240m can be run from the largest Power Pack!
8 different functions – Static, Twinkling, Flashing, Chasing, Slow Glow, Slow Fade, Sequential and in Waves.
Memory function – The last setting you used will be automatically remembered when you switch them back on.
Mainly seasonal use – To be taken down in the months they aren't used.
24v Power Supply – Safe to be used around the family home.
Range Of Items – from String, Icicle and Curtain lights.
Mains Voltage
Starter Cable – A simple plug with an end connection to the lights is all that is required. Up to a maximum of 900m can be run from this one plug (incredible we know……. but also slightly crazy if you need this much for your garden display!)
Static Function plus a Twinkling option
Range of Items - from String, Icicle and Curtain lights
Fine to be left up throughout the year.
A quick and definitive guide that should (hopefully) answer your questions. The range of products throughout each section is remarkable, and even more so when you factor in that you can run String Lights, Icicle Lights, Silhouttes etc together…..all from one plug. Of course if you do have any more queries or questions in regards to our connection systems then don't hesitate to give us a call, our friendly and knowledgeable staff are experts on this matter!