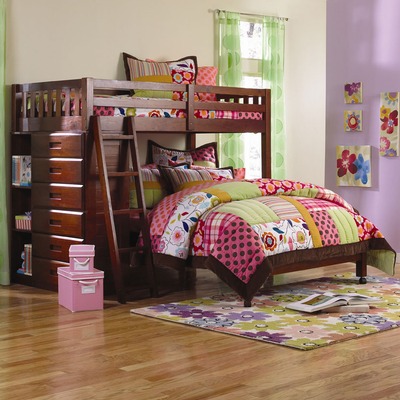 A child's bedroom can be the most creative, chaotic and fun-loving room in the house, but such a free-willing environment requires appropriate furniture. The core element of a child's bedroom is the bed and as every parent will testify, it can be a tricky purchase. Many do not know what types of a bed are available; let alone what is suitable for their child.
When exploring the marketplace there are two types of bed that stand literally head and shoulders above the rest. These two types are cabin beds and bunk beds, which share similarities in height but are different in what they offer. This guide will help shoppers distinguish the difference between the two. It will also guide them through eBay and how they can go about getting the best deal on a quality unit.
What is a Bunk Bed?
A bunk bed comes with a singular frame that features two beds placed on top of one another. They allow parents to maximise the space in a child's bedroom by utilising its wide array of features.
Allows two or more people to sleep on the same frame at the same time.
Helps expand the floor space of a room.
Versatile in appearance, comes in various types of woods and metals.
It's a safety conscious piece of furniture, as the top bunk uses a railing in order to stop people falling off.
They come with a ladder affixed in order to make getting on and off the bed is an easy process.
Not recommended for children under six.
Can usually be found in dormitories, hostels, prisons, residence halls and obviously children's rooms.
Bunk beds can be fun and versatile when used correctly. Their popularity means that retailers all over the world stock them, so expect to find unique looking bunk beds at affordable prices on eBay.
Bunk Bed Safety
Bunk beds operate at height so ensuring that children remain safe while using them is paramount. Most bunk beds come in flat pack form, which means they need to be constructed from the ground up. It is pivotal that safety is considered and parents should always pay attention to the following UK safety regulations. All units should meet these requirements otherwise they are breaking British Safety Standard laws.
No gaps in the unit are more than 75mm or less than 60mm.
The gap that allows children to access the top bunk must be built into a safety barrier and needs to be a minimum of 300mm.
Guardrails need to feature on every side of the bunk bed.
The gap between the slats can be no less than 750mm.
The mattress should be 10cm or more below the top guardrail, it also needs to fit tightly into the space assigned for it.
Children under-six should refrain from using the top bunk.
Before children use a bunk bed it must meet the safety regulations detailed, the safety issues of a bunk bed should also be explained to children. Put some basic rules in place such as 'no leaning over the sides', 'playing on the ladder' or 'jumping from the top bunk'. If children are safe a bunk bed can be a long lasting piece of furniture that will provide years of reliable use.
Choosing a Bunk Bed
Bunk beds have evolved from basic two bed units into models that take shape in all different sizes, styles and designs. You can now get bunk beds that have three mattresses or bunk beds that contain double mattresses; you can even mix and match styles. The options are endless so it is important to make sure that shoppers are educated in the models available, such as:
Single over single.
Single over double.
Double over double.
Single over futon.
What Is a Cabin Bed?
Cabin beds are the perfect option for those looking to save space and add storage to a children's bedroom. Their biggest benefit is in the variety of sizes available and the versatility they can provide to a sometimes-limited room. There is no box spring element so squeaky springs and creaks are not going to be an issue. All in all, cabin beds are an economical purchase that can add another dimension to a child's bedroom.
Cabin Bed Style
Depending on what a shopper requires, there are four different types of cabin bed to choose from. Each cabin bed has different features and are worth researching prior to purchase. They are:
| | |
| --- | --- |
| Asian Cabin Bed | Asian style cabin beds feature elements from Asian culture. They are an exotic option that is often modelled after tatami beds. There design is built to offer a sense of calm to a room's décor. |
| Modern Cabin Bed | Popular across Europe, uses clean and simple designs. These beds have straight edges and a minimalist approach. The most affordable form of cabin bed, which is an important factor to most shoppers. |
| Storage Cabin Bed | Storage cabin beds are exactly what they claim to be, they prioritise storage above all else. Underneath storage will include wardrobes, desks, shelves, drawers and much more. |
| Traditional Cabin Bed | A classic piece of American furniture and popular around the world. Does its best to blend the features of all other cabin beds and in the process makes a very versatile unit. |
Bed Materials
In terms of features, cabin beds and bunk beds are different, (as detailed above) but in terms of construction they share a lot of similarities. They are mostly constructed out of either wood or metal.
Wood
| | |
| --- | --- |
| Maple | Considered a favourite amongst American furniture makers. It's a heavy wood that is resistant to the rigors that children present. However, its weight means that it is tough to manoeuvre and position. |
| Oak | The heaviest of all woods and wear-resistant in almost every environment. Works well with nails and screws, however, its weight (much like maple) presents issues. |
| Walnut | A tough and hardwearing wood that is easy to clean. Attractive in appearance and has a deep lustrous finish that makes it stand out from other forms of wood. |
| Rubberwood | Environmentally friendly but not the most sturdy form of wood. Looks great after painting and treatment, however, is bland in its base form. |
| Pine | Low strength, low shock resistance and not particularly damage resistant. It is the most affordable form of wood on the market and holds nails and screws better than most. |
| MDF | Made from fine wood dust that is glued together with a binder. MDF is a strong but light form of wood thus is easy to move around if required. |
Metal
Metal beds are far more standardised. Tubular metal is used in the making of all metal cabin beds and bunk beds. The quality of such metal is regularly debated, although it's hard to argue against the fact that it provides great value for money. They are usually coated in coloured high gloss paint, with most manufacturers using a black or white variation. The upside of owning a metal bunk bed or cabin bed will always be price point.
Conclusion
There is nothing more important to a child's bedroom than the bed itself. The two varieties that are most popular are cabin and bunk. Shoppers need to decide what they need the bed for and whether storage or bedding takes preference.
eBay has an all manner of beds for sale, including every type of material. This means shopping for a new cabin bed or bunk bed couldn't be a simpler process. Just log-on to eBay, start browsing and you'll be sure to find a bed to suit your needs and budget.