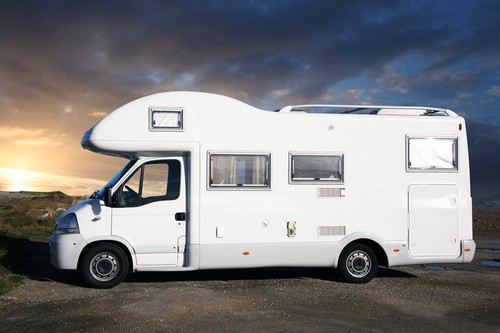 The terms camper van and motorhome are typically used to refer to any camping vehicle with a motor, indicating that the vehicle can drive itself rather than be towed. While the terms are often used interchangeably, especially by those who are not extremely familiar with either term, motorhome is most frequently ascribed to the entire class of motorised recreational vehicles including caravans, campers, and camper vans while camper van is ascribed to a van that includes a bed and probably a kitchen.
Anyone looking to make a purchase should pay attention as motorhomes and caravans are typically different in size, and sometimes feature different amenities. Buyers should check the price, the person capacity, any storage, and any special factors such as the height and weight of the vehicle or the power of the engine. For the most part, the two terms are used interchangeably, especially on sites such as eBay where anyone can list an item however they like.
Motorhome Features
The term motorhome, sometimes spelled motor home, is used to refer to most travel vehicles with an engine. For the most part, the term is synonymous with the American ' RV' or 'recreational vehicle' as it literally means a vehicle intended for recreation although RVs tend to be significantly bigger than motorhomes. The following amenities are present in most if not all motorhomes and can usually be used to recognise the vehicle and to differentiate it from a camper van.
Motorhome Size
Motorhomes are typically very large and can usually accommodate anywhere from two to eight people, depending on the model. Most feature a separate cab area with a passenger and driver seat, and a sofa in the back that is typically not equipped with safety belts. Length and height do vary a lot with models ranging from smaller than 10 metres in length to upwards of 12 metres.
Motorhome Bathroom
Most motorhomes do include an on-board bathroom, usually with a shower and working toilet, should the motorhome be connected to water. Usually, the on-board electric system can also be plugged in at a campground, which is intended to allow the owners the full luxuries of a home without having to rent a cottage or hotel. This is the most obvious difference between a motorhome and camper van as camper vans do not typically offer bathroom accommodation of any kind.
Motorhome Sleeping Amenities
Beds in a motorhome can usually sleep two to eight people. Beds can range from bunk beds to fold-out sofa beds and lounges situated throughout the vehicle. Buyers can check the number of available beds before purchase although most motorhomes have very obvious sleeping arrangements. Typically, bunks are very common, as are fold-out beds, and many motorhomes feature a table area that can be folded down to form a bed. The sleeping accommodation is usually intended to make the most of available space so that anyone inside of the motorhome has plenty of room while not sleeping.
Motorhome Kitchen
Almost every motorhome has a kitchen area equipped with a sink, hob, grill, and cabinets for storing food and items. Depending on the motorhome, the hob may be natural gas, propane, or electric, although some form of gas that can be stored in a portable tank is most common so that the hob can be used while not connected to electricity. Many motorhomes also include an oven, although this might also be gas or electric.
Motorhome Categories
There are three basic classes of motorhomes, including C, B, and A. These are frequently referred to as motorhome categories because they are quite literally different categories of vehicle such as car, truck, and van are different categories of autos. Different categories of motorhomes have different features and layouts, as explained by the chart below.
| | | |
| --- | --- | --- |
| Class | Name | Description |
| | Integrated | Luxurious and large motorhome with solid body, berths, and usually large windows |
| B | Semi-integrated, low profile | Low, small motorhome without berth, usually for two to four people |
| C | Coach-built, alcove | Most common motorhome, features a berth and caravan style body |
Depending on the motorhome, each model also might have electric slide-out extended floors to allow for more room. Some A class motorhomes also include electric beds that fold out from the ceiling, which can be very handy in case of storage and space issues. Usually, A class motorhomes are the most expensive while C class are the most affordable, and also the most popular.
Camper Van Features
The camper van is sometimes considered to be a model of motorhome although it is typically smaller, less luxurious, and most often not equipped with a bathroom. Camper vans are more similar to caravans than motorhomes because camper vans are typically simply a van with cooking and sleeping amenities. Usually, a camper van is a great deal smaller and more affordable than a motorhome and can be much easier to drive as well.
Camper Van Cooking and Sleeping Amenities
Typically, a camper van only includes basic amenities such as a hob and a sink and may or may not be equipped with an oven. Sleeping arrangements are typically either a bed situated in the back of the van or fold-out sofa beds. Sofa beds are very popular in camper vans because they allow for maximum utilisation of space, but these are not always present as many people also use the bed as a seat without folding it out. A small amount of storage space is usually available and the cabin is not normally separated from the back of the van, although a divider may be in place, depending on the make and model.
Camper Van Size
The size of a camper van can vary but most are only slightly larger than a typical van. Variations can range from those that look like traditional box vans except with a higher roof to those that look like a vintage caravan. Both options are popular and very easy to find, especially on sites such as eBay. However, most camper vans accommodate two to four people, and usually just the two so anyone looking for a camper van for family should shop carefully.
Major Differences Between Motorhomes and Camper Vans
There are a couple of major differences between motorhomes and camper vans but for the most part they are very easy to notice. The first major difference is that most camper vans are not equipped with a full bathroom, and if they are, it is typically includes only the toilet. Camper vans are also normally a good deal smaller than motorhomes and, while motorhomes are usually built like a small RV, camper vans are built more like actual vans, meaning that they blend in better on the road and are much smaller in physical size. Camper vans are better for couples and very small families while most families with older children tend to choose the motorhome for its larger size. In summary, the motorhome is more luxurious, larger, and offers more features but is a great deal more expensive and harder to drive. The camper van is smaller and has fewer amenities but is perfect for budgeted or small trips.
Buying a Motorhome or Camper Van on eBay
eBay is a great place to purchase both camper vans and motorhome s , although the terms may be confused depending on the person posting it. Usually, it is a good idea to pay attention to the shape and amenities in the vehicle if looking for either a specific motorhome or camper van on eBay. Other terms that might also bring up camper vans and motorhomes include 'caravan', 'camping caravan', ' motor caravan', ' RV', 'recreational vehicle', and 'camper'.
Buyers who are looking on eBay for a camper van or motorhome should check to see if the vehicle is new or used, what type of condition the vehicle interior, exterior, and engine are in, and where is the vehicle located. Usually, buying a vehicle is easier if it is local, unless of course it is located where the vacation is to be held. Other important considerations include the amenities and size of the vehicle.
Conclusion
Motorhome, also spelled motor home, and camper van are two terms that are often used interchangeably but actually mean two slightly different types of the same form of vehicle. Both offer a form of transportation intended for recreational and vacation purposes, but both are also built differently and offer different amenities. On sites such as eBay, the two names are often used together but buyers can look at shape, size, and amenities to determine whether the vehicle is a motorhome or camper van .
Motorhomes are typically much larger and offer a kitchenette, divided driving cabin and living area, and usually a full bathroom that sometimes includes a separate water closet and bathtub. Camper vans do not normally have a bathroom and feature a smaller kitchen area. Motorhomes are usually larger with more space and more amenities, while camper vans are smaller, more versatile, and more affordable.