Anyone who has just wanted to buy a threaded adaptor or fitting will no doubt have seen the abbreviations BSPT or BSPP in the heading or description of the item, and may well have wondered not only what the difference was, but also which one is suitable for their needs.
BSPT stands for British Standard Pipe Thread. It has a tapered thread. This means it is narrower at one the end where the thread is initially used. As the thread is tightened the fitting becomes wider. The effect of this is that the adaptor/fitting seals as it stretches the item it is fitted to. There is so much force between the connections that it can hold pressure. If that doesn't make sense, comparing it with a BSPP thread might. This stands for British Standard Parallel Pipe. On these the thread is the same width all along (hence, parallel). It is tightened onto the appropriate item, and it makes a seal by means of a bonded seal ring.These fittings are common in Britain, but elsewhere in the world there are some variations, so it is always advisable to check thoroughly before purchasing.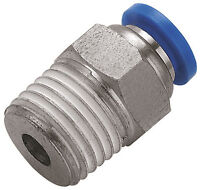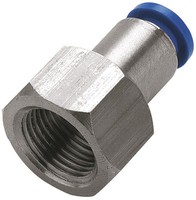 The left picture is BSPT, the right one BSPP.
Our Hosemaster Ebay shop is happy to help with any queries, misunderstandings etc, as this is not always an easy topic. Ian.