All you wanted to know about the e-cigarette


The e-cigarette is an amazing invention that is taking the world by storm! It is a battery powered 'cigarette' that actually produces 'smoke', can deliver nicotine without the toxins, and can be used almost anywhere! The e-cigarette inhaler is a cigarette sized plastic tube that heats and vaporizes tobacco instead of burning it. After the liquid capsule is stuffed in the filter, it will be warm enough for a smoke free nicotine fix. For smokers who want to quit, there are pills, patches, and gum. But how about an electronic nicotine delivery device that looks and feels like smoking - without the smell or the carcinogens? Known as the e-cigarette, the electronic cigarette is a battery-powered atomizer NOT a horrible smelly cigarette. Inhale smoke like vapor which can easily substitute real cigarette smoke and instantly start to reduce health risks associated with smoking. Even if you don't smoke or have given up for some time but still get the urge, the nicotine cartridge can be removed. This will allow you to enjoy all the fun of smoking without the addictive nicotine. It can be amusing puffing away in a crowded restaurant! The e-cigarette can be used for enjoyment in places where smoking is banned or as an aid to giving up smoking altogether. The e-cigarette is legal in cinemas, restaurants, on a plane, just about anywhere. The nicotine cartridges which are placed inside the filter lasts for between 3 - 7 day's depending on how much it is used and are available in Marlborough or menthol and in three strengths: low, medium and strong.



Standard size mini and latest mini e-cigarette
What the ITN news had to say
A battery-powered cigarette has been created in Hong Kong to help smokers kick the habit. The Ruyan "e-cigarette" is an electric device that delivers nicotine to inhalers to re-create the experience of smoking. SBT Company first developed the e-cigarette technology in 2003. The firm is now owned by Golden Dragon Group Ltd. SBT Vice President Scott Fraser said: "It's more similar to smoking physiologically as well, people are getting their dose of nicotine absorbed much more readily with our product than with the nicotine gum which takes about 5 minutes, up to 10 minutes to be absorbed. "It activates a flow sensor which draws the solution from the cartridge in the atomising chamber where it's vaporised into tiny droplets which then exhale. "The cigarettes sell for around 1,600 yuan (£105) each and are already available in China, Israel and Turkey.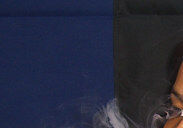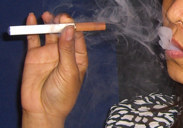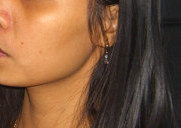 Where does the smoke go?
The E-Cigarette emits what appears to be smoke, but is actually a harmless vapor mist that evaporates into the air within seconds, not unlike the functioning of a humidifier. The e-Cigarette leaves no visual residue in the air, whereas traditional smoking can leave an unsightly, acrid cloud known to irritate eyes and bother people's senses.
What are the main reasons people use the e-cigarette for?
Most people, who smoke, smoke because they enjoy the tactile, emotional and physical sensations. The E-Cigarette provides all those same pleasures, but without all the problems commonly associated with traditional smoking. The leading reasons people use the E-Cigarette includes:
Reduced health risk

The freedom to smoke anywhere

Low cost

Avoids passive smoking

Non inflamable

More social
I hope you found this guide useful and if so, please vote for it.