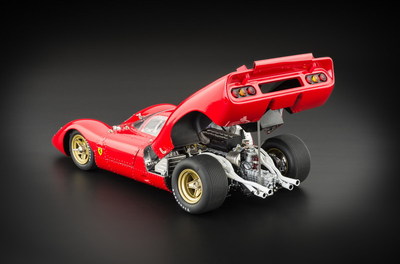 What diecast models should I be collecting?
We get asked a lot of questions about diecast models, what scale model should I collect? 1/43, 1/18, 1/12, 1/8? What diecast model manufacturer should I buy from? CMC, AUTOart, Exoto, Minichamps, Kyosho, BBR? What diecast models will increase in value? Should I buy more F1 diecast models for my collection or road and race diecast models?

We like to think of ourselves as experts in diecast models, between us we have collected models from all manufacturers for more years then we care to remember and have been dealing them for almost a decade, I personally have a passion for Ferrari models and cars and do not consider myself an avid fan of F1 but do like to collect historical F1 Models especially of cars that were used by the great F1 drivers like Senna, Schumacher, etc but prefer to collect road car models and historics - whereas Karl will religiously follow the F1 season not moving from the TV or track when a race is on, from qualifying to race day (do not try to phone him during a Formula 1 weekend!) and collects every F1 model he can in all scales.

My personal advise to collectors, if you are just starting out or if you have a 500 plus collection of models is always the same, follow your passion, go for what you like personally! Yes some diecast models are investment pieces and works of art that will only go up in price and of course these are always good to buy to resell for profit (hopefully!) in the future, the best investment models are those that are in a limited edition or even signed by the drivers.

As for what scale to collect again ask yourself, what can you afford? How much room do you have? Is a 1/43 scale better then a 1/18 scale? That is a question the collector needs to answer! (I personally like 1/18 scale models the most) And as for what brand again that comes down to budget with the majority of models from all diecast manufacturers being nicely detailed.

For any car and model enthusiast the right diecast is out there for you, collecting diecast should be fun, it should excite you and it does not always need to break the bank!

Happy collecting!