Top to toe guide to buying used Barbie dolls by Violets Emporium - always check the following: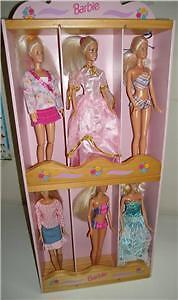 Head & Neck: check the head is securely attached to the neck and the neck has no visible cracks. Visually check the face to ensure the painted on eyes and facial features are complete.
Hair: check all hair plugs are present and that there is no discolouration to the scalp. Quick visual check is all that's needed for the hair. Knotted hair can be sprayed with a detangling spray and brushed out. Just patience is required for this! Check for hair cuts as severe hair cuts can de-value your doll.
Torso: visually check for marks and distortion
Hands and feet: visually check for bite, white 'stress' or chew marks. This type of damage can de-value pre-owned dolls.
Legs and arms: should move freely but not too loose. Legs with bendy knees should bend and 'click' and move back to straight again. Jointed arms and legs should move freely but not be too loose.

You may also wish to consider the following before buying your pre-owned doll:
Is it from a smoke free environment?
Is the original jewellery present (if applicable)?
Will the seller pack the doll well for shipping?
Are clothes included and if so are they in good stain free condition?