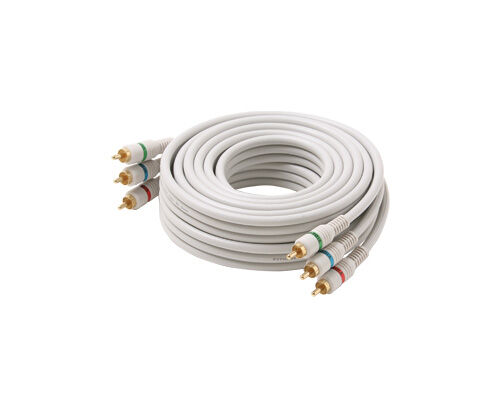 For a great home-entertainment viewing experience, it is important to use the proper A/V cables, especially when connecting the television for videos, games, and other similar purposes. Though there are many different types of cables to choose from, analogue televisions must use component video cables. These cables are used within the home for connecting a television to many different devices. They can also be used to transfer a variety of video signals.
Unlike audio signals, video signals are more complex, therefore, they are not so easily transferred. Because of this, component analogue video must be transmitted via three different signals. This is why component video cables have RCA plugs on both ends with a grouping of three smaller cables in red, green, and blue, for each of the signals.
Component video cables may be purchased at electronic stores, entertainment outlets, and through online marketplaces and auction sites such as eBay. There are several considerations prospective buyers must bear in mind in order to get the most out from their entertainment system. These include the materials used, length, price, and more.
Defining Component Video Cables
The structure of component video cables comes from specialised video coaxial cables, which provide improved video performance. When component cables were invented, they used this same successful structure with three cables to transmit the separate Y, Pb, and Pr signals necessary for quality analogue video. When all three signals are used in conjunction with a television and the chosen device, the video appears onscreen. Each cable is a double-ended plug that must be placed into a colour-coded connector. There are six plugs altogether, two for each colour. Primarily, they are used with television sets and home theatres but can also be used with DVD players, video cameras, projectors, and some computers.
Comparing Component Video Cables
Component video cables are not all created equal. There are several considerations serious buyers must take into account in order to pick the right cable for the right use, which are detailed below.
Cable Length
One of the first things a buyer must contemplate when purchasing component video cables is how long the cables should be. This depends largely on where the television is situated in relation to the DVD player or other device the owner intends to connect it to. Unfortunately, this also affects the signal.
Therefore, it is important to ensure that all three cables are the same length for optimal cable timing. Cable timing refers to the length of time it takes the signals from each cable to travel from one device to another. When all three cables are the same length, the signals should reach their destination at the same time. If, however, one cable is one metre long while the others are two metres long, one signal can reach the second device ahead of the others. This throws off the timing and can result in image quality degradation.
The same goes for overall length. The further a video signal has to travel from a television to a video camera, for example, the greater the amount of quality lost along the way. This loss of signal quality translates to a poorer image quality on the screen. Shorter analogue cables are also less susceptible to video interference. That is why it is best to bring the two devices as close as possible to one another without sacrificing convenience or device placement.
Buyers should measure the distance between the television and other devices to compare with optimal lengths advertised for the brand of component video cable they are considering.
Cable Price
Another consideration that should be near the top of a buyer's checklist is the price. Some component cables cost only a few pounds while others cost considerably more. While more expensive component video cables are not necessarily better than inexpensive ones, buyers should evaluate whether or not the extra cost provides them with a better overall picture. Buyers can compare brands and product reviews to determine acceptable cable prices.
Clearly, personal budget also plays a part. It is important to stay within the intended price range, so be sure to shop around.
Impedance Levels
The technical specifications of the component video cables should have an impedance rating. This simply refers to the strength of the video signal's transmission. An optimal impedance level is 75 ohms. For the best overall video quality, buyers should purchase cables as close to this impedance level as possible.
Cable Materials
One of the differences between component video cable brands and other models are the materials used in their design. As with anything, high-quality materials generally perform better than cheap ones. Inspecting the construction of the cables helps buyers ensure that the cable conducts a good video signal without the interference that often troubles analogue signals.
There are four cable parts buyers should inspect in order to ensure they are made with quality materials:
Conductors
These are the wires inside the cable casing that carry the video signal from one device to another. The best video quality comes from wires that utilise oxygen-free copper in their construction.
Shielding
This cable element filters radio frequency and electromagnetic interference that often decreases the quality of the video signals as they are transmitted. Buyers who want the highest quality signal should look for cables that offer two shielding layers. These are often a foil and a braided shield. A more expensive and protective option against interference is triple shielding.
Connectors
This part of the cable plugs into the jacks on both devices. Gold-plated connectors are the best choice for the purest video signal. This is because the gold prevents increased degradation during transmission.
Outer Jacket
The outer jacket covers the conductors and other parts. Sturdy covers are the best option here, since they offer superior protection against scratches, cuts, and tears, which might expose the fragile inner wires. For those who plan to run the component video cables through a wall, it is best to choose a cable that is specifically designed for that purpose.
Component Video Cable Bandwidth
When shopping and comparing component video cables, buyers should be sure to check both ends of the cables. Some do not support component video on both ends. For the best video quality, the highest bandwidth connection is necessary. This is especially important for home theatre enthusiasts. To achieve the highest bandwidth, both ends of the cable must have common bandwidth capabilities. For example, if the connection to the television has a 480p-resolution transmission, the DVD player connection must have the same amount.
Buying Component Video Cables on eBay
Once you have determined which component video cables to purchase, it is a quick and easy process to buy used or new cables from online marketplaces like eBay. The first place to begin a new search is within the search box that is located on every eBay page. Simply enter your chosen keywords into the search field and watch the results return on the following page. Since the results can easily number in the hundreds, you may want to narrow your results to make your shopping experience easier. Use the category and organisational tools to filter listings by price range, brand, seller location, and more. Utilising these tools assists buyers in finding the correct matches quickly. It also makes price and product comparisons much simpler.
If you would like to take a closer look at a component video cable listing, click on the title or picture to view a full product description, condition details, photos of the item, and shipping information. It is also recommended that prospective buyers take the time to research the sellers. You can do this by clicking on their name to view their profile page. Here, you can see their public eBay history, their location and feedback rating, and reviews from other customers. Some sellers bundle items to allow buyers to save on shipping costs and this is also the place to search for any such available bargains.
Conclusion
The key to buying the best component video cables for any analogue entertainment requirements is to start with where and how the buyer intends to use them. Since length is one of the most important elements in choosing the right cable, it must be one of the first decisions. This also indicates how many cables are needed. In many cases, budget determines which cables can be purchased and how many. Another thing buyers must take into account when purchasing component video cables is the materials used in their construction. This is important in order to ensure quality cables and, therefore, quality video. Other considerations include ohm impedance levels, timing, and the end leads of the cables.
Once buyers have determined which cables they would like to purchase, the component video cables can be obtained from electronic stores and online marketplaces such as eBay. Using the sorting and category tools eBay provides, shoppers can easily find an abundance of new and used listings from private and commercial sellers.