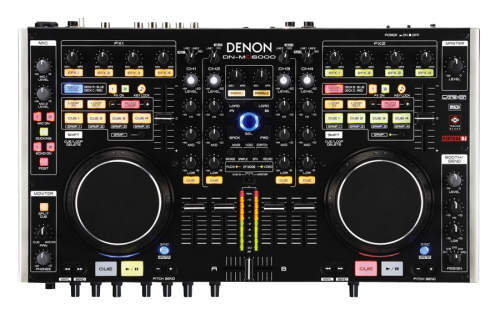 Buying DJ gear can involve a large financial outlay. For this reason, buyers should have a clear idea of the type of equipment they need in order to make a wise and cost effective purchase decision. One of the first things to consider is whether one wants digital audio equipment or gear to play vinyl on. This really comes down to personal preference. Shoppers should then consider what items they need, including accessories they may use. An individual who is just starting out and requires everything a DJ needs to perform well may consider buying his or her gear separately or as an all-in-one package. Each of these options offers advantages and disadvantages that appeal to different tastes and needs.
When it comes to choosing where to buy DJ gear from, buyers may consider visiting local audio-visual stores, or they may head to specialty music stores. Many shoppers consider online retailers as great sources for DJ gear. eBay is an online auction site that offers a wide selection of DJ equipment from sellers in varied locations.
DJ Gear for Digital Audio or for Vinyl
Choosing DJ gear begins with deciding between equipment that works with digital music or traditional equipment that works with vinyl. With digital audio DJ equipment, CDs and MP3s do not wear out or warp, they can be recopied easily, and it is easy to carry around a large number of soundtracks.
Vinyl DJ equipment is often chosen by people who believe it provides better sound quality than digital equipment, and many feel they can be more creative with vinyl equipment. For professionals who want the best of both worlds, there is some software available, such as Rane Serato Scratch Live, which allows DJs to use MP3 music on special record turntables.
Consider the Required Items of DJ Gear
Whether one is a professional DJ or a budding enthusiast, there is some basic gear that a DJ cannot do without. This equipment can be expensive and, therefore, should be designed to meet all the needs. Spending time doing a bit of research on equipment features, options, and brands can help a buyer save money in the long run.
Turntable
A turntable, sometimes referred to as a deck or table, is an important piece of basic DJ gear for those who like to use vinyl. The sound quality and performance of a DJ has a lot to do with the type and quality of turntable he or she chooses to use. A buyer has the choice of two basic turntable types. Direct-drive turntables use a motor and magnets to drive the plate. This type of turntable is quite expensive and is a popular choice with more experienced DJs. Speed recovery after scratching is faster, and greater record manipulation is possible with direct-drive turntables.
The other option is a belt-drive turntable. A belt-drive turntable is an ideal choice for those starting out, as this type of turntable is less expensive and easier to get used to. Buyers should note that it is difficult to perform the scratching technique on a belt-drive turntable.
Mixer/Controller
The mixer, or controller, is where one mixes and creates the desired sound. Simple, inexpensive mixers have only a few basic features, while expensive professional models offer a wide range of creative features and extras, enabling a DJ to create just the right sound.
Buyers have the option of how many channels they want. For a beginner, two or three channels is usually sufficient, while experienced DJs may prefer a few more channels, say six or eight channels. The number of inputs and outputs, controls, and faders determine how flexible the mixer is. Be sure to verify that the particular mixer being purchased has all the right connections that are required. For the beginner DJ, a few basic inputs and outputs, some equalizer knobs, and gain control switches are considered acceptable. The Denon DN-X100 mixer is a good mid-range mixer for those who plan to undertake functions as a DJ regularly.
Player
A player is a necessary piece of DJ gear for buyers who prefer to use digital tracks as opposed to vinyl. Buyers have the choice of tabletop players or dual players. Tabletop players are usually set up on either side of the mixer and look similar to traditional vinyl turntables. These players hold one CD at a time.
Dual players are more versatile and are the preferred choice for professional DJs. A dual player can allow the user to simulate scratching and beat jogging. Some of the features that buyers should consider include looping, memory, faders, pitch control, cue points, and various other sound effects.
Software
Choosing DJ software is an important component of acquiring DJ gear. When deciding on a type of software, a consumer should consider versatility and longevity. The ability of the software to store cue points, loops, and track comments is ideal. The more popular brands of DJ software include Traktor, Serato, and Virtual DJ.
Speakers
Speakers are an important part of a DJ's equipment. The quality, size, and power output of the speakers depend on the size and style of the typical crowd. Buyers have the option of active or passive speakers. Active speakers, sometimes referred to as powered speakers, feature amplifiers and processing that are built in. Passive speakers, or unpowered speakers, require a separate amplifier and external processing equipment. Active speakers may cost more than passive speakers, but active speakers can be more cost effective once a buyer adds on the price of amplifiers and processors to the price of the passive speakers. Although passive speakers may be more difficult to transport, they do offer greater flexibility of sound.
Amplifier
Amplifiers are necessary when using passive speakers or when one wants to amplify sound for extra volume. An amplifier also offers greater versatility with a particular sound one may wish to produce. Some amplifiers offer extra DSP, or digital sound processing, ability. DSP amplifiers offer greater versatility for the DJ. Buyers should keep in mind that the power of the amplifier needs to correspond with the speakers. An amplifier that is more powerful than the speakers can end up damaging the speakers.
Other Accessories
Headphones, microphone, and various cables are often used by professional and budding DJs. Those who are professional DJs may find accessories such as lights, video equipment, or a smoke machine helpful.
| DJ Accessories | Description |
| --- | --- |
| Headphones | Many DJs wear headphones for long periods of time, so comfort is a key aspect when looking for headphones. A closed cup headphone with flexibility that allows listening in one ear at a time is ideal. |
| Microphone | Ideal for those playing to larger crowds. The quality of microphone has a significant impact on its quality and durability. |
| Cables | Having a selection of cables comes in handy for a DJ. It pays to have a spare set of commonly used cables as a backup for an event. The quality of cables depends on the buyer's budget. |
| Video | Video equipment can turn a normal event into something extravagant and memorable for guests. Video equipment can be expensive and is usually only purchased by professional DJs who play to large crowds |
| Lights | Lights are surprisingly cost effective and can add that extra excitement to a DJ's event. |
| Smoke Machine | The size of smoke machine one wishes to buy depends on how much it costs. Smoke machines can add that special effect to a stage or dance floor. |
Choosing whether to buy extra DJ accessories comes down to budget and personal preference. Some accessories, such as lights, video equipment, or a smoke machine, are not necessary, and some DJs may choose to do without these items. Other accessories, such as headphones, microphone, and cables, tend to be more of a requirement for many DJs.
Buying Separate or Packaged DJ Gear
Buying DJ gear separately is ideal for those who already own several pieces of equipment. Buying equipment separately can be more expensive, but this allows a buyer to choose where he or she wants to spend the money. Some buyers may spend more on a high quality mixer and less on software or speakers. An all-in-one packaged DJ gear may be a better option for the buyer who is just starting out in the industry. Packaged gear can be a cost effective way to purchase all the necessary items to get up and running in no time.
Buying DJ Gear on eBay
To search for DJ gear, a shopper can begin by simply typing "DJ gear" into the search bar located on an eBay page. This brings up a long list of items, giving buyers an overview of all types of equipment available for sale on eBay. To further refine the search, a shopper can search by the item condition, price range, seller, or buying format. Alternatively, buyers can use the search bar option and enter the term for a more specific item of DJ gear, such as "DJ headphone".
In order to make a wise purchase decision on eBay, a buyer is well advised to carefully read the listing description of an item under consideration. Buyers should be wary of underpriced or overpriced items. There should be no discrepancies between information on the listing page and that in the item description. Additionally, it is a good idea to review the background of the seller one is interested in purchasing an item from. Reading feedback from previous customers and communicating directly with the seller can help in gauging the quality of a seller.
Conclusion
Whether one is a professional DJ looking to purchase a new piece of equipment or a budding DJ who wants to hone the skills, there are several things one needs to consider when looking for DJ gear. Before looking at equipment, it is a good idea for a shopper to know if he or she needs digital audio equipment or equipment for vinyl. Once this has been decided, buyers can then look into the specific type of equipment they need, such as turntables, mixers, players, software, speakers, or amplifiers. Additional accessories can come in handy in creating a complete experience, and they include headphones, microphones, cables, video equipment, lights, and even a smoke machine.
When considering DJ gear, one may benefit from looking online for new or used equipment. As an online auction site, eBay makes available a wide range of quality new and used DJ gear at reasonable prices. With its user-friendly search tools, sellers from different locations, and secure payment options, eBay can greatly help a buyer in finding and purchasing the right type of DJ gear at competitive prices.