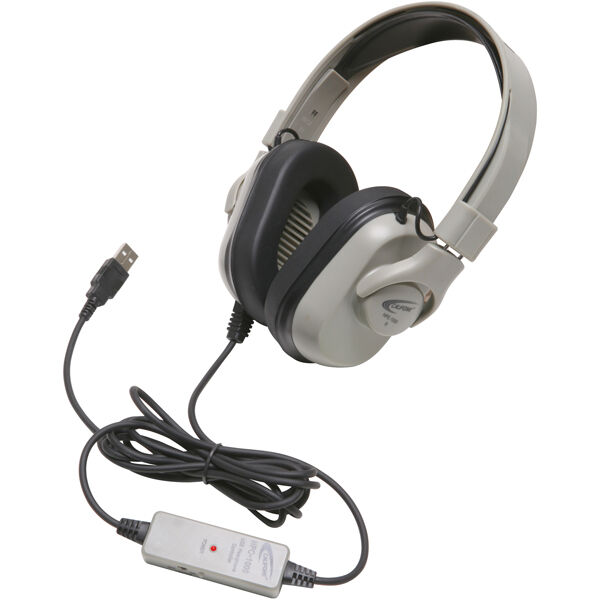 Corded headphones with volume control allow users to enjoy music, videos, games, and more in comfort and privacy. Having a volume control setting increases the convenience headphones provide without having to rely on the volume of the device they are connected to. In addition, headphones allow users to reduce any distractions around them without causing inconvenience or annoyance to others. Knowing which headphones to purchase comes down to a few simple steps. Prospective buyers should begin by determining their exact reasons as to why they need headphones. Knowing this ahead of time enables shoppers to better choose between all available types of corded headphones and a wide variety of other features too. Predominantly, buyers should aim for comfortable headphones and good sound quality within predetermined budgets.
Corded headphones with volume control can be purchased from electronics stores, specialty shops, and online retailers. If buyers are looking for used corded headphones, private sellers, thrift stores, and online auction sites like eBay are excellent solutions.
Types of Corded Headphones
The first step in purchasing corded headphones is in determining why they are needed. There are many types of headphones available and what a shopper chooses depends largely on their lifestyle and the intended use. Buyers can choose between corded headphones for home use as well as portable corded headphones for people on the move. The following chart summarises a few of the most popular types of corded headphones to consider:
Type

Features

Circum-aural (open)

Cups wearer's ears

Seals in sound

Allows some loud external noise through

Circum-aural (closed)

Cups wearer's ears

Seals in sound

Blocks nearly all external noise

Hanging on-ear

No headband

Each side "hooks" around ear

Sits atop ear

Good for activities

Intra-canal

Inserts into ear canal

Forms seal to block external noise

Not easily noticeable

Intra-concha

Rests in bowl of ear

Readily available

Inexpensive

Easily portable

Supra-aural

Sits on top of wearer's ears

Allows external noise to be heard

Design does not "squeeze" head

Supra-concha

Sits atop and just behind wearer's ears

Supported by back-of-head band

Increases external awareness

Good for activities
Some headphones are designed for specific applications. Others are meant for general purposes. This is why it is important for buyers to decide what they are intended for before committing to the purchase.
Home/ Studio Headphones
Home or studio headphones tend to look like earmuffs connected by a headband. The cords on these headphones generally stretch from one to three metres long to give the user plenty of room to relax when they are connected to a receiver, TV, or other devices. The volume control can be located on the cord or on the side of the headphones. They are large and often too heavy or bulky for active users, though some fold up for convenient storage. If a buyer plans to use corded headphones at home, any of the following types are an excellent choice.
Circum-aural (open)
Circum-aural headphones are those that cup the wearer's ears to seal in the sound and muffle outside noise. They are also known as over-ear headphones . Users who want the advantage of headphones but still would like to hear some external sounds, such as a child's voice or a knock on the door, usually find these to be a handy choice.
Circum-aural (closed)
Closed circum-aural headphones muffle all external noise. While excellent for the wearer who craves privacy, they may block out some important external sounds.
Supra-aural
Supra-aural headphones are also known as on-ear headphones . They tend to weigh less than over-ear designs and can be more comfortable for those who do not like the "squeezed" feeling over-ear models sometimes give. Hence they are a good option for those who find over-ear models uncomfortable. In addition, because they do not cup the ear, wearers tend to hear more external noise.
Portable Corded Headphones
Portable corded headphones are small, light, and can be easily carried. They are often designed to be as inconspicuous as possible. Some designs benefit runners and other active people who need headphones to stay put. Most portable corded headphones feature the volume control on the cord. Therefore, if the buyer plans on being active, these headphones may be the best choice.
Hanging on-ear
Hanging on-ear headphones fit on top of the ear but have no headband. They loop over the ear, close to the head, and are held in place by a clip-like hook. If buyers find headbands to be uncomfortable or would like a more secure way of hearing audio, these headphones provide an excellent solution.
Intra-canal
Intra-canal headphones are inserted directly into the ear canal. This forms a seal that improves audio quality and muffles external sound. Many people choose these for the tight fit they provide, especially since most come with varying sizes of canal tips to fit individual ears. They are also inconspicuous.
Intra-concha
Intra-concha headphones, otherwise known as earbuds, rest in the bowl of the ear. Only a small portion extends into the ear canal. For buyers looking for convenience, earbuds are readily available and cost-effective. They have limited volume controls and may not have many extra features.
Supra-concha
Supra-concha headphones are more commonly referred to as sports headphones . People with active lives, runners, and fitness enthusiasts find these to be helpful when engaged in strenuous activity. They are supported by a band or bracket that hold the headphones in place around the back of the head. Instead of sending sound straight into the ear canal, these headphones radiate sound towards the ear. This increased external awareness and security while allowing the wearer to enjoy music or radio.
Corded Headphones Features
The next consideration in buying corded headphones with volume control is to decide what they need to do. Headphones have distinct features that assist wearers. The volume control is one of these. As already mentioned, the intended use of the headphones, whether music, gaming, or TV, determines what features are best for each buyer. The following three features are some of the most readily available.
Noise-cancelling Headphones
Specialised technology enables wearers to completely block external sound through noise-cancelling headphones, which use an electronic filter to eliminate extraneous audio. This can be useful to those who are trying to sleep in a noisy place, such as on an aeroplane, for big game hunters who want to avoid ear-damage from the sound of gunshots, and more. Noise-cancelling headphones prevent the wearer from turning up the volume too loudly, hence avoiding over-straining the ear.
Noise-Isolating Headphones
Noise-isolating headphones differ from noise-cancelling headphones in that they are not electronically filtering sound. Instead, a thick piece of foam blocks ambient noise from reaching the ear canal. They are often more comfortable than noise-cancelling headphones since they are not designed to block every sound. Gamers and music enthusiasts frequently enjoy this feature.
Surround Sound Headphones
Surround sound headphones are the ideal option for audio enthusiasts. Those who do not want the expense of a full-room surround system or those who don't want to wake their housemates use these headphones. They are designed to be effective at providing a similar sound to home theatre systems.
How to Buy Corded Headphones with Volume Control on eBay
eBay has a wide variety of new and used listings from private and commercial sellers for corded headphones with volume control.. To keep things simple for shoppers, there are three easy ways to find the right headphones: the search field, category filters, and organisational options. Begin by entering a set of keywords into the search field. For example, to see listings for headphones that sit on the ear, enter "on-ear corded headphones&" into the search field. In case the search results may not be what you are looking for, or there may be too many to look through comfortably, you can refine your search through the category filters that allow shoppers to browse by item condition, price range, type, and more. For even more specific results, you can sort listings with the organisational tools.
It is recommended that shoppers read item descriptions before deciding to commit to a product. The descriptions give information such as why the headphones are being sold, whether they are new or used, and what condition they are in. Sellers may provide information from the product itself, such as volume range or sound quality. You can also view shipping information and charges, and what payment methods are accepted.
If you have questions about the headphones or any other aspect of the purchase, you can contact the seller via their profile page. On this same page, you can find information about the seller's feedback rating from other customers, additional completed transactions, and where they are located.
Conclusion
Corded headphones with volume control are a convenient, private way to enjoy a quality audio experience. Along with the convenience of volume adjustment right from the headphones, they can offer extra features like surround sound or noise isolation. There are many types of corded headphones, many of which are designed for specific applications.
Buyers should begin their search by deciding how and where the headphones are to be used. Home or studio settings offer a wider selection of choices for shoppers since the headphones can be any size and shape that suits the user. Portable corded headphones, on the other hand, are convenient to use, comfortable, and lightweight. Depending on the activity and how strenuous it is, it may be necessary to purchase headphones that are designed to cling to the wearer's head or ears without falling off.
Corded headphones with volume control can be purchased from electronic stores, specialty vendors, and from online marketplaces such as eBay.. It is best to compare prices between sellers in order to find the best deals and products. Researching the headphones, as well as the seller, helps to ensure buyers find exactly what they need. Corded headphones are available for nearly any device, allowing shoppers to obtain a quality listening experience that can be enjoyed in a variety of ways.