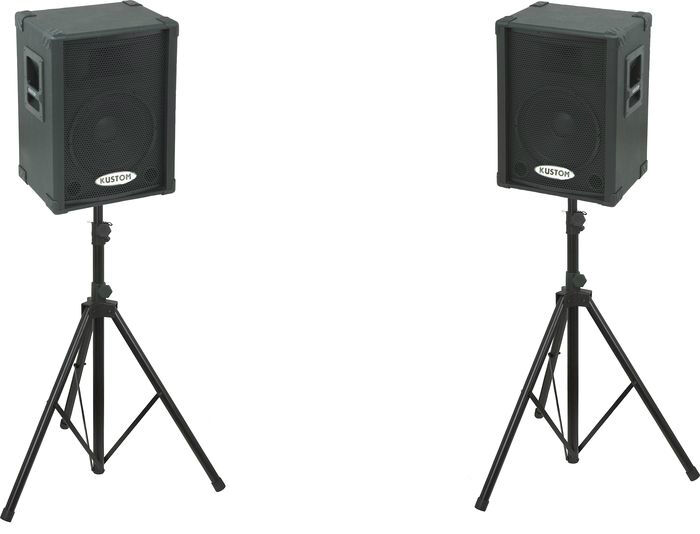 A Hi-Fi system is an important addition to the entertainment system in a modern home. When choosing a new or replacement pair of standmount Hi-Fi speakers, there are a number of considerations that need to kept in mind, in addition to the issue of budget.
Looking into the types of standmount Hi-Fi speakers available in the market can help consumers, both novice and expert, make sound purchasing decisions. Deciding where a pair of speakers should stand can affect the physical size of speakers chosen. Styling considerations should also be taken into account if a pair of standmount Hi-Fi speakers is to continue to be appealing as a room is redecorated over the years.
eBay offers the modern shopper a flexible platform to look at many different options offered in standmount Hi-Fi speakers. Considering products from multiple sellers and comparing them can really help build awareness in a marketplace where the shopper may have little experience.
Testing Standmount Hi-Fi Speakers at Home
Buying a pair of standmount Hi-Fi speakers is an exercise in personal choice. The sound provided by a given set of standmount Hi-Fi speakers can appeal to different people in different ways. Therefore, the appreciation is extremely subjective. Put quite simply, there is no such thing as "the best" set of speakers, merely those one enjoys more.
Online shopping for items such as Hi-Fi speakers, which are potentially expensive items, provides an opportunity that is rarely found with traditional retailers. It is possible to select standmount speakers from online retailers with clearly defined returns policies and have them delivered to the home. This gives the opportunity to test each set in the environment where they are to be used. Items that do not fit the needs can then be returned with the original packaging to the retailer after the home test has been completed.
Types of Speakers
Floor-standing and standmount Hi-Fi speakers generally deliver audio performance that is of higher quality than that provided by other types of speakers such as the bookshelf, in-wall, and on-wall models. This is normally because the speakers and standmounts can be matched to provide the desired audio performance. Wall-mounted speakers and in-wall speakers may have an audio profile that is modified by the wall and mounting equipment used.
Speakers do take floor space and, if optimum audio performance is to be achieved, consideration needs to be given to their precise location. Modern audio systems can make use of woofer and subwoofer technology to boost the richness of lower frequency sounds, and additional speakers may need to be located elsewhere in the room.
Siting Standmount Hi-Fi Speakers
Two main rules may be used to determine the ideal location for a pair of standmount Hi-Fi speakers. Taking either of these rules into account can also help with decisions regarding the physical dimensions of speakers being considered for purchase.
According to one of the guidelines, called the Golden Rectangle Rule, a speaker should be placed 1 m from the front wall to reduce bass reflections and provide a bass profile that is not too boomy. The speaker should also be located 1.6 times the distance from the side wall. This position creates the golden rectangle to deliver superior bass response. If this position is not practical, then the speakers can be positioned elsewhere according to the 1:1.6 ratio. Speakers with smaller physical dimensions can also help make siting easier.
Sometimes, the Golden Rectangle rule does not work for practical reasons such as the location of existing furniture. In this case, a more generalised approach to siting can help. An alternative guideline recommends that the speakers be placed at a gap from the front wall that measures either one-third or one-fifth the room's length.
With either rule, the speakers can then be angled towards the desired listening point to create an audio "sweet spot" where the sound heard is of superior quality.
Matching Speakers with Other Hi-Fi Components
Standmount Hi-Fi speakers are designed to perform within clearly defined power ratings. It is important that the power rating of amplifiers and speakers are closely matched. Assuming that an amplifier has sufficient dynamic range to amplify a variety of levels of music, it is equally important to ensure that standmount Hi-Fi speakers are capable of reproducing sound across the same power output produced. Most mid-range speakers require a power output between 30 and 100 watts. If incorrectly matched, speakers and amplifiers can result in very low levels of volume, severely distorted sound, and, in a worst case scenario, blown loudspeakers.
Listening Position for Standmount Hi-Fi Speakers
Many speaker stands position standmount Hi-Fi speakers at ear level of the listener in the seated position. This lines up woofers and tweeters so they are as close to the level of the ears as possible to ensure that the less robust high and low range frequencies can also be heard.
Appearance and Style of Standmount Hi-Fi Speakers
Standmount Hi-Fi speakers should be considered as something more than just an accessory. They need to blend in with the decor in a given room, and therefore consideration should be given to their finish. Many speakers can be purchased with attractive real wood veneer finishes in various types of hardwood. Dark red wood veneers such as cherry and rosewood blend in very well with a more traditional style of decor, whilst lighter colours such as maple look more at home in a modern family room. High-tech styling in black and chrome can be flexible, as it can be made to blend in or stand out. Rugs and room accessories in contrasting or blending colours can be added to make a room's decor with standmount speakers to be particularly effective.
Stands for Standmount Hi-Fi Speakers
Speaker stands should be chosen for a solid feel and when tapped with a knuckle should produce little or no audible sound. This is important if the music produced by the standmount Hi-Fi speakers is to be projected into a room without distortion. A stand also needs to be heavy so that it resists being knocked over. Some stands have hollow pillars that can be filled with materials such as sand to make them more stable and add to their acoustic neutrality.
Having chosen a set of speakers for their acoustic properties and design attributes, the same consideration should be applied to the speaker stands. Connection with the floor can also affect the acoustic performance of a set of speakers. If a floor is carpeted, then the stand should have speaker spikes on the bottom, and pads should be used if the stands are positioned on a wooden floor. Spikes and pads used in this way can limit any interference with sound quality that may be caused by floor types.
Buying Standmount Hi-Fi Speakers on eBay
Finding standmount Hi-Fi speakers on eBay is a straightforward activity. From any page on eBay, just type in "standmount Hi-Fi speakers", and eBay returns a list of items for you to examine in more detail. If the returned listings do not contain what you are looking for, then you may elect to use eBay's list of suggested searches that can result in more appropriate listings.
Search terms can also be changed to make the listings more specific. For example, simply keying in "standmount Hi-Fi speakers rosewood" returns listings that are more specific, if they match your needs. Thanks to the user-friendly nature of the website, even a new eBay buyer can perform specific searches within a few minutes of logging on to the site.
Be sure to learn more about the seller you are interested in dealing with. You can do this by reviewing the feedback that the sellers has received from other customers and also by communicating directly with the seller if you have questions. Alternatively, you may choose to only do business with eBay's top-rated sellers who have received consistently high ratings for their services on the website.
Conclusion
Purchasing a new pair of standmount Hi-Fi speakers is one of the ways in which a consumer can take advantage of new technologies in order to improve the performance of an existing audio system. When one embarks on a search for standmount Hi-Fi speakers, one needs to consider factors such as the ideal location for the speakers in a room as well as the compatibility with other system components such as amplifiers. Other factors that affect the decision include the construction of the speakers as well as the budget available for the purchase.
It is possible to purchase practically anything on the Internet that one can otherwise expect to find in an ordinary high street shop. However, when more expensive items, such as standmount Hi-Fi speakers, are purchased online, it is particularly important to work with a seller who can be trusted. A shopper using eBay to purchase standmount Hi-Fi speakers benefits from the website's features that enable potential buyers to get information about the sellers they want to work with. With its many functionalities, eBay can help a shopper find the right set of standmount Hi-Fi speakers that meets the requirements.