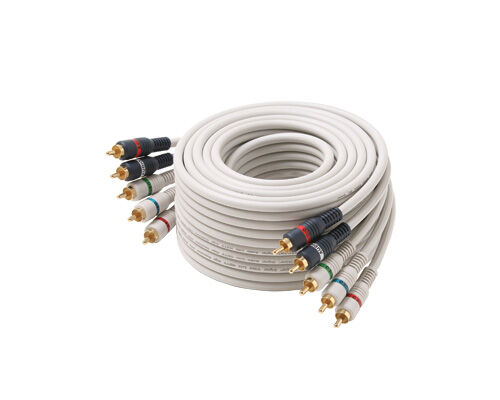 Video cables play an important role in modern electronics, and are used to connect televisions and computer monitors with video players, video game systems, and other devices. They can vary greatly in terms of their performance, and buyers have many options available to choose from. The most common type of video output on older electronics is a composite port. Used with video players and video game systems, these have since been replaced with component and HDMI outputs, which are capable of handling much higher resolutions. Buyers can find a number of other cables, including S-video, coaxial, and DVI. Understanding the differences between these cables can help buyers establish a high-performance home entertainment system.
Some accessories are also available to help buyers make the best connections. Because electronics manufacturers must choose which types of video outputs to include with their products, issues of compatibility are likely to arise. In these cases, buyers can find adapters to connect almost any combination of video cables, such as composite to HDMI.
Video cables and adapters can be purchased from electronics and department stores, as well as online retailers. Marketplaces like eBay have listings from private and commercial sellers, and offer items in both new and used condition. Shop around to find the best prices on video cables, and consider performance and compatibility to choose the best products for owned devices.
Types of Video Cables
Technology is in a constant state of development, and video cables are produced to remain current with video players, camcorders, video game systems, computers, and other devices. Although there is some standardisation among modern electronics, the types of cables that can be used between devices inevitably differ, and buyers may wish to connect two devices in a way manufacturers did not design them to be used. Buyers may also wish to use older cables to keep vintage electronics integrated with a new system, while running modern cables to new products for cutting-edge performance. This can be achieved with the appropriate items, so learn about common video cables to begin setting up an ideal system.
HDMI
HDMI (high-definition multimedia interface) is the standard for high-definition video, including 1080p, and is a digital format. HDMI cables use a single plug for both video and audio, and have the capacity for multi-channel audio. Along with component cables, they have replaced composite cables for use with video players, video game systems, and other devices.
Composite (RCA)
Composite video ports are standard on most older televisions, video game systems, VCRs, and DVD players. They are also included on many modern electronics in order to support compatibility with older devices. Composite video cable are only capable of handling a video signal, and consequently are often paired with RCA audio cables. The video input is indicated with the colour yellow, while the audio plugs are red and white. Composite cables use analogue signals, and have a low maximum resolution.
Component
Component cables are the successor to the composite format. They use analogue signals, but like HDMI, they are capable of high-definition video. Instead of the single input used by a composite cable, component cables devote three ports to video signals. These are colour-coded green, red, and blue, and allow the colour and brightness of the video signal to be processed separately. Component ports are found on many modern video game systems and video players, and are capable of 1080p resolution. However, most Blu-ray players have restrictions on the resolution that can be used while watching movies with them. Commercial video releases can only be seen in a 480i resolution with component cables, so this format is best suited for video games, as well as videos that are not copyright protected.
VGA
VGA (video graphics array) cables are one of the most common forms of video connections used on computers, and are standard on most monitors. Many modern plasma and LCD TVs also have a VGA port, allowing them to be used as large computer monitors.
DVI
Like HDMI, DVI cables are a digital connection. They use a multi-pin connector, and can transmit standard and high-definition video signals.
S-Video
S-video cables are built with a single, 4-pin input that can send colour and brightness signals to a television separately, similar to a component cable. They are capable of better picture quality than composite cables, but fall short of the high-definition images produced by component and HDMI cables. Most S-video cables have a maximum resolution of 480i or 576i.
Coaxial
Coaxial cables, sometimes called RF cables, are capable of transmitting both audio and video. They are common on older electronics like VCRs, cable boxes, and video game systems like the NES or Sega Mega Drive.
Cable Length
Most cables are cut in standard lengths, typically no more than two or three metres tops. This is not always long enough to suit the needs of the buyer, however. If more cable is needed, try shopping for a roll or spool of cable as many products can be purchased in this way. Be sure to buy the appropriate connections, as well, as these need to be added to the wire after it has been cut in order for it to be functional.
Adapters
Due to the high number of outputs and cables used on electronics, two devices may not always be directly compatible with one another. To help buyers work around this problem, many video adapters are produced. For example, an adapter can be found to link a coaxial cable with a composite video cable. Adapters are produced for nearly all combinations of common video cables, so it is worth searching for a suitable adapter before looking to replace an entire electronic device.
Keep in mind that adapters cannot increase the video quality beyond the lowest limiting factor. For example, the video signal from an N64 does not improves beyond the quality of the signal afforded by the composite output on the system, even if it is adapted and run through a HDMI cable.
Adapters can be found in electronics stores, though it also worth searching online. Some sites allow buyers to shop for adapters by independently choosing the types of cables that need to be connected. It is also possible to use search engines to find these products. For example, to find an adapter that can connect an S-video cable to an HDMI cable, enter "s video to hdmi adapter" into a search engine.
How to Buy Video Cables eBay
To shop for video cables, start from the eBay homepage. It is possible to search for items with keywords and category links, and in many cases, a combination of the two methods can produce the most specific results. To begin a general search, try typing keywords into the search field. For example, to see listings for HDMI cables, just enter this phrase into the search bar and click search.
Once you have located search results for the type of cable you would like, click on the name or image of specific listings to see more information. Look for the full price of the item, and remember to include shipping charges into the total cost. Sellers list their accepted forms of payment in a listing, so verify this information to be sure you can pay promptly for your purchase. Look for photos of the item, and compare them with the seller's description. Many sellers include specifications sheets from a product's manufacturer, as well, so use these details to determine the full capabilities of the cable.
Investigate sellers to ensure a positive transaction. Item listings show the user's positive feedback rating, which reflects the satisfaction of buyers within the past 12 months. If you would like more information, click on the seller's name to see a full profile. There, you may view comments and average ratings left by previous buyers. Leave your own feedback once you've received your cable to inform the eBay marketplace about your experience.
Conclusion
Video cables are used to connect video players, computers, video game systems, video cameras, and other devices to a television or computer monitor. They are produced in several varieties to accommodate different levels of resolution, and can handle either analogue or digital signals. Cables can be limiting factors on performance, so it is important to understand the potential of each type of cable to obtain the best video quality possible.
Component and HDMI outputs are standard on modern electronic devices, and are the successors to the composite format found on older electronics. Computers commonly use VGA cables for their connections, and are compatible with most PC monitors. Several other video cables are available, such as DVI, S-video, and coaxial. Consider the length of the cable, and purchase products by the metre, if necessary. If two devices are incompatible, try finding an adapter that can connect their video cables.
Video cables can be purchased from electronics stores, department stores, and retail websites. Many products can also be obtained from marketplaces like eBay. Cables on these sites are sold by private and commercial sellers, and can be purchased in used condition, as well as new. Shop around to find the best prices on a cable, and research sellers and shipping costs before purchasing online. With a little research, it is possible to make video connections between almost any electronic devices and obtain the best visual quality possible.