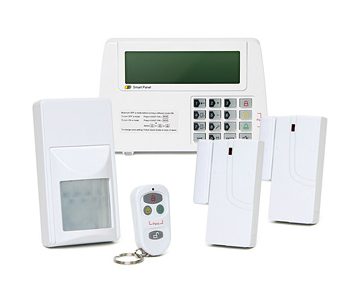 Burglar alarms are an effective means of protection for homes and their inhabitants, and can be built with a variety of components. Control panels and security keypads are essential for setting up and operating a system, while motion detectors and window contacts are used to trigger the alarm. The presence of a security system by itself can be a deterrent against criminal activity, and signs and stickers can be purchased to warn potential intruders of a secured home. Burglar alarms can also be linked to smoke and carbon monoxide detectors.
Alarms can be provided by professional home security agencies, or they may be purchased and installed privately. Commercial systems are available from hardware stores, department stores, and online sellers like those on eBay. Shop around to see the full selection of products, and choose systems that balance price with quality. The high selection of products ensures a burglar alarm can be purchased to keep a home and its inhabitants safe from break-ins, vandalism, and other threats.
Choose Burglar Alarms
To find the most suitable burglar alarms, buyers should consider the layout of their home and the types of protection they feel are most important. Pets and small children can also influence which system to purchase, as they may accidentally trigger certain types of sensors. Essentially, buyers can choose between wired and wireless systems. Begin by learning about available components.
Components and Features
A burglar alarm system consists of five primary components: a control panel, security keypad, siren, motion detectors, and contacts for doors and windows. The system can be augmented with panic buttons, audio discriminators, video cameras, and even smoke and carbon monoxide detectors. As aforementioned, buyers may also choose to place stickers and signs around their home to indicate that a security system is in place. The following list describes the function of each unit within a home security system.
Control Panel
The control panel is the central component of a burglar alarm, and users enter commands and functions through this unit. It is also responsible for notifying police and security agencies of a disturbance, usually via a telephone landline. The other primary function of the control panel is to turn off an alarm from within a home. For this reason, the unit should be placed in an area that is accessible to the owner, but difficult for an intruder to find.
Security Keypads
The security keypad arms and disarms the alarm. It is placed near the front door, so the system can be set before leaving a home, and deactivated upon re-entering. Burglar alarms linked to a monitoring company sometimes use the keypad as a communication device, eliminating the need for a phone call. This is especially useful if the system is accidentally triggered upon re-entry, or if the owner is unable to reach the telephone.
Sirens
The siren is responsible for alerting owners and even neighbours to a break-in. These units can vary in the amount of volume they produce, as well as their actual tone. Buyers can often select from bells, horns, or electronic beeps. In addition to sound, some alarms are programmed to produce strobing lights that can wake neighbours or alert members of the household that may be hard of hearing.
Buyers may also choose systems that have a notification sound, such as a light bell ring. When a door contact is broken, the system sounds the chime or bell to let owners know someone has left or entered the building. This can be particularly useful for homes with small children who are frequently in and out of the yard.
Door and Window Contacts
Door and window contacts are one of the primary sensors used in burglar alarms. They consist of two magnetic halves, and are placed along windows and doors. When contact between the two halves is broken, the alarm is triggered. These are included with most standard burglar alarm sets, and can be purchased separately if additional units are needed. It is important to place contacts on every door and window within a home, including those in the basement, garage, and on all floors above the ground level.
Motion Detectors
Passive infared (PIR) detectors, known simply as motion detectors, can register the presence of both movement and heat within a room. They are designed to scan an entire room at once, and should be placed high on walls, or above open stairways. Because these units can be triggered by any living creature, they are not always suitable for pet owners. However, dual-element sensors are available, and allow small animals, roughly less than 45 kilogrammes, to move through a room without setting off the alarm. Professional installation can also provide a few feet of room beneath the sensors for pets to walk.
Audio Discriminators
Some sensors are designed to register the sound of breaking glass and raise an alarm. These audio discriminators can be combined with door and window contacts to secure all portals to a home.
Video Cameras
Closed-circuit television (CCTV) video cameras can sometimes be integrated with a burglar alarm. These cameras can be armed or disarmed along with the rest of the system, and some monitoring agencies provide this option as part of their programmes.
Panic Button
A panic button on a key fob or remote control can be used to trigger the alarm from anywhere within or near to a home, making it useful if an intruder or fire has separated the owner from a system's controls.
Smoke and Gas Detectors
For convenience and added safety, a home's smoke and carbon monoxide detectors can be integrated into the security system. This allows them to activate the full alarm for increased volume. Some units even use a separate alarm sound to let the owner know which type of threat is present.
Signs and Stickers
Burglar alarms often include signs and stickers, especially those from professional security agencies. When placed in an owner's yard and on windows around the home, these can deter criminal activity.
Wired vs. Wireless
Buyers have the option to choose between wired and wireless burglar alarm systems. In general it is best to choose wireless systems for houses that are being built, and wireless ones for existing homes.
Wired units are the most reliable, as they are free from radio interference, though they are expensive and difficult to implement in an existing home. The wires must either run through the walls of the home, or be held to the walls with fasteners, which can detract from a room's appearance.
Wireless units can be integrated into a home with little trouble, and used to incorporate standalone structures like sheds or separate garages. However, they are prone to interference and are not always as accountable as wired systems.
Monitored vs. Unmonitored
Once the type and number of security components have been chosen, buyers need to decide between hiring a professional monitoring agency and purchasing a kit from commercial retailers. There are several things to keep in mind while making this choice, including installation and fees.
Monitored
Monitored systems can be desirable for the assistance of operators that are on standby at all times. Companies that provide these services can also notify police, and control the alarm system remotely. A professional team is sent to an owner's home for installation of the system, ensuring it functions properly. These services can be expensive, however, and often require fees for installation, activation, and monthly monitoring.
Unmonitored
Retail burglar alarms may save buyers money, and can often be installed with little trouble. Instead of contacting a monitoring agency in the event of an alarm, these systems contact the police directly. Many of these systems can be supplemented with monitoring gear that notifies an owner remotely when the alarm is triggered.
How to Buy Burglar Alarms on eBay
Burglar alarms and their accessories can be purchased from sellers on eBay. An easy way to initiate a search for these products is to enter keywords into the search field on the homepage. For example, to see listings for door and window sensors, type "window sensor" into the search field. From the results that appear, you may choose to refine listings by category. Links to sections on eBay are shown on every shopping page, and can be used to browse by product type, condition, price, and other options. The number beside each category name indicates how many relevant items it contains. Try using a combination of keywords and category links to find the most suitable products on eBay.
Before committing to a purchase, take a moment to review item listings and seller profiles. Click on the name or image of an item in search results to see its full listing. Look for the price of the item, shipping charges, and the forms of payment accepted by the seller. Read available information about the product, and compare it with photographs on the page. You may also choose to research sellers by clicking on their name in the item listing. In sellers' full profiles, you may view their positive feedback ratings, number of completed transactions, and average ratings on important aspects of their performance. You may also read comments left by previous buyers. Use this information to find reliable eBay users.
Conclusion
Burglar alarms provide peace of mind to homeowners by alerting them to break-ins and other dangers like fire. A basic system is comprised of a control panel, security keypad, siren, and sensors like door and window contacts. It is also possible to supplement a system with video cameras and audio discriminators, as well as signs and stickers to warn would-be criminals away. Decide which components are needed to ensure the best protection for a home and its inhabitants.
Buyers can choose between wired and wireless systems. Wired units tend to be more reliable, though because they must be run through the walls, they are difficult and expensive to implement in an existing home. Wireless units can be used to incorporate separate buildings like garages and sheds into a security system. Lastly, decide whether to purchase a burglar alarm from a professional security company, or a commercial retailer. Professional systems offer constant monitoring and assistance in case of an alarm, though they can be expensive to install and require monthly fees. Retail systems can save buyers money, but require self-monitoring and installation.
Commercial burglar alarms can be purchased from hardware stores, department stores, and online retailers. Marketplaces like eBay have a wide selection of products, and can be used to quickly locate and purchase the necessary sets and components. Shop around to compare prices, and choose a system that can provide the best security for a home and its inhabitants.