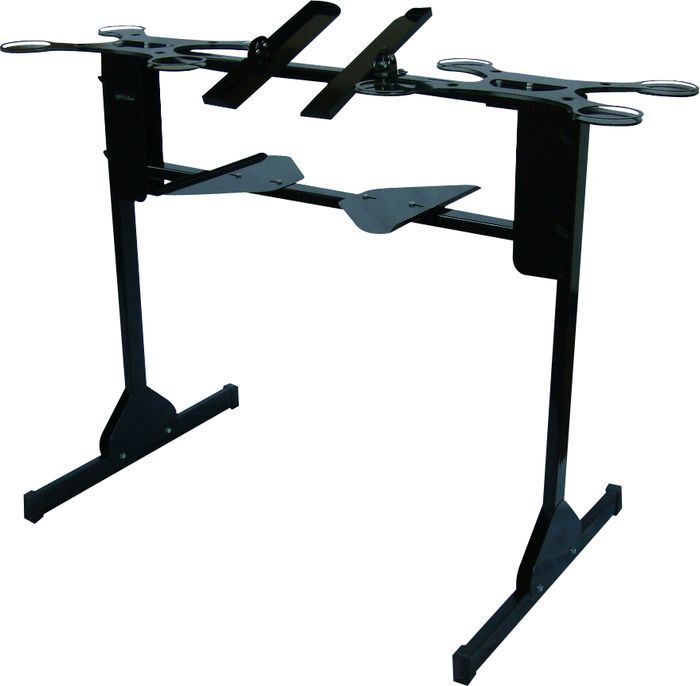 DJ deck stands are, in a sense, the centre of a DJ's world. They are designed to hold everything: the traditional elements have long been two decks, or turntables for vinyl records, and a mixer, but now the list of equipment has expanded to include CD turntables, digital controllers, and laptop computers. Music collections may be stored in the deck's shelving, and additional gear such as amplifiers are also sometimes found on the deck stand. Deck stand setups may be highly elaborate, or surprisingly simple, depending on the needs and style of the individual DJ. And although the functional value of the deck stand is of primary importance, there is also a performative element to the deck stand, since it is visible to the audience.
When choosing a deck stand, DJs should keep both function and style in mind. They need to find a stand that fits their requirements in terms of space, storage, portability, and durability, as well as having any optional features they may need. They should also look for one that is in keeping with their style and personality. With some research and forethought, DJs can find a deck stand that is right for them.
Qualities of the Right DJ Deck Stand
Different DJs have different needs concerning deck stands, so choosing the right stand is an individual matter. However, there are some general guidelines to keep in mind from the beginning.
Adequate Space
The deck stand should allow enough space for all the DJ's equipment, without feeling cramped. DJs should carefully account for all the gear they use, and know the exact dimensions of each component before shopping. Standard deck stands should have enough room for two decks or CD players and a mixer.
Layout and Organisation
A DJ deck stand should have enough features to allow the DJ to organise their gear, music, and accessories so that the workspace is uncluttered and easily manageable. Cords should be tucked out of the way, and everything should be readily accessible.
Strength
DJ decks are heavy pieces of equipment, as are collections of compact disks and vinyl records. A DJ deck stand should be well-crafted with solid joinery in order to withstand the weight of the items it holds, and to last for years to come. Wobbly stands sometimes affect the performance of the equipment as well, which is yet another reason to look for a well-made, sturdy item.
Portability
DJs should keep in mind how portable they need their deck stand to be. If they plan on carrying it with them to each gig, they should consider a more lightweight model, or even a foldable stand. Others may not need to move their stand much; in that case, they can opt for heavier stands if they choose.
Storage
Another factor is storage. Should the stand be able to hold albums, CDs, or an amplifier, or it is meant to hold only the deck and mixer? These are individual choices and may also depend on intended use.
Appearance
A striking deck stand can be a strong asset to a DJ. It draws the crowd's attention and creates an overall sense of style and professionalism. For this reason, DJs should look for a deck stand with an appearance that appeals to them personally. Another route is to opt for a stand that showcases any unique gear items.
The deck stand colour and material should fit with the other equipment. While it need not be the same, it should be complementary to create a total impression. Try blending dark wood with black equipment, for example, or pale wood tones or white with chrome. Contrast can also be effective, such as a white stand with black gear.
DJ Deck Stand Design Options
There are many different design features that a DJ deck stand might include, while some accessories may be purchased separately. DJs should prioritise what is most vital for their setup, while staying within their price range.
Deck Positioning: Flush-Fit
With many deck stands, the deck sits on top of the flat surface. With flush-fit tops,, the decks are sunk into the top for an ultra-sleek appearance. This option is best for stands that are not meant to be disassembled and transported.
Laptop and Controller Stands
Additional laptop and controller stands, which may be bought separately or included with the deck stand, lift controllers and laptops up above the main surface of the deck stand. There are a few advantages to these stands. First, they prevent clutter and are an instant, portable way to create more space for equipment. Second, laptop stands designed for DJing usually angle the laptop towards the DJ, for easy keyboard use. Having the laptop at eye-level makes it easier to see the screen, and also eliminates the need to constantly look down. That means that the DJ can better interact with the crowd, and also prevents potential neck and back problems.
Laptop and controller stands should be strong enough to hold up the equipment, and, if detachable, sturdy enough to be transported. Some have adjustable heights, some are fixed; DJs should find a stand that positions the laptop and controller comfortably for them.
Horizontal or Vertical Positioning of Turntable
Some stands allow for either horizontal or vertical positioning of the turntables, giving DJs flexibility. Some DJs prefer using a turntable in vertical, or battle, position; for example, it helps avoid the tonearm for fuller control when cutting.
Cable Placement
Ideally, a DJ stand has features that help control and streamline cables. Look for cable ducts, or mounting and cavities, which can route cables neatly and securely, and keep them out of the way.
Storage for Amplifiers and Other Equipment
As discussed above, the amount of storage space needed is up to the individual. If DJs need to store records, CDs, amplifiers, or other gear, they should make sure to look for a stand with adequate, well-built shelving.
Foldable
Foldable DJ deck stands are a good choice for DJs who travel regularly with their stand and have limited space during transport. Be sure to read product reviews, however, since these may not be as durable as other stands.
Front and Side Paneling
Front and side panels conceal cables, albums, and other gear, for a clean, neat appearance. On the other hand, they add extra weight, which may be a disadvantage in some cases.
Lighting Kit
Some deck stands come with optional lighting kits. These illuminate the equipment for ease of use in dark rooms or clubs.
Built-in Surge Protector
A built-in surge protector is a convenient feature on some higher-end DJ deck stands. With a surge protector, DJs can plug in multiple devices and run only one cable to a wall outlet.
DJ Deck Stand Materials
There are a few different materials commonly used in constructing DJ deck stands. They vary in durability and appearance.
| Material | Description |
| --- | --- |
| MDF (Medium-Density Fibreboard) | Constructed of wood fibres and glue; inexpensive; can be carved, finished, and painted; corners and edges can be crushed easily due to the softness of interior material; MDF shelves tend to sag over time so they should have reinforcement |
| Steel | Highly durable material with sleek, industrial look; particularly good for portable stands |
| Acrylic | Durable plastic material used for adding polished detail as front or dressing |
Choosing a stand material is partly a matter of how the DJ wants the stand to look, but also a question of cost, durability, and portability. When looking at different models, buyers should note which materials are used.
Choosing Deck Stand Dimensions
When shopping for a deck stand, DJs should pay close attention to the specified dimensions. It is important that the stand be wide and deep enough to accommodate the dimensions of their equipment. In addition, the height should allow for ease and freedom of movement, without having to stoop.
Some decks have an adjustable height. Customised deck stands are another option; they can be crafted to meet the DJ's specific needs in terms of space and design.
Where to Buy a DJ Deck Stand
After considering what kind of deck stand is right for them, DJs have a few different options when shopping for a deck stand. Visiting a local DJ equipment supply shop is one possibility. If there is such a shop locally, buyers can talk with sales personnel about which stand is right for them. If they are interested in ordering a customised stand, they can look for a carpentry studio that has experience building DJ equipment. Some companies specialise in custom DJ stands. There are also many choices online, where DJ equipment suppliers sell stands and other gear, and websites like eBay regularly feature listings for new, used, and custom stands.
How to Buy a DJ Deck Stand on eBay
eBay is a good place to find a DJ deck stand at a competitive price. Begin your search on eBay's homepage by typing in keywords, such as "customised DJ deck stand", into the search bar. eBay then lets you refine your results according to price range, item condition, and more.
Before You Buy
When you have found a stand that interests you, it is important to take a few steps before purchasing it. Always read the item description carefully to check for dimensions, materials, and the seller's return policy. Verify postage fees as well, since they are in addition to the price. For large items like deck stands, some sellers may require local pickup.
Finally, get to know a bit more about the seller by checking their feedback score and reading comments left by previous customers who have purchased deck stands or similar items. Top-rated sellers have an excellent record of providing quality customer service.
Conclusion
A DJ deck stand is a highly important piece of DJ equipment, as it centralises and organises all of a DJ's tools: vinyl and CD decks, mixers, laptops, controllers, music collections, and more. A good DJ deck stand allows the DJ to move freely and easily, with fast access to information and controls. The right setup lets a DJ focus completely, and at the same time can make an impression on the audience, reflecting the DJ's individual style.
DJs should keep all of this in mind when selecting a deck stand. Before shopping, they should carefully assess their needs in terms of size, storage, portability, durability, and appearance. Next, they should familiarise themselves with additional feature options which may appeal to them, as budget allows: laptop or controller stands, lighting kits, flush-fit tops, cable ducts, and more. Finally, they should have an awareness of the qualities of different commonly-used materials, like MDF, steel, and acrylic. By knowing their options and their own priorities, DJs can find a deck stand to meet their performance standards.