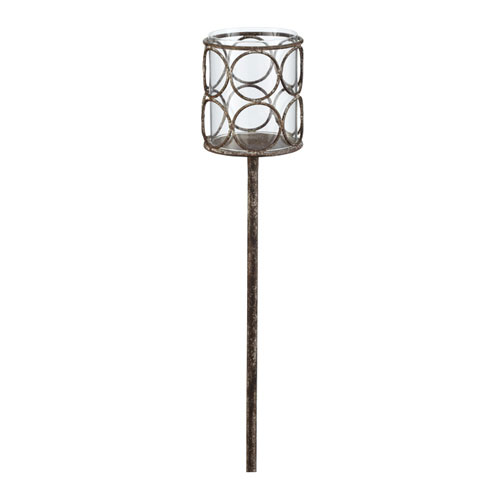 Whether illuminating a path, drawing attention to an attractive feature, or creating a festive atmosphere for events like parties or weddings, garden torches are an excellent choice for outdoor lighting. With many design and fueling options, the possibilities are virtually limitless. Shoppers can find a garden torch that fits with their vision, whether it be a line of tiki lamps, a single flame on a table, a pair of metre-high candles, a set of lights floating in a fountain, or a stately row of stainless steel torches. Before getting started, buyers should do some preliminary planning.
They should consider what kind of illumination they want, and how and where they plan to use the torch or torches. This influences decisions like light placement, quantity, what to look for in design. It is also useful to be aware of material and fueling options, and to understand specifications like burn time, wind resistance, and snuffers. These considerations can help guide consumers when selecting an garden torch that looks beautiful in their yard.
Preliminary Considerations
Before setting out to shop for a garden torch or set of torches, there are several questions consumers should ask themselves. These help guide them toward garden lighting ideas that work with their specific needs.
Illumination
The first thing shoppers should consider is what the torch or torches should illuminate. Do they want accent lighting to highlight attractive features of the garden? Are the torches meant to provide atmosphere during an outdoor meal? Or should a larger area be illuminated for outdoor parties and events? This helps buyers decide on issues like size, placement, and quantity.
Placement and Quantity
Next, where will the torch or torches stand? Should they stand on concrete, or be on a stake that is driven into sand, grass, or gravel? Should they sit on a tabletop? Or perhaps there is a decorative water feature in which they could float? This basic decision helps determine the base of the torch, and also the overall size. If using more than one torch, consumers should sketch a plan for placement. This helps them visually assess exactly how many torches are needed, and the safest and most effective positioning of each.
Durability and Use
Another issue is durability. Is the lighting intended for a single event, or meant to be a permanent fixture in the garden? Inexpensive torches may be the right solution for one-time use, whereas consumers should choose a higher-quality product for long-term use.
Also, they should take into account how often they plan to use the torch. Burning materials vary in burn time and cost, which means differences in cost of operation.
Harmonising Designs
Consumers should consider their garden's style. This includes dominant shapes, lines, colours, and materials, any architectural features such as benches or gazebos, as well as the house's exterior. The garden torch should harmonise with the overall look. Bright metallic torches suit modern or contemporary yards, while ceramic and copper may work better in traditional landscapes. Glass works with either, and bamboo may blend well with lush, overgrown gardens or for an exotic, festive touch.
Weather Conditions
Finally, what are the weather conditions like? Depending on local climate, consumers should look for elements that are rust-proof, frost-proof, or weather-safe. When used in summer, should the torch light deflect bugs as well? In that case, shoppers may want to look for torches that burn either citronella candles or citronella oil.
Garden Torch Lamp Body Materials
The lamp body is important both aesthetically and functionally. Garden torches come in a variety of different materials; shoppers should select one that fits the look of their space, and also is durable enough to suit their intended use.
| Lamp Body Material | Description |
| --- | --- |
| | Features woven bamboo strips for festive, exotic look; not highly durable; relatively inexpensive; good choice for parties; for multiple uses, choose reusable lamps that hold oil canisters; those with gas canisters produce large, dramatic flames |
| | Highly durable material; outdoor-grade resists corrosion with occasional cleaning; clean, modern appearance with bright finish |
| | Lightweight, rust-resistant metal alloy with burnished appearance; modern, clean style |
| | Classic traditional look; can oxidise, requires some upkeep to prevent corrosion |
| | Strong, wear-resistant; comes in different colours and shapes; may chip, crack, or break if dropped on hard surface |
| | Transparent or translucent for beautiful, delicate appearance; excellent wear resistance but breakable if dropped |
Buyers should look at lamps of different materials to decide which fits with their outdoor landscaping. In addition, they should find one that stands up to the intended use and weather conditions in their area.
Garden Torch Burning Options
Another highly important consideration is how the torch burns. There are several kinds of substances from which to choose.
Ethanol or Gel Fuel
Gel fuel contains ethanol, an alcohol-based product that burns without releasing smoke or odours. It is also marketed as eco-friendly, since it is derived from renewable resources like sugarcane, and does not release toxins when burned.
However, there have been many reports of burn accidents, often occurring when refilling a gel-fuel torch. The product sticks to the skin and is very difficult to extinguish, which has led to a recall of gel-fuel products in the US and Canada. Extreme caution should be used when handling gel fuel, and users should always follow product safety instructions closely.
Candles
Torches featuring candles are a traditional way to light a garden. Designs vary, from tall wax pillars to tabletop lamps that hold a low, wide, candle. Candles may be made from paraffin wax, beeswax, or soy wax, and a wick. They may have aromatic oils added; particularly common is citronella, which is insect repellant.
Lamp or Paraffin Oil
Paraffin or lamp oil is commonly used in garden torches. Lamps may be designed to hold individual canisters or refilled with oil. The oil may be scented with citronella to repel insects.
The wick is a narrow strip of material that draws the oil upwards and is then lit to produce a flame. Fibreglass wicks, unlike cotton wicks, are not consumed during use, making them a more durable choice.
Solar Torches
Those looking for an economical permanent solution to garden lighting may want to consider solar torches. These lamps contain use solar energy to charge during the day, and automatically illuminate when it gets dark. Solar garden torches should be placed in spots that receive plenty of sunlight for optimal performance. Solar-powered lighting can vary in intensity, so it is best to research individual products before purchasing.
Additional Considerations
There are a few extra specifications and features to keep in mind before deciding on a garden torch. Additional considerations include burn time and wind resistance.
Burn Time
Product specifications for a garden torch or burning material should include burn time. This is the approximate amount of time that the flame lasts. This may be important when planning to use the torch for an event, as shorter burn times may require refilling or replacement. In addition, burning substances vary in cost, so buyers should take into account replacement costs and frequency.
Wind Resistance
Many garden torches are advertised as being wind-resistant. This is a good feature for use during windy conditions, saving users the hassle of having to constantly re-ignite the torch.
Snuffers
Snuffers fit over the flame to extinguish it with ease. Torches featuring attached snuffers allow users to extinguish the flame safely and conveniently when it is no longer needed.
Where to Buy Garden Torches
Once they have decided on the type of garden torches they are interested in, consumers can visit garden centres or outdoor furniture suppliers, or browse products online through Internet merchants and websites like eBay. Consulting with sales professionals or reading product reviews online also helps buyers assess the durability and overall quality of individual models.
How to Buy Garden Torches on eBay
You will find a wide variety of garden torches available on eBay's online website. Getting started with your search is easy: just go to eBay's homepage and enter keywords, such as "bamboo garden torch", into the search bar. Then, you can refine your results by factors like price, seller location, or item condition.
Before You Bid
Once you have found a garden torch you are interested in, take a few steps before placing your bid. First, read the product description carefully. Note details like item quantity, materials, whether fueling is included, and the seller's return policy. If you have a question, you can contact the seller through eBay. Check postage conditions and fees, too, since they are in addition to your bid.
Get to know the seller by reading comments left by previous customers and checking their positive feedback score. Once you have received your item, you can post constructive feedback as well.
Conclusion
Garden torches are an attractive way of adding lighting to an outdoor setting. Choosing the right garden torch depends on several factors, which should be carefully considered in advance. First, consumers should think about the kind of lighting they desire. This helps determine placement, quantity, and size. Next, they should decide how long the torch needs to last, whether for a single event or as a permanent fixture. Finally, they need to find a design that harmonises with the outdoor space and materials that can stand up to local weather conditions.
There are many different materials for lamp bodies and burning substances. With lamps, buyers can choose between bamboo, stainless steel, aluminum, copper, ceramic, or glass; for fueling, gel fuel, paraffin oil, candles, and solar lamps are all options. Additional considerations include burn time, fuel cost, wind resistance, and attachable snuffers. Consumers should weigh their specific lighting requirements against the available options to find a torch that provides beautiful illumination for their garden.