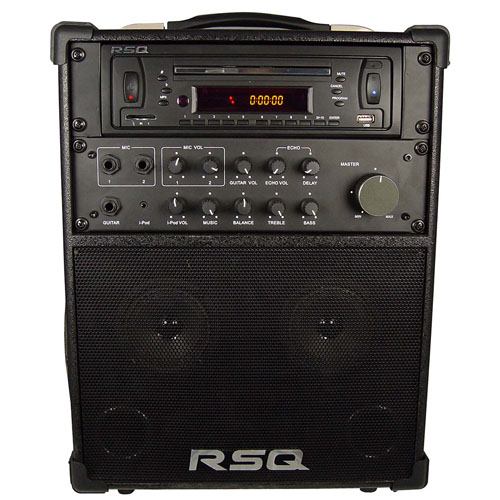 There is nothing more entertaining than listening to friends and family belt out their favourite karaoke tunes. A karaoke machine allows the singer to sing songs without the accompaniment of the artist's voice, while the lyrics are projected on a television screen. Since the 1970s, karaoke has been bringing people together to sing, dance, and have a good time. Karaoke machines are generally found in bars, pubs, or people's homes, and make it easy to get friends or family involved for hours of entertainment. Aside from providing entertainment at parties, weddings, or get togethers, karaoke machines also make great gifts for anyone who loves to sing.
Karaoke machines can range from basic, inexpensive models to fully-equipped models that can be quite expensive. When determining a budget, it is important to factor in the different types and features in order to set a realistic budget and make a purchase decision. Karaoke machines can be purchased in brick and mortar stores, or online using eBay. After understanding the different options of karaoke machines and their features, as well as setting a budget, it is easy to come to an informed purchase decision.
Types of Karaoke Machines
At one time, home karaoke machines were only afforded by wealthy individuals or found in public venues. After gaining some popularity different types of karaoke machines were produced, and karaoke machines became affordable for all types of budgets. While karaoke machines were once huge pieces of equipment, modern karaoke machines are much smaller and more portable. Understanding the differences between types of karaoke machines helps the buyer to make a purchase that is in line with their needs.
Microphone Karaoke Machines
Microphone karaoke machines are microphones with pre-selected songs programmed directly into the microphone. The microphone is then connected to a television or stereo, and the lyrics are projected onto the screen. Some microphone karaoke machines have built-in monitors to display the song lyrics on the microphone itself. Microphone karaoke machines are portable and can be easily connected to different televisions or stereos. Some microphone karaoke machines are also battery operated. Hundreds of songs are usually included in the microphone, and cartridges with additional songs are also available for purchase, to ensure the songs stay up to date and fit the individual's music preferences.
Pocket Karaoke Machines
Pocket karaoke machines are small handheld electronic devices that hold thousands of MP3s and AVI video tracks. The device features an LCD screen that allows users to scroll through the different song choices. Once the user has selected the song, the pocket karaoke machine can be connected to the television set using AV connectors, and the lyrics are projected onto the television screen. Much like microphone karaoke machines, pocket karaoke machines are easily portable and compatible with many types of television sets. Pocket karaoke machines can be purchased with additional features, such as a digital voice recorder or a digital mixer, which allows the user to adjust the volume and echo levels.
CD Karaoke Machines
A CD karaoke machine resembles a CD player and plays the music from the machine. The machine hooks up to the television, which then projects the lyrics on the screen. CD karaoke machines use karaoke formatted CD-G discs which hold thousands of songs per disc, and additional discs can be purchased based on the user's music preferences. Amplifiers can also be added to the machine to produce higher sound quality.
All-In-One Karaoke Machines
All-in-one karaoke machines come with all components necessary for a home karaoke machine. The machine includes a CD player, a MP3 hard drive, a microphone, and speakers. The machine is then plugged into the television, where the lyrics are projected onto the screen. All-in-one karaoke machines usually come with a music cartridge with thousands of songs, and additional cartridges can be purchased based on the user's music tastes. Although the all-in-one karaoke machines are less portable than other options, they are perfect for hosting a fun-filled karaoke night.
What to Look for in a Karaoke Machine
Aside from understanding the different types of karaoke machines, it is important to understand the different features available before making a purchase decision. With the vast range of features available for karaoke machines, it is easy to find something for everyone.
Audio Quality
Higher quality karaoke machines usually have a higher audio quality than other options. Higher audio quality makes even the worst singers sound tolerable. Some karaoke machines include voice projection, as well as manual controls for bass, pitch, tone, and other sound elements. Karaoke machines with high audio quality may be more pricey than those without it, but are definitely something to consider for those who are serious about karaoke or singing.
Video Graphics
Most karaoke machines that project lyrics onto the television screen come with different background images or graphics on the screen. If choosing a karaoke machine for children, it is important to make sure that the background graphics are age appropriate, or can be changed. Some karaoke machines have the option to turn off the video graphics, so the user can concentrate on the lyrics instead.
Portability
Microphone and pocket karaoke machines are the most portable options available. These options are usually best for children or teens who may want to bring their karaoke machines to their friend's houses. CD player karaoke machines are still portable, but less convenient to transport because of their larger size and different components. All-in-one karaoke machines are the least portable of all the options, and should be purchased for quality over portability.
Ratings
One of the more 'fun' features available on karaoke machines is the ability to rate the user's singing ability. The ratings feature can also track the user's progress to determine if the singer is improving over time. The ratings feature is not available on most standard karaoke machines and can cost extra to find a model equipped with this feature.
Song Database
While some karaoke machines require CDs or chips for music selection, others have a pre-programmed song database. Before making a purchase, it is important to determine the size of the song database on each machine, and to check if additional songs can be added. Each player's song database is different, and should be chosen based on personal preference.
Durability
While durability relies heavily on quality and price, durable karaoke machines last much longer than cheaper models and generally have less technological glitches. When purchasing a machine on eBay, user reviews can be helpful in determining the quality and durability of machines in many different budgets. Leather bags or covers are also available to protect the machine from dings or scratches.
Accessories
Different accessories for a karaoke machine can improve the performance of the machine, such as amplifiers. Before purchasing an amplifier, it is important to understand which karaoke machine models are compatible with them. Connectors can also be purchased for different machines so they can easily be connected to desktop PCs, laptops, and even car radios.
How to Purchase a Karaoke Machine on eBay
Whether you are purchasing your karaoke for yourself or as a gift, eBay has a huge selection to choose from. Performing a keyword search allows you to easily find a karaoke machine that meets your needs and stays within your budget. After considering the different types of machines and the additional features that are available, you can begin your search. To begin, you can search specific keywords from the eBay home page. From here you can search for 'karaoke machine', and narrow your search by selecting the type, condition, or price. If you already know which type of machine you are looking for, you can search the exact model, such as 'microphone karaoke machine' to only browse through those types of machines.
To stick within your budget while searching on eBay, you can set your price maximum, so you do not waste time looking through machines outside of your budget. With eBay's extensive selection of karaoke machines, it makes it easy to find the perfect karaoke machine for any budget.
Conclusion
Karaoke has come a long way since it was first introduced. Instead of simply being at bars or other public venues, karaoke machines are now found in many homes around the world. Karaoke is a family-friendly activity that provides entertainment for people of all ages. Karaoke is a great addition to any wedding, party, or gathering, and can provide hours of both entertainment and laughter.
The different types of karaoke machines make it easy to find the perfect option for everyone. High-end karaoke machines are also great for those who love to sing, and are often used for practise. The ratings feature available on some machines can even help coach the user and determine whether or not they are improving as a singer. Portable karaoke machines allow users to easily bring their machine to share with friends and family. Regardless of who the machine is for, it is sure to bring fun, entertainment, and joy into their lives.