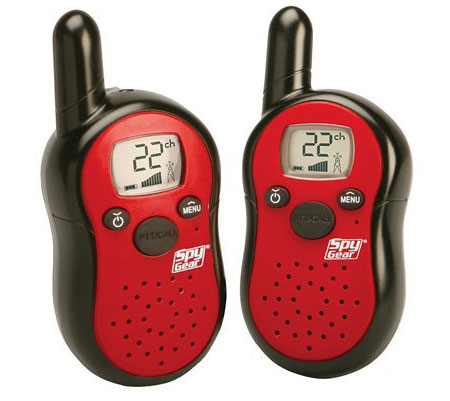 A long-range walkie talkie is a direct communication device, sometimes known as a handheld transceiver. It is generally small enough to be portable and handheld, and provides two way communication between two or more parties. Although cellular phones have diminished the need for long-range walkie talkies to some extent, they are still useful in a variety of different situations. Specifically, when instant communication is needed or when there is no cellular signal in an area. The main user groups include: military, public safety officials, certain types of industry, as well as outdoor recreation.
Long-range walkie talkies range from basic analogue models, to highly sophisticated digital models. They also can come with a variety of features such as voice activation, waterproofing, ruggedisation, and longer ranges. Some walkie-talkies require batteries and may include their own rechargeable batteries, however newer developments have lead to solar powered walkie talkies. Buyers are faced with many decisions when considering purchasing a long-range walkie talkie, so they should clearly define their specific needs and familiarise themselves with the many options available to them before making a final purchase.
Types of Long-Range Walkie Talkie
Long-range walkie talkies typically come in two main types; analogue and digital. Buyers who are considering purchasing a more sophisticated long-range walkie talkie should not dismiss analogue models as they can have some very advanced features. The main difference between a digital and analogue long-range walkie talkie is that digital walkie talkies often have greater range and better sound quality, but are also much more expensive. In many cases, analogue versions may be sufficient for buyers while also being much more affordable.
Analogue
Analogue long-range walkie talkies are the basic model of walkie talkie, and have been used as toys in the past. Although analogue has a reputation for being outdated, and not as capable as their digital counterpart, this isn't always the case. Analogue long-range walkie talkies can be more durable since they are simpler in their design. Also, depending on what prospective buyers are seeking a long-range walkie talkie for, an analogue version may be more than enough. Outdoor recreation, and other simple applications whereby users are simply looking to be able to communicate within a certain range, are easily achieved for much less cost using analogue models.
Digital
Digital long-range walkie talkies often have better sound quality and longer range than analogue models. They also allow for numerous conversations on the same channel. They may have other features such as GPS, the ability to send rescue signals, and can be extremely small and lightweight. Both digital and analogue models can be waterproofed or ruggedised, meaning made more durable with features than can stand up to a greater level of abuse. Buyers should take note however that digital long-range walkie talkies, particularly those with more advanced functionality, do tend to have a higher price tag.
Various Uses of Long-Range Walkie Talkies
Long-range walkie talkies have a variety of uses and serve many different needs. These can range from children's toys, to essential military communication tool. What a buyer intends to use the product for is the single most important factor to guide their search for a perfect long-range walkie talkie.
Military
Long-range walkie talkies are a staple in military applications. The need for instant communication over a wide range, is obvious for those engaged in combat. Some long-range walkie talkies are specifically designed for military use through a combination of different features. These might include: waterproofness, additional durability, hands free operation, extended ranges, silent or muted modes, and are also generally designed to be very small and lightweight. Long-range walkie talkies designed for military use, tend to be on the expensive side as they are outfitted with many of the more advanced features and complex designs which usually drive up the price.
Public Safety
Much like military use, officers of the peace and public safety officials often rely on long-range walkie talkies for communications. Where cellular phones require a signal, downtime in between calls, and typically don't allow for more than two people in a conversation, long-range walkie talkies overcome all of these issues. They allow for instant communication between numerous parties just by being within the applicable range of the device, and do not rely on any sort of outside signal to achieve connectivity. Police, firefighters, emergency medical services, ski patrollers, and rescue workers all use long-range walkie talkies to maintain constant communication during emergency situations.
Industrial Applications
Any situations where team members need to be in constant communication with one another, long-range walkie talkies are a good option. In industrial settings, such as tree trimming, boating, electrical utility maintenance, window washing, etc., team members are most likely out of direct voice contact but have the need to communicate back and forth nonetheless. Long-range walkie talkies solve this issue, as they allow for instant communication between the parties, and are generally much more effective at it than a traditional cellular phone. Hands-free operation is often a point of emphasis in industrial applications, as the user is typically working with their hands in a precarious situation and can't be distracted by having to operate their communication tool.
Outdoor Recreation
Many outdoor enthusiasts such as campers, hikers, and climbers, favour long-range walkie talkies as well. As they frequently are in areas where cellular service is not available, or is unreliable, long-range walkie talkies give users a means of instant communication. This allows parties who become separated to keep in touch or for individuals who are remaining at "base-camp", to keep in touch with those who have left. In some cases, individuals purposely separate from one party providing a birds-eye view and providing information to the other party about anything they would not be aware of from their vantage point such as weather, navigation, etc.
Personal Use
Long-range walkie talkies are also favoured by some for personal use. Families who want to be able to communicate in situations where there is a high likelihood of separation often use them. Malls, ski resorts, and even around a neighbourhood, long-range walkie talkies are a good choice for parents who want to be able to get in touch with their children. Children often use basic analogue long-range walkie talkies as toys. Buyers should narrowly define what they intend to use a long-range walkie talkie for as this should dictate the features and model of long-range walkie talkie they eventually select.
Batteries
Buyers need to conscious of the battery type and life for their long-range walkie talkie. Some simply use standard disposable batteries. In this case, users should be aware of how much power remains, and make sure to have extra batteries on hand as losing communication at a critical moment could be problematic. Some long-range walkie talkies provide rechargeable batteries and a charger. These can obviously save costs on batteries, but the same precautions need to be taken as with standard batteries. This can sometimes be a problem if a user only has one set of rechargeable batteries. Also, the power provided by a rechargeable battery tends to decrease over time so users should be aware of this.
Features
Some common features include waterproof,, ruggedisation, and multi-channel. Waterproof simply means the walkie talkie is unaffected by exposure to water while ruggedisation just means that the device is equipped with extra durable components. Multi-channel walkie talkies allow users to switch the frequency which they are broadcasting over. This is useful in high traffic areas such as ski resorts, where there may be lots of people using long-range walkie talkies. This allows the users to find a channel that nobody else is on to avoid interference. Finally, users should research the actual range of the devices. Ranges can be anything from a few hundred feet to miles.
How to Buy a Long-Range Walkie Talkie on eBay
eBay has a great selection of long-range walkie talkies. Shoppers can begin with a keyword search for long-range walkie talkies and browse the many options available to them. They can refine those results by navigating through the many categories provided by eBay. They can sort results by price, time left at auction, distance, and other filters. Buyers would be well advised to browse extensively prior to purchasing to get a solid impression of the types and models that are available.
Once a buyer has gotten familiar with the market surrounding long-range walkie talkies, they can begin to move toward a final purchase. Buyers should be clear about their intended use of the product to guide their decision. Once a buyer has determined the use of the product, the appropriate features and functionality can be incorporated into the search. eBay is sure to provide potential buyers with their ideal long-range walkie talkie as it has one of the most extensive and complete selections available.
Conclusion
Long-range walkie talkies are an essential basic communication tool. Whether being used by the military in high risk, technical, and precise applications or as a children's toy, there is a make and model for everyone. When considering purchasing a long-range walkie talkie, buyers must emphasise the usage of the product. Once buyers have determined the intended use of the product, it becomes much easier to find the ideal product that blends the essential functionality and features.
Once buyer's have ascertained their use, buyers must evaluate which features they desire. These may include physical features such as durability or waterproofing, but more important is the functionality and battery life. Buyers should ensure that the batteries provide enough power so that they can use the product without concern. Buyers should also ensure that the range of the device is sufficient. Long-range walkie talkies can be a great tool as long as buyers take their time and conduct proper due diligence before making a final purchase.