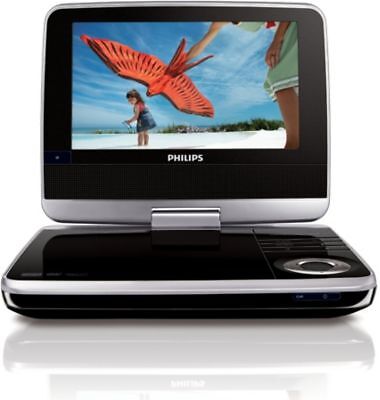 Portable DVDs players provide the quality experience of watching one's favourite movie but with the added benefit of watching it anywhere. First created in 1988, portable DVD players are the mobile devices of television-dependant DVD players in the way that cellular phones are the mobile devices of landline telephones. Portable DVD players are ideal for travelling, camping, or any other activity that keeps a consumer away from a television with a constant electrical outlet.
Modern DVD players can often display photos and videos from digital cameras, as well as play audio CDs, making it an extremely versatile device. Further, modern DVD players are often very affordable and have a variety of features to choose from to fit the individual buyer's needs. Portable DVD players are available at electronic stores, brick and mortar stores, and online from eBay.. There are a number of things to consider before purchasing a portable DVD player including the different design features, types, and manufacturers of portable DVD players available.
Portable DVD Player Design Features
While almost all portable DVD players share the essential function of allowing buyers to watch DVDs anywhere they choose, there are still certain features to choose from among portable DVD players. Screen options, extra functions, and connection types should all be considered when looking for the right portable DVD player.
Screen Options
Portable DVD players can have an LCD and/or LED screen attached to the actual player. LCD stands for liquid crystal display and projects images by using the light modulating crystals of liquid crystals. LED stands for light-emitting diode and acts as a semiconductor, emitting low-intensity light. Portable DVD players also have screens that range in size from 18 cm to 30 cm depending on the buyer's preferences. Additionally, some portable modern DVD players have added features such as swivel and folding screens to help keep them versatile and compact.
Extra Functions
Portable DVD players can have a variety of extra functions in addition to playing DVDs at the location of one's choice. Some modern portable DVD players also have MP3, USB,, and SD card ports for playing music and uploading data from different devices. While all portable DVD players play a DVD, some portable DVD players can also play videos from different formats such as MP4, DivX, JPEG, PNG, and external hard drives. Further, some portable DVD players can even function as a dual video recorder or internal game console.
Connection Types
In addition to a choice of different screen options and extra functions, portable DVD players also come equipped with a variety of different wireless and electrical connection capabilities. Almost all portable DVD players have a charging device that can be plugged into a wall outlet to ensure the portable DVD player is able to be used in its portable capacity. However, car chargers that plug into the lighter function in a vehicle and USB chargers that allow the portable DVD player to be charged via a computer are also available for purchase to allow for easy electrical connections.
In addition to electrical connectivity, some portable DVD players are also equipped for wireless connections via bluetooth or Wi-Fi to upload videos from other devices such as cellular phones. Further, almost all portable DVD players have a headphone jack so consumers can listen to audio on their DVD player while not disturbing others or for privacy reasons.
Types of Portable DVD Players
With modern portable DVD players, there are essentially three different types to choose from. First, there is the fold-up portable DVD player. There is also the portable car DVD player. Finally, there is the tablet portable DVD player. Each has their own advantages and disadvantages, which will vary in importance depending on what the consumer is looking for.
Fold-Up Portable DVD Players
The fold-up portable DVD player is the most versatile as it can be used anywhere, including on the lap of a passenger in a vehicle. Fold-up portable DVD players are stand-alone devices that include both the screen and player in one unit. The biggest advantage is the obvious infinite portability of the fold-up DVD player as compared to the car DVD player. On the other hand, the audio and visual features of the portable DVD player are not quite as loud and clear as the car DVD player because of the portable DVD player's constant movement. However, a quality set of speakers and a high resolution screen on a fold-up portable DVD player can usually compensate for this disadvantage.
Car DVD Players
The second type of portable DVD player is the car DVD player. The car DVD player is typically installed into the dashboard or ceiling of a vehicle. There can also be more than one screen installed for multiple vantage points throughout the vehicle. While the obvious disadvantage of the car DVD player is limited portability, they often have superb visual and audio as it uses the vehicle's audio system and the screen remains relatively stationary.
Tablet Portable DVD Player
In a way, tablet portable DVD players are the best of both worlds but with more limited features. Tablet portable DVD players can be transported anywhere, and can also be mounted to the headrest of a car with the right mounting set. While they have versatile portability, they often cannot play as many formats, as well as lack a variety of ports and connection options.
Portable DVD Player Manufacturers
Fold-up, tablet, and car portable DVD players are available from a variety of manufacturers. While each provide quality products, each manufacturer has their own benefits.
Sony
Sony often has the latest and greatest when it comes to portable DVD players. Sony portable DVD players can come equipped with high definition (HD), high resolutions, and multi-format playback capabilities. Sony makes an affordable portable DVD player with Blu-ray technology, as well as added features such as a built-in video recorder and smartphone connectivity.
Naxa
Naxa provides quality portable DVD players with unique extra functions. Naxa portable DVD players can come equipped with a digital TV tuner for playing on-air broadcasts, as well as AM/FM radio. Naxa also provides full-function remotes for their portable DVD players.
Toshiba
Toshiba provides high quality versatile products, including portable DVD players. Toshiba portable DVD players can come with different ports and slots for additional memory and USB connectivity. Toshiba also sells its portable DVD players with three different electrical connectivity options for a variety of charging options. Toshiba players also come with a remote and quality built-in speakers.
Audiovox
While Audiovox has not been producing portable DVD players as long as other well-known manufacturers, they have joined the market by producing top-notch players with unique features. Audiovox provides swivel-screens that rotate 270 degrees as opposed to 180 degrees available in other portable DVD players. Audiovox products also have excellent battery life and support a variety of formats.
Coby
Coby offers two different types of portable DVD players. Coby provides affordable options of both tablet and fold-up portable DVD players. While most Coby players are smaller than other manufacturers, they can still play formats such as MP3 and CDs. Coby portable DVD players also offer anti-skip buffering for quality play action.
Comparison of Portable DVD Player Models
There are a wide variety of portable DVD players available ranging from different types to different manufacturers. The following chart examines different features, types, and affordability of popular models of portable DVD players.
Model

Type

Features

Affordability

Naxa TFT

Fold-Up

17.78 cm LCD screen

Digital playback tuner

AM/FM radio

Remote

Handles multi-formats

$$

Audiovox Swivel

Fold-Up

17.78 cm screen

480 x 234 resolution

Rotates 270 degrees

Four-hour battery life

Handles multi-formats

$

Toshiba SDP955

Fold-Up

22.86 cm screen

Handles other digital content

Six-hour battery life

AC and car adapter

Remote that functions from 3.05 metres

$$

Coby V-Zon Tablet

Tablet

17.78 cm screen

Handles music formats

Headrest mount for car

Anti-skip buffering

Dolby digital audio decoder

$

Toshiba DVP-FX730

Fold-Up

17.78 cm screen

USB port

Handles multiple formats

$$$
These are just a few of the portable DVD player models available for purchase. A full range of different options should be researched by the consumer to make the most informed decision.
How to Buy Portable DVD Players on eBay
Portable DVD players are available to fit a wide range of consumer needs, from defeating boredom in a long car ride to providing entertainment at the airport while waiting for a flight. Portable DVD players allow you take your favourite movies, music, pictures, and data anywhere. Luckily, eBay can help make the selection process easy and relatively painless with its large list of options and affordable prices available. For example, if you are interested in the versatile Coby V-Zon Tablet, eBay can help you make that purchase. Simply type "Coby V-Zon Tablet" into the keyword search within the eBay website portal. A list of items matching that description will then be populated for you from reputable sellers.
Speaking of reputable sellers, be sure to pay attention to seller feedback under each item. eBay provides seller feedback to make the purchasing process transparent, as well as ensuring you the best buying experience possible. Look for sellers with consistent positive feedback to ensure that your ordering process will be quick, easy, and worry-free.
Conclusion
Regardless of the type, portable DVD players provide a convenient and hassle-free way to watch movies anywhere outside the comfort of the home. Additionally, portable DVD players range in price and can be relatively inexpensive depending on what features a consumer desires. Because there are so many options to choose from, picking the right DVD player requires an adequate amount of the right research. For instance, it is important for a buyer to figure out ahead of time if a buyer is interested in just watching DVDs or if they want their portable DVD player to be more versatile.
Portable DVD players can often play music, load data, and even stream live television. There are also a range of screen sizes and quality manufacturers to choose from. After years of being glued to a television to watch movies, consumers can now enjoy a range of formats in the car, at the airport, or anywhere else they choose.