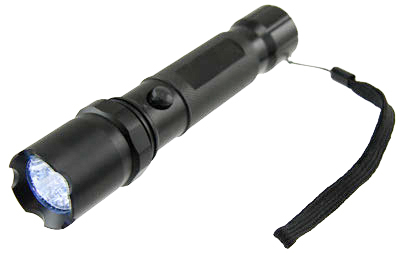 Torches have evolved considerably since the tiny incandescent lamps powered by single-use batteries. While the old portable lights were functional, the bulbs did not last long, and the batteries had a limited operational life, both of which often resulted in a dead torch in the middle of the night. The development of rechargeable batteries and battery packs improved the longevity, cost-effectiveness, and environmental friendliness of the electric torch.
Rechargeable torches can be bought from brick-and-mortar hardware stores, outdoor stores, and department stores, as well as from a variety of online sources. The online auction website eBay features a continually updated selection of torch listings that offer any type of rechargeable torch a buyer might want. After conducting research to determine which features and capabilities they find most important, buyers can browse the listings on the site and find the right torch for the task at hand.
Types of Rechargeable Torches
Rechargeable torches are available in many styles and for a variety of purposes. Regardless of its size or capabilities, a rechargeable torch provides longer use, less hassles, and less environmental impact, since batteries are discarded after discharging only once. Because manufacturers regularly upgrade existing products and release new ones, buyers should conduct sufficient research to ensure the torch they choose offers the features and capabilities they require.
Brand / Model

Light Type

Full charge Duration(hours)

Lumens

Batteries

Length (cm.)

Weight (g)

Features

Cree Q5

LED

4

500

1 x 18650

16.7

150

Car charger

Waterproof

Cree XM-L

T6 LED

Varies w/light intensity

1,600

1 x 18650

17.5

218

Adjustable

output Waterproof

Zoomable

Draper 78931

Halogen/

LED

0.42 (Halogen)

50 hours (LED)

1 million

1 x NiMH

15.5

998

Grip handle

Lighter

adaptor

Lenser X7R

LED

7.5

500

1 x Li-ion

17

240

Dual lens

Microchip controlled

Lenser Car

LED

1.6

9

4 x 40 H NiMH button cell

9

26

Car charger

Morse

function

Splash

resistant

Rolson 60781

Halogen

0.5

1 million

1 x 6V-4Ah

16.5

1.5

Grip handle

Lantern

Waterproof
The preceding chart describes just a few examples of available rechargeable torches. It lists the features and capabilities typical of common torches. Buyers should conduct further research to learn about technical specifications and additional capabilities. Also, buyers should examine the item, read any descriptive literature, or consult with the seller to verify which features a particular torch offers before concluding the transaction.
Considerations when Choosing a Rechargeable Torch
Because of the wide variety of rechargeable torches available on the market, buyers can narrow down their best choices by determining how the torch is to be used, how much light output is necessary, how much the buyer can afford, and the torch's style or form factor. By keeping those considerations in mind during the selection process, buyers can choose a rechargeable torch is that ideally suited for the task at hand.
Utilisation
When choosing a rechargeable torch, the buyer's primary consideration is what use it serves. A cylinder torch is a good tool when one's hands are not otherwise occupied, such as when searching under a bed, or when trying to find a candle during a power outage. However, it is not practical when the user is trying to set up camp after dark. A hands-free headlamp is better suited for tasks where the user's hands are otherwise occupied, such as search and rescue, mechanical maintenance, and cave exploration.
The sturdiness of the torch is another important factor. A small, solar-powered, rechargeable keyring torch is ideal for quick tasks such as illuminating a door lock or searching inside a glove compartment. For industrial tasks, or for long-term use, a rugged torch with a large, high-intensity lamp is the best choice.
Budget
How much can the buyer afford to spend on a torch? Cost is directly affected by the quality and complexity of the torch. A small, handheld, penlight torch is a budget-friendly solution that is perfect for general use, while a large, million-lumen, industrial torch is a more substantial investment.
Body Material
Torches intended for heavy use are generally constructed of lightweight aluminium. While unfinished aluminium is not impervious to impact damage, various finishes can be applied to the metal to provide additional protection. The lightest finish is powder-coating, which is created by bonding paint to the metal to prevent metal corrosion. A more robust finish is applied when the metal is anodised, an electrochemical treatment that adds an oxidation layer to the metal. Type 2 anodising is stronger than power-coating, and Type 3 anodising provides a tough, robust finish that can withstand plenty of abuse.
Plastic and polymer torches are lightweight, and tend to be more impact-resistant than aluminium torches. Of the two, polymer is more flexible and more robust than plastic. Polymer can also be fabricated in any colour, from matte black or grey, to fluorescent yellow and orange.
Bulb Type and Life
For years, incandescent bulbs were the industry standard for electric torches. The disadvantages of incandescent bulbs are that they are very fragile, and do not emit much light. Because part of the output takes the form of heat from the filament, the resulting illumination is a warm glow suitable for general household use, or for use in small, indoor spaces. However, these bulbs are susceptible to impact and have operational lifespans that range only between 5 and 20 hours.
Incandescent bulbs are also used to make high-intensity torches, with gases to preserve the filament and produce a brighter output. Bulbs filled with krypton gas are commonly found in inexpensive torches. Durable halogen bulbs are brighter and hotter than krypton bulbs and draw more power than krypton bulbs. Bulbs filled with xenon gas produce a brilliant white light and are utilised in the highest quality incandescent torches.
Light-emitting diode (LED) bulbs are energy-efficient and bright. They are a durable solution for high-use torches. LEDs are impact-resistant, and have operational life spans of thousands of hours. Additionally, they run cool, and convert most of the batteries' energy into brilliant light. LED lights are available in numerous colours, which can be a big advantage. For instance, a red LED allows a pilot to read a chart during a night flight without compromising night vision.
Light Output
The light output of a torch is measured in lumens. General-purpose torches range from 100 to 1,600 lumens, although some high-end torches provide up to one million lumens for high-intensity, long-distance light output. When choosing a torch, buyers should match the light output to the task at hand. For example, a 1,000-lumen torch illuminates a large area, and so is well suited for use in a industrial space or outdoors, but it is much too powerful for use within an automobile. Likewise, a 200-lumen torch is better for use within a home, but is inadequate for situations when the user must turn night into day.
Battery Life
Rechargeable torches utilise batteries or battery packs that can be used multiple times. Batteries are re-energised by being plugged into mains power or a separate charging unit. Torches with an integrated charging system are well suited for household use, since the torch can be left in the charging unit, always ready for use.
Separate nickel-metal-hydride (NiMH) battery cells look just like single-use battery cells, but they can be recharged by popping them into a charger unit. Lithium-ion (Li-ion) cells are more costly than NiMH cells, but they tend to last longer.
Rechargeable batteries do not last forever, but they are an efficient, durable, and environmentally friendly alternative to single-use batteries. Battery capacities have increased as technology has improved. Recharging times have dropped, and the prices have decreased since rechargeables were first developed
Size and Weight
Rechargeable torch sizes run the gamut, from tiny, featherweight, solar keyring units, to massive, free-standing industrial torches. The case material is a big determinant of the torch's weight. Aluminium is lightweight, but gains considerable heft when a Type 3 anodised treatment is added. Polymer casings are also fairly light, but the weight of any torch is increased as its length and diameter increase. The number and size of batteries also contribute to the weight of the torch.
Form Factor
Rechargeable torches are available in a variety of form factors. The standard, cylindrical torch is a good choice for general household use and occasional outdoor use. Many cylindrical torches include wrist straps for use while on the go, which means users need not hold the torch at all times. Smaller torches also include lanyards so users can wear it around the neck.
Large, high-output torches are formed in an ergonomic design that resemble spotlights, and they often feature a rubberised, moulded handle or pistol grip that allows the user to aim the beam precisely. These torches are particularly useful when the object being illuminated is far away. They often feature hooks that allow users to suspend the torch for long-term use.
Headlamps are well suited for hands-free uses, such as hiking, fishing, or any task that requires continual use of the hands. These torches generally feature a short torch on an adjustable band that fits on the user's head or cap.
Additional Factors
Other considerations buyers should keep in mind include whether the rechargeable torch is water resistant or waterproof, and to what depth it can function. Also, some torches offer features like adjustable focus, impact resistance, signalling capabilities (including Morse Code), and a 12-volt charger. Some torches are compatible only with 12-volt systems, and some also function with 24-volt systems. Buyers should verify which electrical systems a torch is compatible with to avoid overloading its circuits.
Finding Rechargeable Torches on eBay
After you have performed your research and identified a rechargeable torch that meets your needs, you can begin a search online to find the torches available on eBay. Enter a search phrase that includes relevant keywords, such as "rechargeable torch", into the search box on any eBay page. After the results are displayed, you may narrow your search by filtering by the type or brand of torch you seek. Other filters you can click on include bulb type, specific features, and condition (whether new or used). You may also search for listings offered by sellers within a certain distance from your postcode. If you wish to collect your torch from the seller following the successful completion of the transaction, it is a good idea to confirm that the seller would be amenable to an in-person pickup.
Detailed information about sellers is available on eBay, including feedback ratings, comments from previous customers, and sales and payment policies. It is an important part of the process to maintain regular communication with the seller until the transaction is complete.
Conclusion
When the lights go out, or when a confined space must be explored, a dependable, appropriately sized rechargeable torch is a great tool to have on hand. Torches come in every size and shape, from tiny penlights to robust, brilliant spotlights. Electric torches can be used to find items in an unlit closet, navigate the woods while camping, illuminate the house during a power outage, or explore an underwater cave while diving. Some torches can be recharged using the sun's light, and many utilise rechargeable battery cells or a charging unit. This capability extends the operational life of a common tool that must work reliably whenever needed.
Although rechargeable torches are available in department stores and hardware stores, eBay offers the widest variety of torches for sale, and it updates listings continually. After examining the seller's history, feedback ratings, buyer comments, policies, and delivery charges, buyers can select the right rechargeable torch on the eBay to suit their needs.