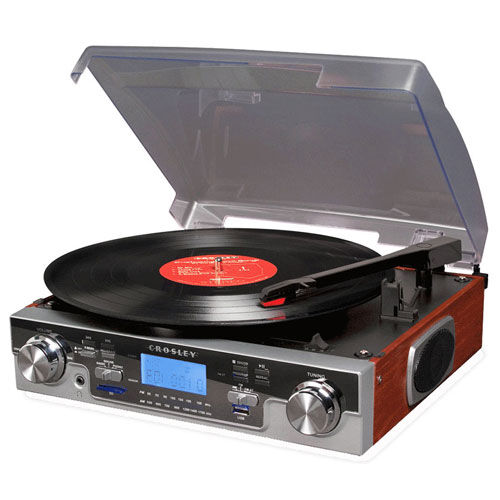 For decades, record turntables have been synonymous with high quality sound and classic music. With more artists producing albums available on vinyl, it is no wonder that so many turn to the rich, dynamic sound offered by a turntable. With a simple construction and brilliant sound quality, a high end record turntable gives music lovers a way to enjoy their favourite songs with a classic feel. Turntables are available from various manufacturers, but finding a turntable that meets the needs of the individual can be quite difficult without the proper research.
Whether it is a used turntable that is 30 years old, or a more modern record player that is only three years old, a quality turntable can make all the difference in sound experience. With online marketplaces such as eBay, consumers are able to search through a range of record player options without ever stepping out of their front door. Shoppers should consider elements such as analogue turntables and direct drive options, automated play, and DJ level options before making a purchasing decision.
Analogue Record Turntables
People who are in the market for a turntable to compliment a home entertainment system, should consider an analogue record turntable as a quality option. Analogue turntables are the most basic option available, and are thus, much less draining on bank accounts. Although not as powerful as direct drive options, analogue record players do not make as much machine noise, and are a bit clearer when used properly. Since analogue turntables produce less motor noise, their isolation quality makes enjoying music a bit easier. A turntable without machine noise and a high price is a tempting sound system option.
Direct Drive Turntables
Professional DJs and other sound enthusiasts, are much more likely to desire a direct drive professional quality turntable rather than an analogue turntable. Although analogue turntables offer much less machine noise, they also offer less power. Individuals who are going to be scratching records, need enough drive power to do so properly, and that is what direct drive turntables offer. Direct drive turntables are renowned for their reliability, startup speed, and overall speed, but tend to be quite pricey. Since direct drive turntables are not known for their isolation quality, such options are not designed for simple home use. Any professional DJ, however, needs the power, reliability, and speed of a direct drive turntable.
Automatic Features
When looking for a record turntable for home use, seeking out certain features for convenience of use is always a smart idea. Automatic and semi-automatic turn arm tables allow users to simply click play rather than manually adjusting the arm. Many claim, however, that such automated options reduce sound quality in one way or another. Most consider automatic features for home use to be a convenience worth the risk. An automatic arm allows for quick listening, and far less unintentional record scratch as well. Weigh the pros and cons and then determine whether or not automated turn arms are a needed feature.
Multi-Use Options
When considering buying a record turntable, some individuals skip over options that allow for the play of multiple media types. Record players with combined features like an eight track-player, cassette player, and even a CD player, are desirable for their ability to showcase various media types. Although combined features sometimes raise the price of a device, quite a few reasonably priced record players are available that feature the ability to play other media types as well.
Some modern options even allow users to plug in an MP3 and enjoy music from a digital collection. These options allow users to play almost any type of audio media on a single device. Individuals in the market for a home entertainment centrepiece, should consider all-in-one record player options as a viable choice. CDs, vinyl, cassette tapes, MP3s and more can all potentially be played off of a single machine.
Record Turntable Converters
Individuals who want to enjoy their record collection but also preserve it for future listening pleasure, should consider a turntable designed for converting record audio into a digital format. These players, such as the Pyle Turntable Record Converter line, do allow music lovers to enjoy their vinyl. Such players, however, are also designed with input functions to allow the music played to be recorded into a digital format. People with large record collections that are starting to deteriorate, should consider a record turntable with conversion and input options as an alternative choice.
Record Player Brands
Deciding upon a type of record player is often difficult for most consumers. One element that can aid in their search is determining the type of brand needed. Various brands of record turntables are available on the market, but not all of them are right for every use. In fact, some brands of record turntables are designed for use strictly in professional settings, while others are focused more towards home entertainment. Understanding which brands focus on home and professional use, aids in making an educated purchase.
Home Use Brands
As with direct drive and analogue options, some brands of record turntables are designed more for home use. For instance, Dual and Pioneer record turntable brands allow for more automatic features and home focused designs compared to some other brands. Manufacturers like Garrard and Denon are also considered to be record turntable makers that focus on home entertainment systems. Consider shopping for brands that are specifically focused on home entertainment use to meet exact specifications.
For Professional Use
Professional DJs and sound enthusiasts require a different kind of technology entirely. Professional record turntables cost much more than turntables designed for home use. With such specific needs, it is no wonder that there are various companies who focus on professional turntables alone.
Specific Brands
Numark and Stanton turntables are both focused on offering a range of options for professional use. Those interested in more professional options should consider brands such as Technics and Vestax as well. Since professional DJs require a higher level machine, such professional options tend to cost quite a bit more than options designed for home use.
Considering Used Record Turntables
With such an extensive history, it is no wonder that there are so many used record turntable options on the market today. Buying a used turntable allows individuals to save money and get the classic sound that they are looking for. Although some individuals desire a more modern option, older record turntables tend to function just as well as newer options. Those who desire more modern conveniences, however, should buy combination and converter turntables.
Understand the Condition of the Needle
When shopping for a used turntable, there are a few key factors that should be considered prior to purchase. Most older turntables are likely to need a needle replacement to function at peak performance levels. A bent or damaged needle can do irreparable harm to a record that is played. Since some models of record players require a more expensive needle replacement, it is a good idea to do a bit of research on the model in question beforehand. One simple way to find out what kind of replacement needles are required is to ask the seller of the used item.
Whether or not an individual wants a used option, considering it is still a good idea. With a sound that rivals any modern technology, a used record turntable in good condition is likely to satisfy any owner. Shop for both used options and newer options, in order to find the best deal.
Using eBay to Buy a Record Turntable
With so many quality used and new record turntables available, it is no wonder that eBay is considered one of the premier shopping spots for those interested in buying such a turntable. In order to begin a shopping experience on eBay, simply visit the eBay home page. From this page, consumers can enter in a search term such as 'turntable' or 'record player' into the search bar. Once this has been completed, all it takes is a quick search to turn up hundreds of record turntable options.
A simple search for the phrase 'record turntable' however, can turn up hundreds or even thousands of results. In order to narrow down a search, try typing in more concise phrases like 'used record turntable'. If more precise phrases still offer up overwhelming search results, use eBay's advanced search feature in order to narrow down results. With such a range of items available, eBay tends to offer products that match consumers' needs.
Conclusion
A record turntable allows music lovers to enjoy their music collection with a deeper, richer sound quality than more modern technologies. With options designed for home use as well as professional use, shoppers are able to find a record turntable that is designed to meet their needs. Combination record players even offer users a way to enjoy an entire music collection with various media types on one device. With so many options, it is no wonder that record turntable sales are increasing for music lovers of all ages.
Quality record turntables, when sold by more traditional outlets, tend to be prohibitively expensive. With online marketplaces such as eBay, however, consumers are able to find a more reasonably priced record turntable options. Quite a few quality used record turntables are available through the sellers on eBay. When shopping for a record turntable, become familiar with the options available in order to find the best piece of technology that fits one's needs. Buy a turntable, put on a record, and fully enjoy any music.