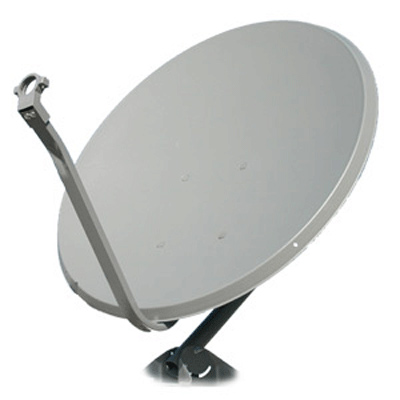 The UK's Freesat system offers hundreds of digital TV channels, free of charge, to anyone in the UK, but there are still some things to take into account before buying a satellite dish. The siting of the dish is an extremely important issue, and one that has become the subject of several court cases. The size and the appearance of a satellite dish are major points to take into consideration in order to avoid conflicts with neighbours, landlords, or possibly even city ordinances.
Besides the appearance and siting of the dish, a few other factors must also be considered by anyone interested in buying a satellite dish. These are the parts like the cables and LNB that will be necessary to complete the installation. Underestimating the costs of these parts and the installation will result in a frustrating and time-consuming experience for the dish owner. By learning more about proper satellite dish siting and sizing, satellite dish materials, and the necessary parts, a consumer can easily find and install an inexpensive satellite dish. Potential customers can even start viewing hundreds of digital channels as long as the proper research has been conducted beforehand.
Choosing a Site for a Satellite Dish
A poorly sited dish makes for an eyesore, and can cause problems if a local council decides it must be re-sited. Re-siting is done at the owner's expense, which means that it is far better to site the dish properly in order to avoid such problems later, even if this process takes a little extra time and effort. Choosing a site involves three main steps.
Find Out if Permission Is Needed
While there is a general permission by law to have a satellite dish, renters and leaseholders need to check with the landlord or owner of a house or flat, before installing a dish. In addition, those who live in special historic areas, or conservation areas, may have special regulations concerning the placement and size of satellite dishes. Areas with special regulations include: national parks, areas of outstanding natural beauty, and the Norfolk Broads. In general, one does not need to apply for planning permission if the house is not in a special area, there will be only one dish installed with a maximum of 90 cm, and it will not extend higher than the highest part of the roof.
Choose an Inconspicuous Site
A satellite dish should ideally be installed in a place where it does not show up against the skyline. Behind the parapet of a roof, on top of a flat garage roof, or on either side of the chimney stack, are all good places for a satellite dish. When installing a dish anywhere on the roof, make sure it will not be exposed to more wind load than it is designed to bear. Inclement weather can break poles and carry dishes for miles, posing a danger to humans, animals, and property as well. This is another reason to install the smallest dish necessary to receive the satellite signal. Dishes can be installed at ground level as long as it is in the back of the house, and not visible from the street. However, in areas prone to thievery, it may be preferable to install the dish in a more inaccessible place.
Choose a Dish That Blends In
Dishes come in various materials that are sometimes even designed to blend into their surroundings. The most inconspicuous of these materials, is the clear plastic dish. However, another option is to paint the dish to match the wall it is mounted on. This also helps protect the dish from the elements and prevents rusting. Lightly coloured dishes blend in well with light-coloured walls, but highly reflective light-coloured surfaces can actually melt the LNB if the sun happens to strike the dish from the same angle as the satellite.
Correctly Sizing a Satellite Dish
In most of England, a 53-cm wide mini-dish is enough to get a signal for Sky and Freesat. This area, called Zone 1, extends as far north as Lancashire. Many mini-dishes are sized 43 cm by 58 cm. Mini-dishes require a special LNB to account for the oval shape. Zone 2 is the area as far north as Perthshire. This area will generally need a larger dish to account for 'rain fade'. This is the weakening effect that precipitation can have on a satellite signal, and happens when the dish is at a lower angle. This occurs more the further north one moves, making it necessary to compensate with a larger dish.
Zone 2 Dishes
Zone 2 dishes should be around 60 cm by 72 cm. They can also be used in the case that a Zone 1 location experiences problems getting a clear signal for whatever reason, since they have almost twice the signal capture area as a Zone 1 dish. Beyond Perthshire, an even larger dish will usually have to be used. If in doubt, a Sky provider will be able to give the size of the dish generally needed in a given area. Very small dishes are also made for caravans and camping purposes. Some people install small dishes indoors at a window facing southeast to avoid the siting problems mentioned above. These are usually around 40 cm or less in diameter.
Satellite Dish Materials and Care
Satellite dishes can be made from various materials. Each one has properties which are advantageous in some ways, and disadvantageous in others. Before making a final decision on the right satellite dish, be sure to figure out which materials are necessary. Factors that come into play include achieving the desired amount of coverage for cosmetics as well as protection.
Steel
Steel satellite dishes are generally the most inexpensive types of dishes. They have good reflective properties but tend to rust easily, unless they are properly cared for. Painting is an easy way to take care of a steel dish so that it will provide reliable viewing for years to come.
Aluminium
Aluminium dishes are more expensive than steel dishes, however, in comparison they do not rust as easily. Aluminium satellite dishes can actually corrode with exposure to salt water, which can be an issue in coastal locations so be sure to plan accordingly.
Plastic and Fibreglass
Transparent satellite dishes are made by encasing thin wires, inside of plastic or fibreglass. These dishes work well as long as the wires are close together. They are typically more expensive than other dish materials, and can also be highly reflective from some angles, possible causing glare.
Perforated or Mesh Dishes
Perforated dishes are commonly made from steel, but have the advantage of having holes all over the signal capture area. This means they are not as easily moved as solid dishes in case of heavy winds, which can be a major advantage in many areas.
Having a chart that summarises the benefits and disadvantages of different dish materials can be useful to all potential buyers of a satellite dish.
| Material | Price | Durability | Reflectivity |
| --- | --- | --- | --- |
| Steel | $ | Can rust; preventable with painting | Good |
| Aluminium | $$ | Can corrode in coastal areas; does not rust | Good |
| Plastic or Fibreglass | $$$ | Highly durable | Good as long as wires are close together |
| Mesh or Perforated | $$ | Usually steel; needs painting; reduces wind load by 40 percent in windy areas | Marginally worse than solid dishes |
As the table shows, painting any dish, except for the special transparent ones, will go a long way towards preserving the dish for years. Everything can be painted with a non-metallic matte paint, leaving just the cap of the LBN unpainted, without affecting the signal in any way.
Other Dish Accessories
A satellite dish is not the only item needed to hook up a TV with digital satellite channels. One or more LNBs, a mounting kit, and coaxial cable, will all be necessary to connect the dish to a receiver, or PVR, and a TV. A few special tools, such as a compass and a signal finder, will also help the installation go smoothly, if one will be installing the dish oneself.
LNB
Along with the satellite dish itself, the LNB is the single most important part of a satellite setup. The LNB is the small tube-like piece which receives the satellite signal bounced off the dish, and turns it into a signal that can be understood by the set-top box or receiver. Multiple LNBs can be set up on a single dish when one wants to receive signals from various satellites, but this is fairly complicated and depends on one's location. Multi-output LNBs are needed when more than one cable will go from the dish to the receiver. This is necessary for PVRs which can record on two channels. In such a setup, one cable is necessary for each channel.
Mounting Kits
Many different kinds of brackets and mounting kits are available for different dishes. It is worth spending money on a high-quality kit because a weak mount will cause the dish to move just enough to lose the signal every time there is a storm or a wind. The brackets needed will depend on the site the dish will be mounted, the size of the dish, and the necessary angle.
Cable
A long length of coaxial cable is necessary to connect the LNB to the receiver inside the house. Deciding on where and how the cable will enter the house, is an important consideration when siting the dish because the signal will lose strength if the cable is too long. When using high-quality braided copper cable, there is no problem with runs of as long as 100 metres. However, many installers use smaller 'shotgun' cables, which can only extend around 30 metres before experiencing too much signal loss. Make sure to connect the cable to the LNB with self-amalgamating tape to ensure that no water can get inside the cable, and eventually reach the receiver.
Signal Finder
A satellite signal finder is a tool which can save a lot of work and trouble if one will be installing the dish oneself. Although it is not strictly necessary, a signal finder makes it much easier to find the satellite and fine-tune the signal. A compass will also be necessary to complete this type of siting activity. The most commonly used Sky and Freesat satellites, are located at 28.2 degrees east of due south. The angle that the dish needs to face upwards, depends mainly on its latitude. In most of the UK, the necessary angle is most often around 26 degrees.
How to Buy a Satellite Dish on eBay
A satellite dish and the necessary gear for mounting it, are available online from various sellers. Both new and used dishes, can be found easily on eBay. The advantage of using eBay, is that every seller's feedback history is made completely public, ensuring that the best sellers are rewarded for their excellent service. This makes buying on eBay secure and fast.
To find a satellite dish or any other accessories on eBay, simply enter the appropriate search term, like "satellite signal meter" in the search box on any eBay page. You can then narrow down the search by choosing between the various search criteria like price and condition, or broaden the search by clicking the box that says 'Include Description'.
As with any online transaction, it is important to research the seller, and find out about the warranty, return policy, shipping costs, and any other details before making a payment. On eBay, finding a reputable seller is as easy as looking for listings with the award icon that says 'Top-rated seller'. These sellers have a long history of excellent customer service as fast shipping times, and will be more than happy to answer any questions you might have.
Conclusion
While it is fairly easy to receive digital satellite channels for free in the UK, it is necessary to consider several things before buying a satellite dish. The siting of the dish, is the single most important factor to think about because of the possible repercussions of placing a dish where it will be unsightly or inconvenient. City ordinances may require a dish owner to re-install the dish in a different place at his or her own expense if the dish is visible from the street. For this reason, a satellite dish should be placed as inconspicuously as possible.
Choosing the correct size of dish is the next step. This can be done by finding out which zone one belongs to, and upgrading the size, if necessary, due to frequent bad weather conditions. Different dish materials also have an impact on the signal and appearance of the dish. Once a dish has been decided on, it will also be necessary to buy the corresponding LNB, brackets or mounting assembly, and cable to connect the dish to the receiver. All of these items can be found easily on eBay. By choosing a top-rated seller, anyone can buy with confidence, and have all of the tools needed to install a dish, or have it installed, in a matter of a few days.