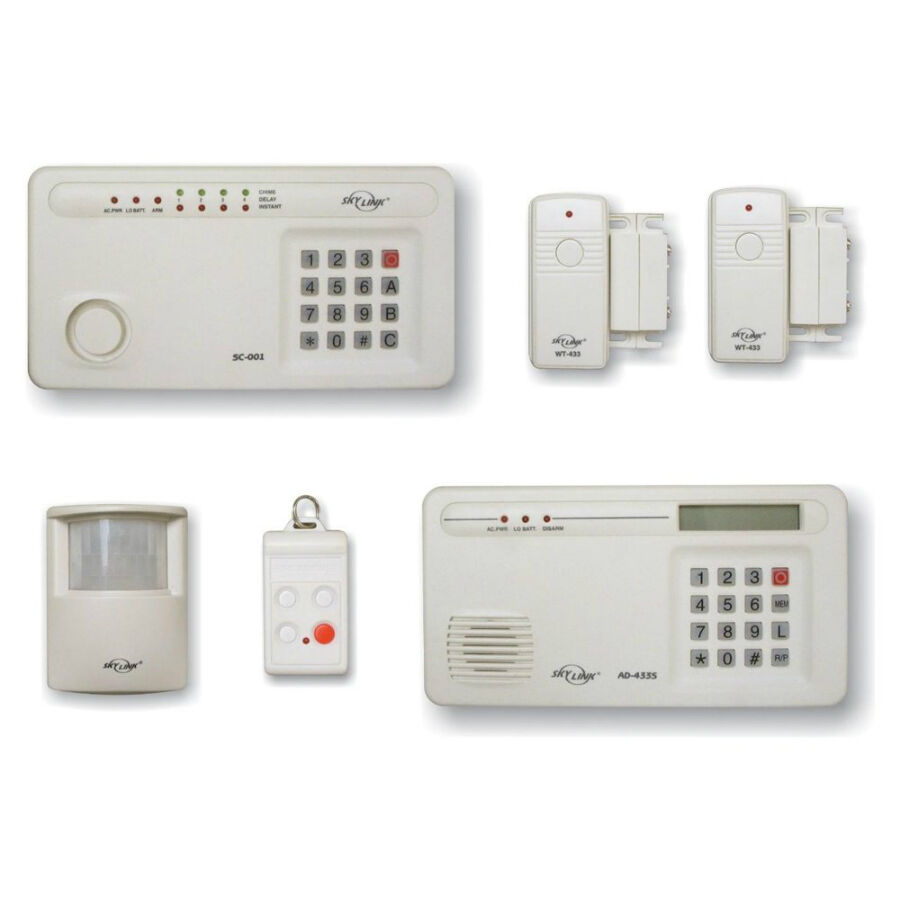 A security system can give a homeowner the peace of mind of knowing that their home is protected in case of an attempted burglary. A system that is complete, deters and prevents thieves from attempting to enter, and also helps catch the offender in case one does break in. The cost of installing and maintaining a security system varies widely depending on the components that are included, and the size of the house to be protected. There are also different kinds of systems, including wired and wireless systems, as well as different levels of coverage provided by security companies.
Before buying a security system, one should consider whether a wired or wireless system will better suit one's needs, as well as the different levels of protection available. One also needs to know about all of the components of a home security system in order to be able to choose the parts that will be necessary in preventing burglary, and responding to any kind of intrusion. Knowing how to find these components online, is also important in finding the best prices, putting a complete home security system within the reach of any household.
Wired and Wireless Security Systems
The most basic choice, when it comes to home security, is between a wired and a wireless system. In the past, wireless systems could be interrupted by other wireless signals like those from computers, radios, and televisions. However, today's technology has advanced to the point that this is generally not a concern. The main drawback of a wireless system is usually the cost, which can be higher than that of a wired security system. A wired system may be more affordable, but the installation is more difficult and time-consuming. In the case of certain older houses, or rented houses, hard-wiring may be impossible. In these cases, wireless systems are the only viable option. On the other hand, wireless systems may not be as efficient when the house is very large. Such systems will need wireless repeaters to make sure the signal is strong enough to reach the control panel from the furthest windows and doors.
If the wiring is already present in the house and all that is needed is a new contract or a few new components, using the wired system is a good choice. It is important to understand the pros and cons of each system.
| Type of System | Pros | Cons |
| --- | --- | --- |
| Wired Security Systems | No interference received, harder to disable, often less expensive if the system includes various detectors, more reliable in houses with lots of square footage. | Difficult installation, cannot be easily removed if owner moves to another house. |
| Wireless Security Systems | Very easy installation, can be removed and installed in a different house easily. | Often more expensive, slightly easier to sabotage, may receive interference from other sources. |
As the table shows, renters and those with historic homes are better off with wireless systems. It is also apparent that homeowners in a brand new home, can often have the wiring done during the construction phase, and thus take advantage of the benefits of a wired system.
Alarm Receiving Centre Coverage
One of the main parts of any security system is the contract with an Alarm Receiving Centre, or ARC. A security system without a contract with an ARC, will only set off alarms in case of an intrusion. If the owners are not around, there is only a very small chance that neighbours or someone else will call the police. The police may not respond quickly because of the high number of false alarms of this particular type. The main usefulness of a security system without an ARC contract, is the possibility of surprising and scaring off an intruder. However, there is no guarantee that the police will respond quickly.
Levels of Coverage
On the other hand, a contract with an ARC ensures that the house is protected, whether or not the owners are present. There are many different levels of coverage one may choose from. At the most inexpensive level of coverage, the ARC will contact the owner of the system in case the alarm is activated, and then the owner has to contact the police. This is a good choice for those who are often away from the house but want minimum coverage. At the next higher level, the ARC will contact the owner within a given time frame of the alarm being activated. This time frame often around 10 seconds and should be specified in the contract. If there is no answer or the wrong password is given, the police will be contacted with a special reference number that certifies that the alarm is genuine. This number from the ARC prompts the police to take the alarm seriously, since ARCs have safety measures in place to rule out false alarms.
Special Features
Other features, such as fire and smoke alarms can also be connected to the control panel, and thus monitored by an ARC. This extra coverage will cost a little more than regular coverage. Before buying a security system, it is important to research the available home security companies in the area which are linked with local ARCs. Find out which components are compatible with various ARCs, and also get itemised price quotes for the number of contacts, and different components that will be necessary.
Security System Components
The various components of a security system are the biggest concern of anyone trying to protect a home. Motion detectors, window sensors, a control panel, keypad, alarm, and window stickers are the basic components of a security system. Other features like a CCTV kit and fire alarm kits can be added on for extra protection.
PIR Motion Detectors
Passive infrared motion detectors sense the infrared level of a room or hallway, and contact the control panel if there is any change in the level. The biggest issue with motion detectors is that they can be set off by pets. Pet-proof sensors are available but can cost more. However, the benefit of not setting off false alarms every time a dog or cat crosses the sensor, is well worth the extra cost. Be aware that 'pet-immune' PIR sensors work best for smaller animals. Multiple animals and large dogs, can trip a sensor just like a person would, thus setting off a false alarm. The installation of these units is also different than regular motion sensors, and should be undertaken by a professional.
Glass Break Sensors
Glass break sensors are sensitive to the special high-frequency noise made by breaking glass. These sensors notify the control panel when this sound is made. A single sensor can be used for an entire room. Glass break detectors are an important component of a home security system. With a glass break detector, window and door contacts will not be triggered if the door or window is not opened and the glass is broken instead.
Control Panel
The control panel is the heart of a home security system. It receives signals from all the other components and contacts the ARC if any component is triggered. It has to be connected to the phone line, and may have a back-up power supply in case the power is out. It can also have a cellular backup in case the phone line is cut.
Window and Door Contacts
Every window and door should be protected with a contact. This is a magnetic piece that completes a circuit. When the window or door is opened, the circuit is broken, and the contact triggers the alarm in the control panel. Of course, the circuit is only powered when the system is activated, that is when no one is home or at night.
Sirens and Alarms
The alarm is a separate component that is connected to the control panel. It should have an option to disable the siren so that a silent dial-out is possible. This allows the police to be notified, and gives them time to arrive without letting the burglar know that the alarm has been triggered.
Window Stickers
Security company window stickers are a clear deterrent to theft, since they signal that the house is protected by a security system. Stickers are fairly effective in preventing theft since it is far easier to find a house that is unprotected than to take the risk of triggering an alarm.
Keypad
The keypad is used by the occupants of the house to activate and disarm the security system. Upon entering the house, the system must be disarmed by entering a code within a short time frame in order to avoid an alarm being triggered.
Extra Security Features
Components can also be added to a security system that is already in place. A CCTV system is a fairly simple addition, and allows a camera to capture and record everything that happens in a certain area of the house. Fire alarms can also be connected to a security system, so that the fire department can be automatically notified by the ARC in case the fire alarm goes off. Remote controls and intercoms are other special features that can prove to be useful in the event of an emergency.
How to Buy a Security System on eBay
The components of a security system can be bought directly online from various eBay sellers. The advantage of buying components online is that a wide selection of brand-name products, can often be found at low prices. Since many wireless systems can be easily installed by the user, this can mean a significant amount of savings towards the cost of having a security system. eBay is a popular place to find security systems because of the easy-to-use search functions and public seller feedback system. eBay's feedback system makes it fast and easy to find a reputable seller.
To find complete security systems, as well as individual components on eBay, simply enter the appropriate search term in the search box on any eBay page. You can then either browse through the listings, or refine the search by category, price, location, or one of the many other search criteria. Be sure to read the entire listing to see what components it includes. You can always feel free to ask the seller any questions you might have before bidding or buying. Any seller with a high feedback score will usually be more than happy to answer questions promptly, and guarantee your satisfaction with the product.
Conclusion
Security systems involve an upfront investment that pays off many times over in case of an attempted burglary. Systems are available for every budget and house type. Homeowners as well as renters can find security systems that will provide the required level of protection for one to feel at ease when away from home. The first decision to make when shopping for a security system is between a wired and a wireless system.
Wired systems are much harder to install, but are slightly more foolproof as well as more affordable. Looking for a security company who will provide the link to an Alarm Receiving Centre is the next step. Finally, one need to know about the different components of a basic security system so that these can be bought either as a package or separately online. Security systems can also be upgraded with special components like a CCTV kit or a remote control. By looking for the necessary parts on trusted online sites like eBay, homeowners can save money and use the savings to better protect their belongings.