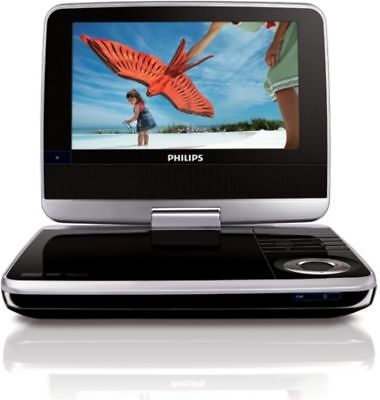 Video technology advances in large spurts, as opposed to small, methodical progressions. The jump from analogue television sets to digital televisions of all shapes and sizes is just one example. Another example is the transition from VCRs to DVD players. While other viewing mediums have entered the market, DVD players still represent one of the more popular ways to watch movies and television shows. Seeing this, manufacturers began to produce DVD players that allowed users to watch their favourite programmes on business travel or during family holidays. Portable DVD players can now be programmed and connected to work within intricate home theatre systems.
Consumers have numerous options when it comes to buying portable DVD players. They can peruse the vast inventory of the players at big box electronics shops or seek players that possess unique features at smaller shops that carry higher-end video players. Consumers can also shop for portable DVD players on the leading auction website, eBay. Before shopping for a portable DVD player, it is recommended that consumers have an overview of this electronic device, understand the prominent features available, and review the factors that often determine the portable DVD player buying decision.
Overview of the Portable DVD Player
Unlike laptop computers that run on DVD drives, portable DVD players provide significantly more battery life. Some portable DVD players come with remote controls and can connect to home theatres. Manufacturers offer two types of portable DVD players. Consumers can buy fold-up models or car DVD players. The two types of portable DVD players differ in how they connect to vehicles. Fold-up portable DVD players store the player and folding screen in the same unit, and thus, are considered standalone devices. Car portable DVD players can project video and audio to multiple screens that users install either in the back of a seat or from a car ceiling. Fold-up models can go anywhere, which car models integrate into a vehicle's sound system, but only the player possesses any mobility. The screens remain attached to the seats or ceiling fixtures.
Prominent Portable DVD Player Features
Consumers choose among numerous portable DVD features. The features chosen, along with the number of optional features added, both contribute to a player's price. Electronic device experts recommend that consumers rank portable DVD player features by importance, without considering how much more the features cost.
Screen
Consumers choose from screen sizes that range from 18 to 25 cm. A few models present images on screens as large as 40 cm. Larger screens project video with more clarity, but they also reduce the DVD player portability. Try searching for small screen portable DVD players that offer high resolution to project video quality.
Audio
Manufacturers construct every portable DVD player with single or dual headphone jacks. The dual jack models cost more, but they allow a second user to enjoy a DVD. Parents who take young children on long trips favour the dual jack headphones, since they can entertain two children, simultaneously. Moreover, virtual surround sound outputs are required to connect portable DVD players to home entertainment systems.
Disc and Card Compatibility
Users who plan to record or burn videos should consider purchasing a portable DVD player that supports DVD-R/+R/RW. Most portable players play the second role of a CD player by supporting most CD-R formats. Recent technological advances have led manufacturers to introduce portable CD players that offer memory slots, which allow users to store JPEG image files.
Inputs and Outputs
Inputs and outputs matter when it comes to seamlessly integrating a portable DVD player into a home entertainment system.. Players that have S-video or component and digital audio outputs provide superior playback quality.
Power
Any portable DVD player made after 2008 comes with long-lasting rechargeable batteries. Portable DVD players require long-lasting batteries simply because their greatest benefit is allowing users to travel with them on extended holidays and business trips. Make sure to purchase a car adapter if the car's cigarette lighter acts as the power source.
Used Portable DVD Player Considerations
Portable DVD players were one of the first electronic devices to provide users with uninterrupted entertainment while they travelled on business or holiday. Smartphones may be the undisputed king of portable video devices, but there is still a place in the market for portable DVD players,, especially for families who want to keep children entertained during long trips. Here are some factors for consumers to consider before they shop for portable DVD players.
Warranty and Return Policies
Consumers should look for used portable DVD players that come with some type of warranty. This applies to newer models that electronics shops receive as returns, and they want to turn around the portable DVD player as quickly as possible. Most electronics shops provide a small window for returns, so it is imperative that consumers use their portable DVD players right after they purchase them. Online portable DVD player purveyors typically do not provide warranty protection or offer return policies. However, many portable DVD player sellers on eBay offer return time frames that exceed one month.
Choose a Type
The easiest factor to consider is deciding which type of portable DVD player fits with a user's lifestyle. As a buyer, determine if a portable DVD player is needed for frequent travel, or if the player only needs to be used inside of a vehicle.
Mounting Straps
Some fold-up models use DVD player mounting straps that secure players to the back of car seats. This is a great option for users who want the portability of a fold-up model, but also want to use the DVD player inside of a vehicle. Make sure to strap the fold-up model securely in the mounting position to prevent damage from falls or over-stimulated children.
Dimensions
Dimensions matter for both types of portable DVD players. Vehicle DVD players must fit in tight spaces, usually near one of the front seats. Fold-up models do not have as many size restrictions, but users must consider where they plan to take their portable devices before they choose dimensions. Frequent flyers should consider portable DVD players that are smaller than average.
Media
With all of the rapidly emerging recording technologies, media versatility should be considered one of the more important buying factors moving forward. Users want DVD players that can play video CDs and DIVX or AVI files. Some manufacturers produce portable DVD players that can run Blu-Ray discs and display JPEG photos.
Maximum Outputs
The increase in portable DVD player power has prompted some users to utilise the device on the go and within the home entertainment centre. For this to happen, users need a player with audio video connectors to connect to standard, as well as high-definition, televisions. In addition, look for portable DVD players that offer surround sound capability.
Accessories
Portable DVD player accessories enhance the user viewing and listening experience, although anything extra typically adds to the player's cost. Some extra options include screens that swivel around 360 degrees for easy access, and YouTube wireless connectivity.
Cable
Some retailers bundle the cables necessary to connect portable DVD players to home theatres into the DVD player package. Durable cables are essential to ensure uninterrupted viewing enjoyment. Most video connecting cables are made round or flat, with flat being the preferred shape, since the thinner surface allows the cable to be less obtrusive in living rooms and bedrooms.
Buying a Used Portable DVD Player on eBay
The first place to shop for portable DVD players is on eBay.. You can find the item you are looking for by typing "used portable DVD player&" into eBay's search engine. Use specific keywords such as "Sony used portable DVD player&" or "portable car DVD players&" to reduce the number of seller search results. Once you find a seller who meets your shopping needs, navigate to the seller's product page to review delivery terms, return policies, and accepted methods of payment.
When you navigate through the search result pages, you notice a number of sellers who are labeled as Top-Rated Sellers.. eBay designates the Top-Rated Sellers because they have established a record of offering high-quality products and generous return policies. eBay places an electronic ribbon by the Top-Rated Seller product photographs. You should also review the customer feedback that appears on seller product pages. Look for positive customer feedback from the past 12 months. More important, find the sellers who have earned high praise for selling electronic devices, such as used portable DVD players.
Conclusion
Changing consumer demographics have radically changed they way people watch television programmes and films. Besides the ability to record and watch mass media at later times, manufacturers produce electronic devices, such as portable DVD players, that allow people to watch video in their hotel rooms, on the beach, and in the car. Smartphones have made a dent in the DVD player market, but part of a smartphone's allure is its small size. Portable DVD players offer users a larger screen and one that presents video in high resolution.
Buying a portable DVD player does not require an engineering degree. Choose from the more portable fold-up model or the model that users install within automobiles. Then, decide on the features that enhance portable DVD player performance. Some of the features to consider include: dimensions, power, and disc compatibility. Some manufacturers offer unique or rarely ordered features, such as YouTube wireless connectivity. Other factors to consider involve buying the right cables to connect the player with a home entertainment system and some length of warranty coverage to ensure quality performance. The last consideration is price, as anyone who wants to purchase a portable DVD player should place quality above cost.