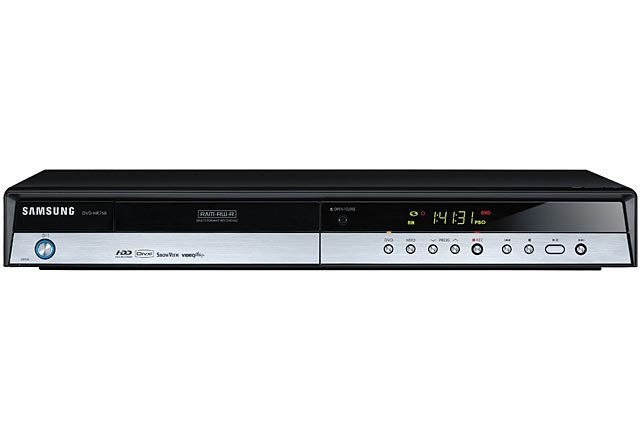 DVD recorders allow users to record video in a digital format for playback. They are capable of copying data from camcorders, and when paired with a tuner, they can record digital television broadcasts. Some units are designed with a built-in VCR, and the analogue signal from the tape can be converted to a digital format and burned to a disc. In addition, VCR combination products can be used to transfer digital video to a VHS tape. Some DVD recorders are also paired with a hard disk drive, which can store data until it is be burned onto a disc. In addition to their recording and burning capabilities, DVD recorders are also DVD players, making them a useful all-in-one unit.
It is important to be familiar with region codes when purchasing DVDs and DVD recorders, as these designations affect compatibility and functionality. For ease of use, most buyers should consider a region 2 recorder.
A quality DVD recorder can be a valuable part of a home media system. Used DVD recorders can be purchased from thrift stores and online retailers like those on eBay. Shop around to find the full range of products available, and compare features and prices to find the best recorders for individual needs.
Choose DVD Recorders
Many used Region 2 DVD Recorders are available for purchase. These products are built with varying features and accessories, and are sometimes designed as combination players with VCRs, digital tuners, and other devices. The first thing to consider while shopping is region codes and how they affect playability. From there, begin by choosing DVD recorders based on the desired functions and features.
Region Codes
Region codes place restrictions on the discs that can be used with DVD players and recorders. For example, a Region 3 DVD is not compatible with a Region 2 DVD recorder. There are a few reasons for these codes: they help manufacturers control retail prices from one part of the world to another, and they aid in the worldwide release of a product by segmenting the market. There are six primary region codes, plus one that is region-free. The following table lists these codes and offers a brief description of the areas they cover. Great Britain and Europe are part of Region 2.
| Region Code | Area Covered |
| --- | --- |
| 0 | Region 0 is used to designate products that are region-free. This means they can be used with codes from all six regions. |
| 1 | Region 1 includes the United States and Canada. |
| 2 | Region 2 products are marketed in Great Britain and Europe, along with Japan, South Africa, and the Middle East. |
| 3 | South Korea, Taiwan, and Southeast Asia are included in Region 3. |
| 4 | Region 4 designates products for use in Mexico, South America, and Central America, as well as Australia and New Zealand. |
| 5 | Region 5 is marketed for India, Russia, Ukraine, Afghanistan, and North Korea. It also includes much of Africa, Asia, and Eastern Europe. |
| 6 | Region 6 is used for products released in China. |
Most DVD recorders and discs available for purchase in Britain are coded for Region 2, though it is important to check this information while shopping to ensure compatibility. Buyers are likely to encounter Region 0 DVD recorders, as well. These region-free products are compatible with discs of any code.
Built-in Combinations
DVD recorders are sometimes designed as combination units, and may include other machines. The three most common machines built into DVD recorders are digital tuners, VCRs, and hard drive recorders. Consider each option to find the best products available.
Hard Drive Recorder
Hard drive recorders have a hard disk that can be used to store digital information. When paired with a DVD recorder, it allows the user to store copies of data directly to the hard drive, and retrieve it later when needed. This can save buyers considerable amounts of time and space by eliminating the need to copy everything to a disc. Some hard drive combinations also allow users to edit the stored data before burning it to a disc. Be aware that the hard drives used in DVD recorders are not compatible with computers, and cannot be used to store computer files.
Digital Tuner
DVD recorders with a built-in digital tuner can be used to receive television signals that are broadcast digitally. Units with an ATSC tuner can even receive HDTV signals, however, the maximum resolution afforded by a DVD disc is 480i, so although access to HDTV channels is possible, the recorder must necessarily downscale the image from 720 or 1080 to 480i.
VCR
A built-in VCR allows users to record information from VHS tapes onto a DVD or hard drive, and vice versa. Note, that this only works with non-copyright protected material, such as home movies and television programmes.
In some cases, a DVD recorder may have multiple machines built into a single unit. For example, a combination DVD recorder, VCR, and digital tuner.
Additional Features
DVD recorders are produced with a variety of special features and options. Keep these in mind while shopping to find the most useful products.
Progressive Scan
Digital video resolution can be either progressive or interlaced. In a progressive scan, all horizontal lines that make up the image appear simultaneously, while interlaced scans must draw odd and even-numbered lines separately. Of the two, progressive scans have the better picture quality, as they are free of the interline twitter that is present in interlaced formats. Interline twitter can cause images to appear as though they are vibrating.
Progressive scan on a DVD recorder allows playback of DVDs in a 480p format. However, it is important to note that the recorder itself still records in 480i. This is necessary for the disc to be compatible with all DVD players, such as those without progressive scan capabilities. Some DVD recorders and players have an upscaling feature that can improve the resolution beyond 480p, as well.
Upscaling
Some DVD recorders can improve the video resolution of a DVD from 480i to high-definition formats like 720p, 1080i, or 1080p. This feature does not create the same level of high-definition imagery as an HD disc, as it must fill in visual information from the existing pixels. Nevertheless, it can still significantly improve the appearance of a standard 480i.
Buy Used DVD Recorders
A high number of used DVD recorders are available for purchase. Many of these products are still in excellent condition, and can be obtained for much less than new ones. Buying used is also a good way to obtain older, hard-to-find recorders. Inspect used items closely before purchasing, and feel free to ask questions about the history of the product.
Brand
DVD recorders are produced by several different manufacturers, including Panasonic, Toshiba, Sony, LG, Philips, and Samsung. These companies often produce multiple models, each with different features. Before committing to a purchase, take the time to read product reviews for a brand and its products.
Read Reviews
Reviews are available for many of the top DVD recorders available on the market. These may be from professional reviewers on electronic sites, or from buyers on blogs and shopping sites. Professional reviewers often focus on the features and performance of a unit, while buyer reviews may include information about the longevity of a product and its compatibility with televisions and other home electronics. Some shopping sites have dozens or even hundreds of buyer ratings for a product, which can provide insight to the unit's quality. If considering a product that has not been reviewed, research the manufacturer. In many cases, a single brand can have a reputation for producing quality DVD recorders, and this is reflected in the reviews for other products they make.
How to Buy DVD Recorders on eBay
Both new and used DVD recorders can be purchased on eBay. The easiest way to begin searching for these products is to enter keywords on the homepage. To begin a general search, type "dvd recorder" into the search field. A high number of listings is shown, which can be narrowed by adding new terms or using the category options. Look for category links to refine listings by brand, price, item condition, and features. Once you have narrowed a search to desirable products, read individual listings by clicking on the name or image of an item.
Full listings display the price of the item, as well as any associated shipping charges. Be sure to check the seller's accepted payment methods, and be prepared to pay for your purchase as soon as possible. Contact the seller if you have any questions.
Research sellers to ensure a positive buying experience. Full profiles allow you to view information about the seller's eBay experiences. The positive feedback rating reflects the percentage of buyers in the past 12 months who have had a positive transaction with the seller. Users with a high positive feedback rating and numerous completed transactions are often very reliable. If you'd like more detailed information, look for comments left by previous buyers. These can reveal the quality of a seller's customer service in several areas.
Conclusion
Region 2 DVD recorders are designed to record analogue and digital signals to a disc. They are created with many different features and accessories, and are produced by several different manufacturers. Buyers should begin by understanding region codes. Region 2 includes Great Britain and Europe, and only discs with a Region 2 or 0 code can be used correctly with Region 2 recorders.
Units with a built-in VCR allow users to transfer data from VHS tapes to discs, and vice versa. Digital tuners enable reception of digital television broadcasts, and hard drives can be used to store information. Digital recorders are also functional DVD players.
DVD recorders are available from electronics stores, department stores, and online retailers. Marketplaces like eBay have listings for both new and used items, and are an easy way to shop from a broad selection of products. Consider all options to obtain a Region 2 DVD recorder that includes all the necessary features and functions for its user.