Renault Megane is a small family vehicle that entered the automotive market in 1995. The French automobile manufacturer offers the Megane in six trims: three and five-door hatchback, convertible, estate, coupe, and saloon. Renault consumers interested in purchasing a used Renault Megane should learn about the generations of the vehicle as well as tips on buying a used Renault Megane.
1996 to 2003 Megane 1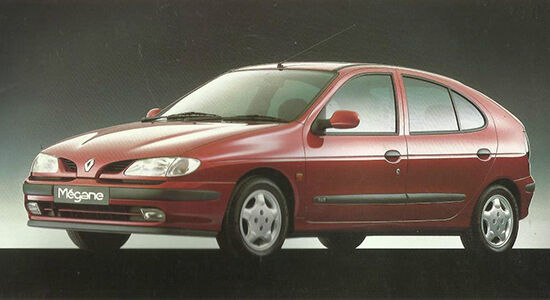 Spanning nearly 18 years, the first generation of Megane small family cars included several features found in the Renault 19, including the same floor plan, chassis design, and engine options. The most notable difference between the Renault 19 and the first generation of Megane cars comes down to style. For the Megane models, Renault introduced bird-beak front grille styling that enhances aerodynamic performance and exterior aesthetic appeal. Megane 1 generation cars manufactured after 1999 feature increased safety features and better performing transmissions.
2003 to 2008 Megane 2
Megane 2 generation cars dramatically differ from the vehicles Renault constructed during the Megane 1 phase. As the European Car of the Year for 2003, the first line of Megane 2 generation vehicles achieved a 5-star safety rating during EuroNCAP crash tests. The safety features made the second generation of Renault Megane cars widely popular amongst European drivers. Renault leveraged additional technological changes to include a keyless ignition system and a panoramic glass sunroof that accentuates the contemporary design of the Renault Megane. Renault upgraded the second generation of Megane vehicles in 2006 to include interior trim, engine specification, and front nose changes.
2008 to 2014 Megane 3
With the success garnered by the second generation of Megane vehicles, Renault introduced the third generation in late 2008. The French automaker unveiled the five-door hatchback and sport coupe to attract larger families and Megane lovers who want more power from the engine. The Sport coupe possesses Renault's proprietary Continuous Variable Transmission (CVT), which provides drivers with seamless transitions between gears. Renault gave the third generation a facelift in 2012 by adding LED daylights to help drivers cut through dense fog and expand their peripheral vision. A slightly modified front grille includes more chrome and black inserts to reduce wind resistance.
Used Renault Megane Buying Tips
Within each generation of Megane vehicles, Renault upgraded by adding features that augment performance. Consumers who want to purchase a used Renault Megane car should consider cars manufactured after Renault implemented each facelift. For example, third generation Megane buyers should consider any of the trims manufactured during 2012 and beyond. Renault Megane buyers must also remember to match Megane accessories with the generation of Megane they purchase.