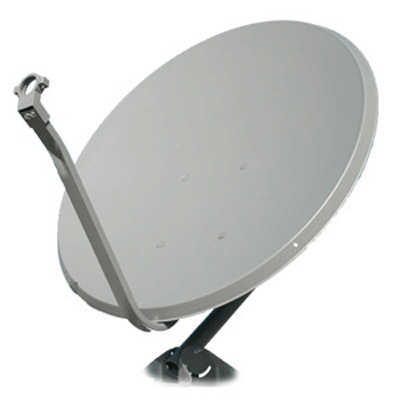 Satellite dishes are capable of receiving television and radio signals, and providing users with access to a broad variety of media. They are an alternative to cable, and can be the only option for buyers in rural areas. Satellite dishes can be an expensive purchase, however, and buyers may choose used items to save money. A variety of used satellite dishes are available for purchase, and it is important to determine their compatibility with a service provider before buying. Buyers should also be clear on the accessories and hardware included with a used product.
Used satellite dishes can be mounted to a home, or installed on an RV or other vehicle for satellite reception while travelling. Dishes can broadcast digital and HD channels, and some units are designed with a motor that allows them to turn and swivel to receive signals from different satellites. It is important to install and align a satellite dish properly for correct performance, and buyers should be familiar with the process before committing to a purchase.
Used satellite dishes can be purchased from satellite dish providers and online sellers. Marketplaces like eBay have a high number of listings for these products, and can be used to examine a range of items at once. Shop around to find the lowest prices on used satellite dishes, and inspect a unit's condition before committing to a purchase. With a little patience, buyers can find a used satellite dish to match their needs and provide quality performance.
Choosing Satellite Dishes
There are several things to consider while shopping for a used satellite dishes,, and being familiar with their primary components can help buyers choose the best items available. The following table offers a brief description of some common elements.
| Component | Description |
| --- | --- |
| Coaxial Cable | Coaxial cables are the standard form of connection between the satellite dish and the receiver unit in a home. |
| Coax Connector | Coax connectors are the threaded connection points used on coaxial cables. They are included on short coaxial cables, but must be purchased and attached separately when using a roll. |
| Low Noise Block (LNB) | The LNB on a satellite allows a received satellite signal to be sent through a coaxial cable. |
| Feed Horn | The feed horn is attached to the end of the arm on a dish at the point where the signal reflection is focused. It sends the received signal to the LNB. |
| Dish | The concave, circular plate on a satellite dish is used to bounce back signals from the satellite, where they are gathered by the feedhorn and distributed to the LNB. |
| Monobloc | A monobloc consists of two LNBs that are placed side-by-side. This allows the dish to receive signals from two different satellites. Users can switch between the two signals, but not use them simultaneously. For that, a twin LNB is needed. |
| Twin LNB | A twin LNB enables two satellite signals to be received at the same time. This means the user can receive separate signals in different parts of a room or home, or record one while watching another. These units require a twin-tuner and two coaxial cables. |
| DISEqC | The Digital Satellite Equipment Control connects the satellite dish and a multi-dish switch. These enable switching between two or more satellite signals. |
| Splitter | A splitter separates the incoming signal from a satellite dish so it can be routed to more than one receiver unit, allowing users to receive a signal in more than one room. |
More specialised units may have additional features and components. Research any unfamiliar items to be clear on their function.
Service
The biggest consideration when choosing a used dish is whether or not it works with a satellite provider's service. Companies normally provide their customers with a specific dish that is designed to work optimally with their satellite broadcast, and using a different dish may result in poorer performance.
Before making any purchase of a satellite dish, contact the service provider and see if there are any limitations on the type of dish that can be used.
Mounting Position
The next thing to consider while shopping is the intended location of the dish. Specific brackets and mounting materials are often needed for placement on a home, and these may not always be included with a used product. Research installation methods for different areas of a building to understand which materials are needed, and be clear on the tools and mounting hardware sold with a used satellite dish.
Mobile Dishes
Some dishes are designed for use on mobile homes and other vehicles. These units can typically be cranked down when not in use to avoid damage, and placed into an upright position again when needed.
Motorised
Motorised units improve reception by enabling the dish to pan from one side to the other. This also allows them to pick up signals from multiple satellites. These units can often be preset to specific angles and degrees to easily switch between satellites. Be sure there is sufficient room for the dish to turn and rotate without coming in contact with other objects or walls.
Other Considerations
Choosing a satellite dish that performs well is important, though buyers also need to consider how a used dish is assembled when it is shipped, how it is installed, and laws pertaining to placement of the unit.
Assembly
When purchasing a used satellite, be clear on how it is assembled when it is shipped or picked up. In most cases, a satellite dish that is shipped is broken down and is require assembly by the new owner, which can require specific tools and understanding of the product. Research assembly methods for products before purchasing to see if they can be put together at home.
Installation
Siting and installing a satellite dish requires work and careful calibration. Although it can be done at home, many buyers find it is easier to have the work performed by a professional. Investigate installation experts in the local area before purchasing a dish to be sure it can be installed properly, and consider the cost of the installation in relation to the dish.
Planning Permissions
In some cases, there are restrictions on whether a satellite dish can be placed on a building. These restrictions apply to the size of a dish, the total number of antennae on a property, and the location of the dish. Before purchasing and setting up a unit, take the time to review planning permissions. On rented properties, it is also important to check with the landlord to be sure a satellite dish can be installed.
How to Buy Used Satellite Dishes on eBay
A high number of used satellite dishes can be purchased from sellers on eBay. These can be located by using keywords and category options. To begin, enter "satellite dish" into the search field on the homepage. A list of items is shown on the following page, along with several category options. These allow you to refine a search by the type of dish, its brand, and the condition. Look for the category option to narrow listings to used items only. It is also possible to see listings for items that have been refurbished..
Read item listings for used dishes closely to feel confident in your purchase. Look for a description provided by the seller, and compare it with all available photos. If you have any questions about the condition of an item, contact the seller.
Click on the names of sellers in item listings to see their full profiles. There, you can view information about their past experiences on eBay and the satisfaction of their customers. The positive feedback rating reflects the percentage of buyers in the past 12 months who were happy with their transaction. Consider the seller's number of completed transactions to find experienced eBay users. It is also possible to view average ratings based on the seller's accuracy of item descriptions, shipping speeds, shipping costs, and level of communication. Leave feedback of your own at the end of your transaction to inform the eBay marketplace about your experience with a seller.
Conclusion
Satellite dishes provide users with a high number of television and radio programmes. Choosing used products can save buyers money, and many items can be found that are in excellent condition. Before shopping, buyers may wish to familiarise themselves with the basic components of a satellite dish. Once the individual parts are understood, determine whether a used dish is compatible with a service provider. If it is not clear whether a dish works properly or not, contact the provider. Some companies offer information on their websites about compatible products. The next thing to consider is how the satellite dish is placed or mounted. Decide this before purchasing a product to be sure it contains the hardware needed.
Used satellite dishes can be purchased from satellite providers and online sellers like those on eBay. Be clear on the condition of a product before committing to a purchase. Inspect the unit for signs of wear or damage, and determine which accessories and parts are included in the sale. Careful buyers can bring home a great used satellite dish at a reasonable price, so shop around to find the best items available.