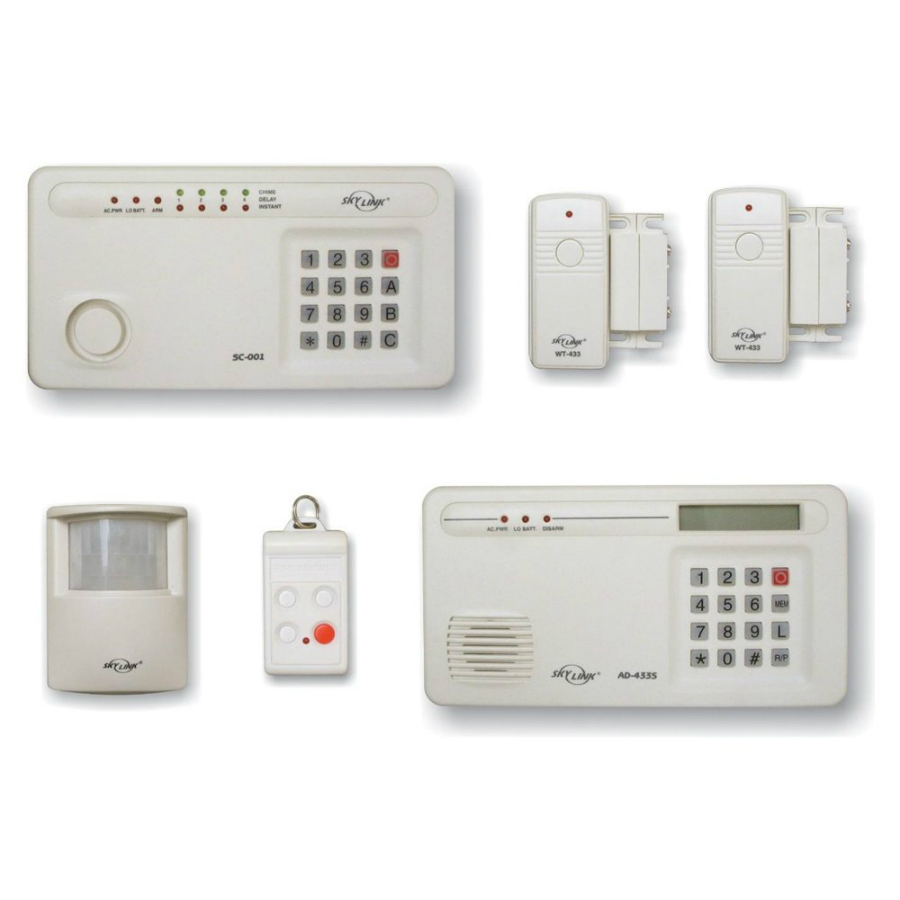 There is nothing as effective as a great alarm system to prevent break-ins and robberies. Whereas locks and bars may deter burglars, there is always a way to pick a lock, but an excellent alarm system will go off the second an unwanted visitor approaches your property. One can never be too careful these days, and all people interested in their home security should consider buying a state-of-the-art alarm system to protect both their valuables and their loved ones. According to current statistics, homes that are protected by alarm systems are three times less likely to be burglarised than unprotected homes.
There is too much at stake when deciding which alarm system to purchase. Under certain circumstances, this could be a life or death decision, and it is very important to have all the necessary information at hand, in order to choose the best alarm system for each individual and type of property.
There are a number of important points one needs to take into account when looking to buy an alarm system online. These include the purchaser's priorities, which types of alarm systems are available on the market, and what makes an alarm system effective. At the same time, there are some common problems that need to be avoided.
Elements of an Alarm System
Alarm systems are made of a variety of elements. On the one hand, there are the devices which control the alarm, then there are devices that sense the presence of intruders one way or another, and finally, there are some devices to create different kinds of visible, audible, telephone and radio-frequency alerts.
The following table lists some of the common devices of a security system and outlines their functions.
Security keypads

Allow authorised user identification by typing a secret password.

Sensors and motion detectors

Use infrared technology, magnetic gadgets placed on door frames and window casings, and glass-breaking shock detectors, among other devices, to sense the presence of intruders.

They can trigger cameras, lights, alarms, phone signals, and more.

Some of them are pet-wise, which means that they will not be triggered by pets moving around the house.

Control panels

Receive signals which then trigger alarms.

Alarms and sirens

Triggered by control panels, they can involve contacting the owner or a monitoring service, setting off lights and sirens that will alert neighbours, and other similar features.
When dealing with different alarm systems, there are many variations within each component category. It is important to consider each individual's personal needs, type of property, and habits before choosing what kind of components are going to work best in each case.
While sensors and motion detectors should be nearly 100 percent reliable, keypads need to be comfortable and easy to use for everyone in the household, and visual alarms should be placed in a way that they will be clearly visible from the street and the neighbouring homes.
Main Security Aspects
Especially in the case of DIY installation, there are some important considerations to make about setting up an alarm system. First of all, if the system uses telephone lines, these need to be concealed underground. This is the first thing burglars are going to try to locate if they wish to disconnect the alarm. An alarm system hooked up to a visible phone line is as good as no alarm system at all.
In the case of monitored systems, the alarm system company's background becomes an extremely important security issue. As a rule, they should be just as trustworthy as the police and faster than them; all for a reasonable fee. Finally, alarms are always more secure when they include additional elements such as glass break detectors and surveillance cameras. Although these additional elements might make the system more expensive, the increased security level is usually worth the effort.
Different Types of Alarm Systems
There are two main category divisions when it comes to alarm systems; they can be either wired or wireless and either monitored or unmonitored. While the distinction between wired and wireless systems only has to do with how the alarm is set up, the difference between monitored and unmonitored systems concerns the type of responses the alarm system is going to have.
Wired vs. Wireless
Wired alarm systems are better-suited for brand new constructions. This may allow the owner to install the alarm's wiring as an integral part of the home's wiring network. Generally, installing wired alarm systems in existing homes inevitably means either tearing down walls or leaving the wires visible for burglars to detect.
On the other hand, wireless alarm systems can be used in either old or new constructions. They have the advantage that it is easy to remove them when moving to a different house. It is important to note that, while the sensors may be completely wireless, control panels usually require a power supply.
Monitored vs. Unmonitored
Monitored systems are activated when the presence of an intruder is perceived. Unless the alarm is manually switched off in about 30 to 45 seconds, the monitoring company will call to verify, stop by immediately or call the police. Different security system companies work in different ways, but their response must always be rapid and effective.
On the other hand, some unmonitored systems basically depend on concerned neighbours to ring the police when they see the strobe lights or hear the loud sirens going off. Unmonitored systems are most effective when they include something called an auto dialler, which dials either a previously chosen emergency number or the police, or both.
While monitored systems involve paying monthly fees, people who prefer to rely on other people rather than on a machine will generally feel safer using them. Both types of alarms should include a battery-powered backup option, which will be activated in case of loss of electrical power.
Tips for Using a Monitored System
Companies that sell alarm systems which will only work with their monitoring service should, as a rule, not be trusted. It is also important to have access to all of the alarm system's codes and features, and to be sure that you can switch to a different company whenever your contract ends.
As for installation, it can take between one and three days if it is wired, depending on the property, whereas wireless installation usually takes only a few hours. Whichever the case, installation fees should be clearly stated on the system´s pricing.
When buying a monitored alarm system, it is also important to consider monthly fees, the degree of reliability of the monitoring company, and whether there will be any re-installation fees if you move to a different house. Monitored systems usually serve limited locations, so, one must always make sure the company in question is servicing one´s particular area.
The duration of the contract is also an important aspect to consider. If the contract is long, it is necessary to make sure whether there might be a fee increase at some point. Finally, alarm systems and monitoring companies are required to adhere to certain standards, and it is important to make sure the company of your choice has all the required permits and certifications.
How to Buy an Alarm System on eBay
There are thousands of alarm systems to choose from on eBay. Generally, they are of the kind that you can install yourself, and they are not monitored, requiring you to input a sim card and select some numbers to be dialled in case an intruder is detected. Depending on the kind of alarm technology you are looking for, you may narrow down your search by inputting specific keywords on eBay´s search bar, such as multiple rooms system or motion activated.
When shopping for an alarm system online, great customer service is key, as you might need some assistance installing the alarm. It is always advisable to review the seller's reputation thoroughly. Sellers with an impeccable record commonly offer great customer service via local phone lines or web chat.
If you are buying different elements separately, it is important to make sure that they are compatible. This generally requires you to converse with the sellers before purchasing their products, which can give you some valuable insight into their trustworthiness.
Conclusion
Alarm systems can protect homes and the people who live in them from both common burglars and violent criminals. There are many aspects to consider when selecting the right alarm system for each home. Wireless systems are preferable in the case of existing homes, whereas wired alarm systems are optimal for houses in the building stage.
Pet owners can choose pet-friendly alarm systems, which can detect pets through their weight and size and will only be triggered when a human intruder is present in the property.
The choice between monitored and unmonitored systems depends on many factors. A monitoring company can provide a personalised service, but it is necessary to do some research before trusting an unknown company with the safety of one's home.
In the case of DIY installation, it is essential to make sure the seller is offering a good round-the-clock customer service to assist with the system´s setup. Finally, complex systems are always better off being installed by a professional.