While wall clocks do not provide the same function they once did as the only time keeper in a home or building, they still add a decorative flair to a room. While digital clocks on TVs, radios, and cable or satellite boxes may be more convenient, an antique wall clock gives an old-fashioned feel to a home that digital gadgets cannot. To find the perfect one, you can learn about the different styles of antique wall clocks.
Grandfather-Style Clocks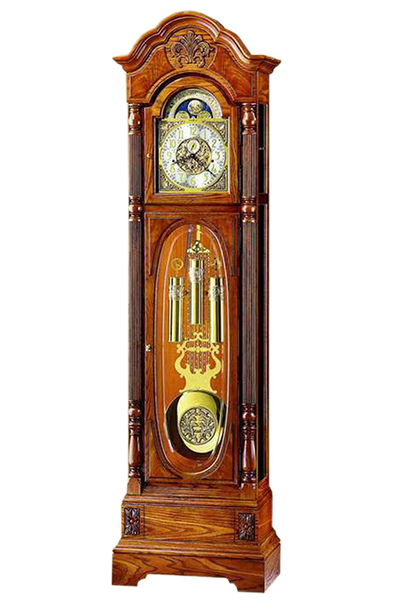 While standard grandfather clocks are large and imposing and sit on the floor, manufacturers make smaller versions. Designed by makers like Gazo, Welch, and Seth Thomas, these smaller grandfather clocks offer the same chimes as their larger counterparts that denote the hour and even the half hour. Most feature mahogany wood with a brass pendulum enclosed in a glass box. Intricate hand carvings help give these antique wall clocks their value.
Cuckoo Clocks

These clocks are as fun as they are decorative and functional. Each hour, and sometimes half hour, a small bird pops out with a cuckoo sound to let you know the time. While once extremely popular and coveted, few people own these interesting clocks. The first cuckoo clocks appeared in Germany in the 18th century and featured ornately carved wood in the shape of a birdhouse. Some antique cuckoo clocks play music, as well as the cuckoo sound, while others function without music. You can find dancers and figures on the musical clocks that move to the tune after the bird has sounded.
Coca-Cola Clocks
A little bit of pop culture makes its way into these antique clocks that were popular in the early and mid-20th century. The Coca-Cola company began an advertising blitz on clocks in 1893 and for the next nearly 50 years people bought them. They Baird company first made them, and most Coca-Cola wall clocks came with silver metal frames, white faces, and large numbers with the Coca-Cola logo either through the centre or on the side. Many Coca-Cola wall clocks graced the walls of businesses that served or sold Coke.
Antique-Style Clocks
While they are not quite antique, many modern clock companies mimic the antique and vintage wall clock look with newly created pieces. Round clocks with Roman numerals and faux brass dials come encased in rustic and vintage wooden frames. You can find grandfather-style clocks made in the 21st century with that antique look, as well as brass wall clocks and versions with a new twist on the Art Deco look. Antique-style clocks come from companies like Keeler, Delavan, and Howard Miller.