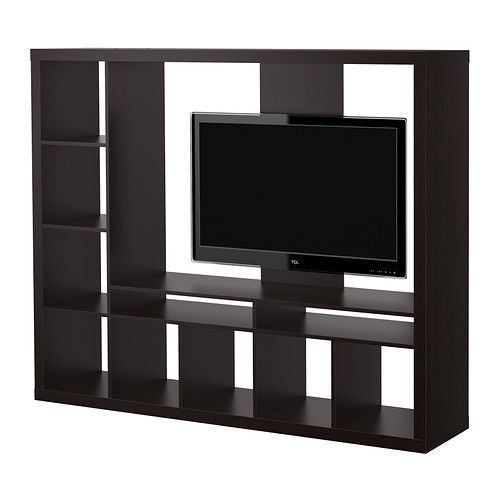 A TV stand is an essential piece of furniture in any home, used to support the television set and all the related equipment that is now part of modern viewing. TV stands vary from low-level single shelves that simply hold the set itself to taller, more extensive units that house everything, from the television screen to DVD and Blu-Ray players, satellite or cable receivers, and gaming equipment. Depending on what material the TV stand is made from, they can be an expensive purchase but will generally be hard-wearing and long-lasting with no parts to replace or to break down. That means buying a used TV stand can be a cost-effective purchase, particularly ones that have been taken care of and maintained according to the manufacturer's care instructions.
Features of a Used TV Stand
There are several factors to take into account when searching for a used TV stand. The size of the room in which the TV stand is to be placed must be taken into consideration, along with the size of the television screen and what other equipment is to be stored on or in it. Take a note of the dimensions of the stand and of the material from which it is made. Measure out the space it is to occupy to know in advance exactly what width and depth will suit the room. Enquire where possible as to the condition of the used TV stand - ensure the price paid reflects if the stand is marked in any way or if there are missing screws or an issue with stability. Here are some of the most important features to consider when browsing for a used TV stand.
| | |
| --- | --- |
| Shelving | Even the most basic TV stand will consist of a minimum of two shelves. The top one generally holds the television screen, with those below becoming home to the likes of DVD and Blu-Ray players, gaming consoles, satellite, and cable receivers. When looking for a used TV stand, take into account exactly what needs to be housed as part of the entertainment complex, and look for a stand that has enough shelving for everything. |
| Drawers | Drawers are used to store DVDs, games, games controllers, and remote controls. |
| Doors | Used TV stands that come with doors are generally referred to as cabinets. The doors may be solid, glass, or plastic and allow users to stack and store all the entertainment components in a dust-free environment. Being able to place items behind doors also allows for a tidier room, so a TV stand with doors may be perfect for those who prefer neatness. |
| Mobility | Generally a TV stand is designed to be kept in one place but some also come with wheels attached, providing for a trolley-style stand that can be moved to different viewing positions when required. Another mobility option is for a platform that can swivel and allow the television screen to face different directions. |
| Cable management | Home entertainment generally means more than just a television, and along with more equipment comes more cabling. More up-to-date TV stands often cable management into their design, hiding unsightly wiring neatly from view. |
| Brackets | Large, wide-screen televisions are often best displayed on a wall so look for a wall-mounted used TV stand.. These stands are fixed to the wall and provide a sturdy platform, usually on an integrated mounting arm, on to which the TV is placed. The beauty of a wall-mounted TV stand is that the user can dictate exactly where in a room the TV set is located, not relying on finding a spot among other furniture. |
Materials Used in a Used TV Stand
A TV stand is more than simply a functional piece of furniture in a room. It should also be a stylish addition, and because there is a wide choice of material available, even for used TV stands, potential buyers can seek out the TV stand that best suits both their decor and their own personal sense of style. There are several styles to select from, including the ultra-modern and minimalist look of stark metal and glass or warm real wood that matches or contrasts with flooring or carpets. Check out some of the most popular materials used in making TV stands before seeking out the perfect used TV stand for the home.
| | |
| --- | --- |
| Real wood | For a classy addition to any room, choose a TV stand made of real wood. Oak, walnut, and pine are among the most popular choice because not only do the stands look good, they are hard-wearing and long-lasting. |
| Wood veneers | A more inexpensive alternative to real wood, wood veneers have a glossy or satin finish. |
| Glass | A very modern choice, glass TV stands come in clear, black, or opaque glass that is specially toughened to ensure it can take the weight of a television. |
| Combination | Combination TV stands are a blend of glass and metal or glass and wood. They are a popular choice for more modern decor. |
Styles of Used TV Stands
The benefit of buying a used TV stand is that the purchaser can find the perfect stand to fit both the available space and house their television and home entertainment accoutrements. The style chosen will depend on the size of the television screen, so it's essential to select a used TV stand that is robust enough to hold even the largest screen.
| | |
| --- | --- |
| Corner | One of the most practical styles of TV stand is a corner unit that allows the most awkward space in a room to be utilised productively. A corner unit is a triangular shape that fits closely to the adjoining walls so the television can be placed close to the wall. |
| Cabinet | Generally a larger style of stand, a cabinet TV stand will include drawer space, often enclosed with doors, with enough space to accommodate everything else related to the home entertainment system. |
| Cantilever | A cantilever stand is probably the most modern design in TV stands. It provides the look of a wall-mounted TV where the set is fixed to a bracket on the column or upright and can then be moved up or down for viewing preference. |
Dimensions of a Used Stand
There is no conventional single size of a TV stand, and therefore it's crucial that any potential purchase is checked thoroughly for size so it is the right height, width, and depth for the room in which it will be placed. For example, wide-screen televisions will need a wider base, while older-style TV sets are much heavier and will require a sturdier frame. Measure the television set, and take into account all of the other equipment expected to sit alongside it. Also ensure any used TV stand is of the right dimensions.
Conclusion
Buying a used TV stand allows a purchaser to select the right stand for their budget, for their television set, and for their room. TV stands are more than simply a functional structure and are cleverly designed to make the best use of every centimetre of space and to house every piece of equipment. When seeking out a used TV stand, it's important to know its dimensions and whether it is sturdy enough to hold the television and any other related entertainment equipment.