Let's face it, shopping for a new shower mixer isn't exactly the most exciting job in the world. Read on to discover the different types available and how you can get out the most out of your showering experience.

Never underestimate the power of a good shower. The decision you make will ultimately affect your shower experience. A good shower helps you to freshen up and feel ready to take on the day. A bad shower, on the other hand, will put you in a bad mood! So, are you ready to shop for the best shower mixer?
Things to Consider When Buying a Shower Mixer
Mixer showers tend to be one of the most popular on the market. This is largely thanks to the fact that they feature a contemporary design, they are really durable and they are also really easy to maintain.
In order to provide you with a comfortable shower experience, they deliver hot water straight from the boiler and cold water straight from the mains. They mix together and you have the ability to control the temperature.
If you live in a high pressure area you'll also experience a better flow of water than you would with an electric shower. However, if you live in a low pressure area you may need a pump to increase the water flow rate. The things you need to consider when choosing a shower mixer include: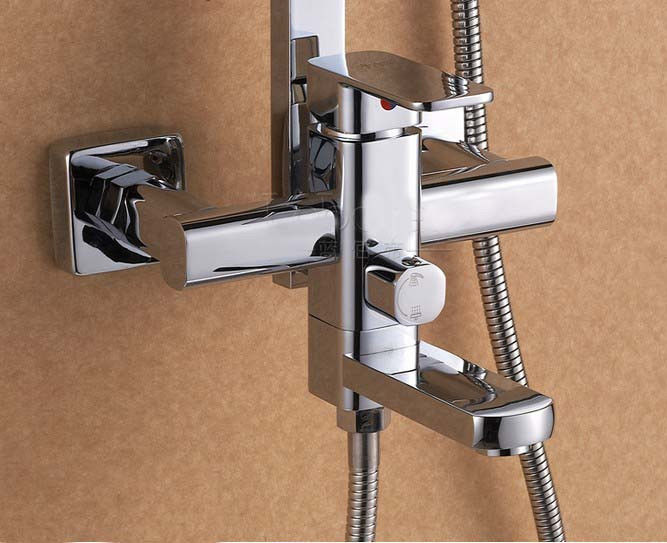 Do you want manual or thermostatic valves?

Do you want a concealed or exposed mixer?

Shower mixer features

Shower mixer styles

These are the main things you need to focus on. Understanding your preferences and needs will help to determine which type of mixer you should opt for.

Manual Vs. Thermostatic Shower Mixer
One of the first choices you need to make is whether you want a manual or thermostatic shower mixer.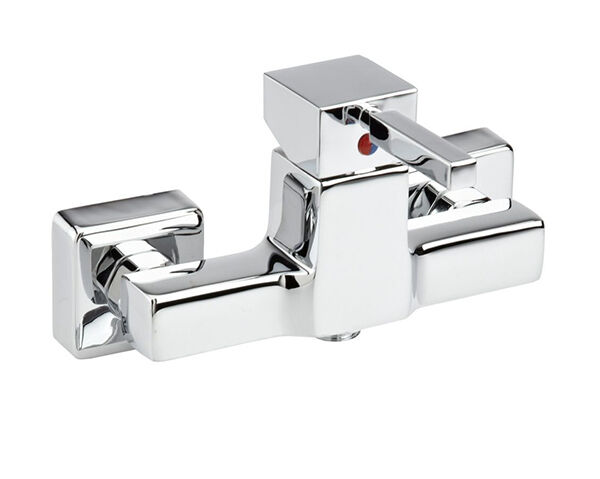 Manual Shower Mixer
The manual shower mixers require you to set the temperature of the water by adjusting a valve. They are really easy to install and really simple to use. The hot and cold water supply has to be fed to the taps independently. One of the potential disadvantages of manual showers is the fact they don't automatically shut off if the cold or hot water fails. There's also the chance you could scald yourself if it gets too hot.


Thermostatic Shower Mixer
Thermostatic shower mixers are found on the higher end shower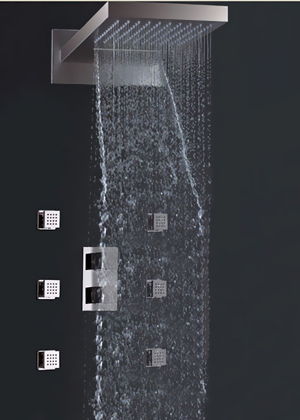 models. They provide a high quality, high pressure burst of water. Its main advantage is the fact that it protects you and your family from scalding.
They help to keep a safe water temperature throughout the duration of your shower. Even if somebody decides to run a tap in another room or flush the toilet, it won't affect the temperature of your shower.
It mixes the hot and cold water to a pre-set temperature so you always know how the water is going to feel before you step in. If the cold water supply fails, the shower will automatically cut off to prevent you from scalding yourself. The thermostatic shower mixers will be slightly more expensive than the manual ones, although they are worth the money.
It's worth noting that if you live in a low pressure area, you might need a manual shower unless you invest in a shower pump. This is because thermostatic shower mixers require high pressure in order to work correctly.

Concealed or Exposed Shower Mixer?
Once you've decided which type of shower mixer you need, it's then time to decide whether you want it to be concealed or exposed.


Concealed Mixer

The concealed mixers tend to blend in with the rest of the bathroom. They are usually wall mounted, helping to save valuable space. There's nothing worse than being in a small shower and constantly bumping into the mixer. If space is an issue then concealed mixers are worth investing in.




Exposed Mixer
Exposed shower mixers typically come in the form of bars. They come out a little way from the wall and are fairly simple to install. They won't provide the same blended experience as the concealed models, but they can still look stylish if you choose a good quality or vintage brand.



Shower Mixers' Features
When trying to choose a shower mixer, it helps to take a look at the different features available. Some brands offer unique features that further enhance your shower experience:
A special coating prevents the mixer from heating up, so they will never get too hot to touch.

Another coating makes an extremely smooth surface, allowing for easier cleaning and repelling water stains.
Whether it is going to be a vintage or a modern style mixer, consider the above when choosing your next shower experience.