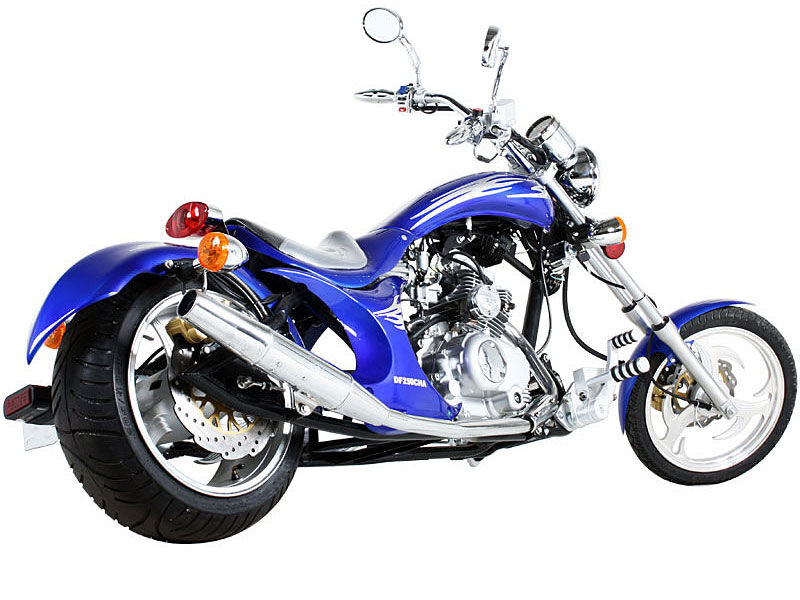 Harley Davidson, manufactured in the USA, is more than a motorcycle. It is a distinguished brand known for its quality and style. Driving a Harley Davidson is therefore a bold statement, and anyone who owns one of these motorcycles can feel proud. Although Harley Davidson has become a synonym for motorcycles and is widely renowned for quality, sometimes even these motorcycles also break down or wear over time. Then, it is time to buy the replacement parts. In order to ensure that the Harley Davidson replacement parts are the best ones available, there are a few things that need to be considered, including authenticity of the replacement parts as well as how they contribute to the rider's comfort.
Harley Davidson replacement parts are available from automotive shops that specialise in motorcycle parts and accessories, but they can also be conveniently purchased through online auction sites, such as eBay. Knowing the Harley Davidson parts and their specifications helps in finding high-quality parts that fit the motorcycle perfectly.
Finding Genuine Harley Davidson Replacement Parts
New Harley Davidson replacement parts are sold by authorised dealers who are accredited by the Harley Davidson company. These companies have gone through an evaluation and selection process before they became genuine Harley dealers. Using the original parts is essential if one wishes to achieve pure style and to be known as a true Harley enthusiast. Moreover, the original parts are more likely to fit a Harley Davidson motorcycle than any other parts. Genuine parts should bear the Harley Davidson logo, and buyers should be familiar with the appearance of genuine Harley Davidson items before purchasing any parts.
Common Replacement Parts for Harley Davidson
Some Harley Davidson parts wear more quickly than others, and therefore need to be replaced more frequently. Moreover, some older models are often upgraded, and their parts are replaced for newer, improved parts.
Twin Cam Engine
The twin cam engine was used on Harley Davidson motorcycles that were manufactured between 1999 and 2006 . It has created a variety of problems for its users. Over the years, different design and development faults of the twin cam engine have caused it to break after use over time. In order to prevent problems, the engine can be changed for another model. However, hydraulic chain tensioners can be used to update the engine, allowing it to run more smoothly. The hydraulic tensioner is controlled through the oil pressure, and as this remains constant, the slackness of the chain is removed. The hydraulic chain tensioner is also known for its quiet operation. As many twin cam engines have problems with the oiling system, a new oil pump can also help out.
Clutch Plates
The clutch plate is attached to the clutch, which connects the transmission system to the Harley's engine. The flywheel found in the clutch is connected to the engine, while the clutch plate is connected to the transmission system. The friction between the clutch plate and the flywheel determines how much force the clutch can withstand, and this is important in order to change the gear. The clutch plate, which is made of fibre and metal, wears over time and needs to be replaced occasionally. The best new clutch plates provide adequate fluid circulation and heat dissipation. They are usually made from aluminium or steel. Other gears and mechanisms, which are often used, also need to be replaced every once in awhile.
Exhaust Pipe
The exhaust pipe expels the exhaust gases and therefore has to perform well. Exhaust pipes are generally made of metal, and this material can corrode. A good exhaust pipe contains a filter, which eliminates the most toxic gases and converts them into less harmful gases before releasing them into the atmosphere. When it comes to Harleys, the exhaust also makes an aggressive sound and is therefore an accessory that expresses the rider's style. Mufflers can be added to the exhaust system to increase torque and horsepower.
Customising a Harley Davidson
Harley Davidson motorcycles were built to be customised, and many owners buy a Harley Davidson just for this reason. The chance to express one's style is inevitably attractive and there are many parts that can be chosen. These include seats, handlebars, foot controls, windshield, backrest, and wheels.
Seats
The right seat offers the best ergonomics, appearance, and general comfort. What counts as a comfortable seat is up to the individual rider, and therefore many people change the seats of their Harleys. The seat's shape has to fit the rider, because it determines how the rider reaches the pedals and controls. Therefore, the choice of a seat influences motorcycle safety. A perfect seat anchors the rider firmly. The seat's design can be changed, and many customised seats are available. For example, some seats have flames embossed on them.
Handlebars
The handlebars are made for steering, and they come with handgrips at each end. If they are fitted correctly, the handlebars do not put stress on the shoulders, arms, hands, and wrists of the rider, and they do not cause back pain. Finding the right handlebars is not only a question of health. As with all Harley products, style also says a lot about the rider's personality.
Foot Controls
The foot controls should be designed in such a way that they do not put a strain on the back. If the reach is too close or too far, the seating position is not comfortable, and this may lead to serious back problems. The more comfortable the foot controls, the longer the rider can enjoy riding a Harley Davidson. Taller riders benefit from extended-reach footboard, which are located slightly more forward. It is also possible to attach so-called highway pegs, upon which the feet can rest when riding on the highway.
Windscreen
The windscreen is a screen placed at the front of the Harley Davidson motorcycle. It protects the rider from the wind, especially at high speeds. Harley owners generally replace their windscreens when they have cracks, or because they are too small for their tastes. Wind can put a strain on the neck, chest, shoulders, and arms, causing fatigue. A good windscreen takes the pressure off the body and enables the rider to travel in comfort for longer. A windscreen is not only useful against the wind, but also blocks the rain, and protects the rider from debris. Windscreens are available with many designs, and smoked ones are popular.
Backrest
Not all Harley Davidson motorcycles have backrests included in their build. Even those that do sometimes need replacement parts, because the backrest cover can become worn, or the construction can break. The backrest may either be small and low or offer full-back support. Many Harley Davidson backrests can be removed easily, thanks to a rotary latch. Therefore, it is possible to have several backrests and to change them according to one's needs.
Wheels
The wheels influence a Harley's appearance a great deal. They should therefore be chosen carefully in order to express individual taste and style. The wheels also contribute to driving comfort and safety. Besides choosing the appropriate style, their performance should also be evaluated.
Most Notable Harley Davidsons
Harley Davidson motorcycles are considered to be among the best of motorcycles. Sometimes, the Harley Davidson name is even used as a synonym for a motorcycle. Some Harley Davidson models have lasted through decades. Knowing the most notable Harley Davidsons is advisable, because then it is possible to get a part or two from one of those desirable models and use it to customise one's own Harley in a stylish way.
| Model Name | Manufacturing Year |
| --- | --- |
| Model 5-D Twin | 1909 |
| 8-Valve Racer | 1916-1923 |
| JH Two Cam | 1928 |
| DAH Hillclimber | 1932 |
| EL "Knucklehead" | 1936 |
| FLH Electra Glide | 1965 |
| FX Super Glide | 1971 |
| VRSC V-Rod | 2002 |
| XR 1200 | 2009 |
| CVO Street Glide | 2010 |
| Dyna Wide Glide | 2010 |
Many of the most notable Harley Davidson motorcycles were produced a long time ago. However, there are also popular models available today, and as Harley Davidson keeps producing new ones, new stars arise.
Buying Replacement Harley Davidson Parts on eBay
If you decide to buy Harley Davidson replacement parts on eBay, start off by looking for the specific parts that you require. Type the part name into the search box that you can find at the top of any eBay page. Be sure to include "Harley Davidson" in your keywords, as in, "Harley Davidson seat". After you receive the initial search results, you can click on related searches if they seem to be more like the item you are searching for. You can also sort the results by auction time or price if, for example, you need the item soon or have a budget.
Read through the item listing carefully in order to ensure that the Harley Davidson replacement part fits your Harley model. Also check the photos, especially if the part is used, because this helps you to decide if the condition of the part is good. If you have any questions about the part, feel free to contact the seller. You can also ask the seller about payment methods, refunds, exchanges, delivery, and packaging.
Conclusion
Harley Davidson motorcycles have become more than just motorcycles, as they are often regarded as synonymous with the entire motorcycle industry. Having a Harley Davidson is a statement of style and personality. Therefore, many Harley owners choose to customise their bikes and to buy replacement parts for those parts that they think need to be changed. Harley Davidson replacement parts are also required if a part breaks because of wear or other damage.
The twin cam engines, which were manufactured in 1999-2006, caused problems for many Harley Davidson owners. Although one option is to change the engine, hydraulic chain tensioners can also upgrade the engine and allow for a smoother ride. This tensioner also ensures more quiet operation. Clutch plates that control the transmission system may also need to be replaced, as they wear over time, as do exhaust pipes. Exhaust pipes may also be replaced in order to restyle a Harley.
Customising a Harley generally means replacing parts that do not quite fit, in terms of comfort or style in the estimation of the owner. For these, replacement parts are used. Sometimes rides are long, and therefore the rider's comfort should be considered. Riders can choose from a variety of seats, handlebars, foot controls, backrests, and windscreens, all of which contribute to an enjoyable riding experience. The wheels are also often replaced, either because they are worn, or in order to express style. It is worth knowing the most notable Harley Davidson types, because they can provide inspiration to the owner in terms of customising options.